Best Sewing Machine For Beginners is a guide that will help you find why and what you want to get this model and not others, a sewing machine that will be your best friend on you're sewing journey.
What Is The Best Sewing Machine For Beginners?
As a beginner you want to find a sewing machine that is easy to set up and reliable at the time to work on different sewing projects.
User Friendly
Ever beginner sewer wants to get a sewing machine that is user-friendly but with enough features to help the sewer to grow the love for sewing and gain the skills.
The best sewing machine for beginners should be a unit that will allow the sewer to grow at their own pace, starting with straight stitches and making easy projects, as the skills of the sewer grow, the unit should have some more features to try. As the time you spend working with the sewing machine, the sewing skills will grow, and before the sewer notices she/he will be making any project they want to make!
Functionality
How easy is the sewing machine to set up?
How much time does it take to thread the needle?
How easy it is to wind the bobbin?
How many features does the unit have and how easy is it to switch from one feature to the other?
What kind of sewing projects you can make on it?
These, and a few more questions you should ask before deciding which sewing machine will be the the one you buy, by getting to know what kind of sewing projects you can make with the model you have in your mind, will help you to know if that is the sewing machine for you and for the sewing projects you want to make.
Performance
How strong is the sewing machine and how many stitches per minute?
Changing needles, how easy is it? How many different types of needles you can use with that model?
Can the model cope with sewing a few layers of fabrics?
Tension control, how easy is it to get right, some models have an automatic tension control some don't.
Changing presser feet, how easy is this? Does the model you want to buy have a snap on system?
Can you make different sewing projects with this model, garment construction, quilting, home decor and more?
Built-in stitches, having some of them will be fine, most of the times you won't be using many of them at all.
How easy is it to thread the sewing machine?
How many features do you get with the value of the money you pay for with this sewing machine?
Budget
You can find a good deal of different sewing machine models, most of them will offer a wide range of features to do with each model, but after answering the questions on your list about performance and functionality, you want a sewing machine that is the best for beginners with a good range of features that will grow with you and you're sewing skills, you want to put your money on a sewing machine as an investment.
Whether you want to start sewing as a hobby or as a start for your own home based or small business, you want to get a sewing machine that is worth the money you put on it and it can give you even more value from it.
Convenience
As a beginner you want to get a sewing machine that is already made thinking on sewers like you, easy to set up and that doesn't require too much thinking about how to change from one feature to another, you want a sewing machine that you can set up as easy as possible every time you want to make a new sewing project, it doesn't matter if you're at home, at you're sewing classes, or at a workshop to learn a new sewing skill.
Editor's Choice Best Sewing Machine For Beginners
I've been sewing for many years now, I've started like you, as a new beginner and not knowing anything about sewing or about how to work with a sewing machine.
I remember the day, when my mother introduced me for the first time to my new sewing machine, I didn't have any idea about how a sewing machine works and what to do to start sewing with it.
I still remember I spend a few days working on some samples with a small piece of cotton fabric in white so I could see my stitching with a bright thread color, my mother had drawn on the fabric some straight lines with a pencil so I could follow the line, after I succeeded, than the curves lines were drawn on the fabric.
From there, I spent some time learning some basics of clothing constructions from a teacher with the same small portable sewing machine.
From them I grew up my love for sewing, I could say I've been sewing almost every day in my life since those first days of learning to sew, I've made a good deal of different sewing projects and I've become a self-taught quilter.
I've tried a few different sewing machines on my sewing journey, but today I own a Brother sewing machine, it has been my best friend of many sewing adventures for the past 9 years, there will come the time when I will upgrade the sewing machine, and just because I want to try a new sewing machine, not because it has a problem, the high quality of the brand makes them strong and well-built so that they can last for years of sewing almost every day with them.
I've worked with a few different models from the Brother corporation and I know how easy it is to work with them and for beginners they will have no problem at all to set up the unit and start sewing with it.
As you're interested to give it a try to sewing, and you're looking to get your first sewing machine, my pick will be the Brother CS6000i
Purposes For Buying A Beginners Sewing Machine
Take your time to know in advance why you want to buy a sewing machine, by making a list of your purposes it will let you know what features you need and what sewing machine model will be best for you.
Buying a new sewing machine can mean spending from a few dollars to a thousand or even more, but when you're looking to start to sew, the best way to go is to find the right model that won't break the bank and that comes with the features you need on it to help you to work on a good deal of different sewing projects for many years.
Making Clothing – Making new clothing for yourself and for your family or just adding your personal style to re-fashion you're clothing, let your creative side out and make everything you want to with your personal style!
Home Decoration – When you think about making some home decor, you'll have no problem to make pillows, pillowcases, curtains, bed covers and even quilts with this model, turn your current home decoration and add a personal touch by sewing some ribbons, cords, buttons and many more simple sewing ideas you can try to re-fashion the items in your home.
Quilting – If you're already up to making quilts, you might have done your first stitches making a small quilting project by hand, the next step for you is to find a sewing machine that will help you to work on the piecing to make from the simplest tops to the most amazing quilt tops you already have in your list to do.
Finding a sewing machine that has the features already to help you to do the piecing of any top to working on the free motion quilting on it, will help you to work on the sewing machine for hours while you release you're sewing and quilting creativity.
You won't have the need to upgrade you're sewing machine when you get the Brother SC6000i as it's made to help you to work on both systems to make a quilt: the piecing and the free motion quilting.
Why Beginners Like A Brother Sewing Machine To Start Learning To Sew?

I personally recommend the Brother SC6000i for anyone who wants to learn to sew, this model is the favorite for many sewing enthusiast without experience. It's a computerized model that will give you beginners directions on how to do threading, and how to wind and install the bobbin, you won't be left alone when picking a new stitch to work on your next project as this model will guide you to which presser foot to use for any stitch you pick to work with.
This model has 60 built-in stitches so you can pick any of them to add your personal touch to any project.
It has a speed control slider to help any beginner to get the most of you're sewing machine while you learn the ropes of sewing, as you don't want to start working on a sewing machine that goes to the top speed when you're just beginning on it. As you keep working on this model, you'll feel more confident of you're sewing skills and before you notice you'll know what speed your confident with to set up for any of you're sewing projects.
A large table, nothing better to have for a sewing machine for beginners than to have a large table to work on, so easy to install and you'll be working with more confidence on any of your projects as you'll find how easy is to have the fabric flat while you sew.
Needle Threader – As you keep working on different projects you'll notice how easy it is to get the sewing machine threaded with the automatic needle threader that comes with this model, it's a time saver and it's easy on your eyes, no sewer wants to lose tons of time by trying to get the sewing machine threader working for the next project.
Simple to use LCD Display Stitch Selector – With the push of a button you can select and build in up to 60 different stitches to work with on your projects, this screen also will help you to know if the foot you have on the unit is the right one to work with the selected stitch. It will easy to know everything in time on how to select the perfect stitching with you're sewing machine.
Easy Of Use And Reliable – When you love to sew, you want to have a sewing machine on the table that you can trust on anytime no matter where you are, at home, at the sewing classes or on a workshop.
Brother knows and understands sewers around the globe and knows that we all want to own a sewing machine that will work 100% fine every time.
You're sewing machine will become your best friend and will help you to create the best sewing projects you have in your mind, no matter if they are for you, your family, your home or for your personal sewing business.
Learning To Sew With A Computerized Sewing Machine?
For anyone who wants to learn to sew I would recommend to start with a mechanical sewing machine, but after testing the Brother SC6000i computerized Sewing Machine, I must say I would also recommend this model for new sewer who wants to get a trustful model to grow their love for sewing with, and not have the need to upgrade the model as they learn to sew with more confidence.
The Brother Sc6000i is a sewing machine that will help you to take the first steps to learn to sew on a unit any beginner can start working with feeling at ease. You can find a few videos online that will let you see and learn how this model works and as you watch them you'll learn how to set up you're sewing machine to start working on it.
Take the time to test it and practice on it until you feel confident enough to start working on your first sewing projects, start from the basic, and work on straight stitching first.
As you feel confident, try to set up some embroidery stitches and make your projects with that personal touch and the professional look.
What Comes With The SC6000i Sewing Machine?
If you want to work on different sewing projects this model has you covered with the 8 sewing and quilting feet that comes with this model.
Whether you want to sew on some easy sewing projects as you start to learn to sew, as you keep at it your skill will improve and you'll be sewing all types of sewing projects and making quilts without the need to upgrade the sewing machine.
The different feet that come with this sewing machine are easy to change as they have the easy snap changing feet system and won't take more than a few seconds to change one foot to the one you'll be using for the next project.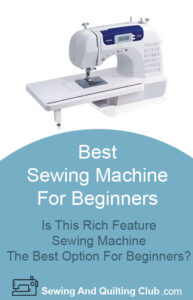 The Brother CS6000i is a model any quilter wants to get without the need to break the bank, it comes with the free motion feet and the walking foot, both feet will help any quilter to work on any quilting project without the need to pay to buy both feet.
This model is a portable sewing machine and it's another plus when you get with this model it has hard protective case, as this is a model that only weights 5,9 kg, you'll be bringing it to you're sewing classes and workshops, it will be easy for you to take this model safely covered with the protective case.
You can read the full Brother CS6000i Review here
Closing
As you want to give it a try to start to learn sewing, you want to put your money on a rich feature sewing machine without breaking the bank, but that's also beginner friendly.
As a many years loyal user of different models of Brother sewing machine, I would recommend the Brother CS6000i for any beginner who wants to start the amazing journey as a new sewer.
A great rich feature sewing machine, easy to use, and it will last long with you as you learn more about sewing without the need to upgrade for another model.
Check Today's Price On Amazon Canada
More Articles To Read To Help Beginners Sewers