The Brother 6000i Sewing Machine Review, this is the perfect model to help you to grow your creativity when we talk about sewing and quilting.
It has become the popular pick for sewers who love to work on different sewing projects because it's a rich-feature sewing machine that will help any sewer to grow their creativity at the time to sew all type of garments, home decor and quilts
The Brother CS6000i Sewing Machine Review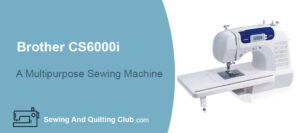 You can find so many different models of sewing machines on the market to help anyone to keep working to be creative with fabric and textiles, Brother is a brand who has many models to fit each one of the needs for any sewing enthusiast, but when we talk about getting all the features you need under a budget, you should not look any further and you might want to read to know everything this model has for you.
One of the best features of this model is that it will fit the needs for beginners and intermediate sewing levels, as you keep reading the Brother 6000i review you'll learn more about all its features.
I am a beginner sewer, is this sewing machine for me?
If you're a beginner wanting to learn more about sewing, this model might be the right one for you, as it's on a budget and it comes with the features and accessories that will help you to learn everything you need.
You can find that the Brother Sewing Machine is well made as the brand make each model thinking on the needs of every sewer and this model is one of the most purchased by beginners and medium level sewers
What Are The Features That Come With The CS6000i?
This model is made to be set up in no time and it will help you to sew any project great and faster, with the self threader and the drop in bobbin you'll save tons of time as Brother has thought of you when making this model, another features you'll love are:
Large extra table
7 one step buttonholes
60 built – in stitches
LCD Control panel
Automatic needle threader
Start/stop button
Stitch length and width adjustment options
Jam resistance
Tension adjustment
Brother CS6000i Computerized Machine With 60 Built-In Stitches
You get with this model 60 built – in stitches to help you to work with ease on any sewing project, you'll find how easy it is to work on different kinds of fabrics as knitted textiles and even denim and other thick textiles.
The 60 build in stitches are easy to set up and you'll get them ready to work in no time.
How Many Presser Feet Does The CS6000i Have?
Walking foot
Spring action quilting foot
Overcasting foot
Monogramming foot
Zipper foot
Blind stitch foot
Buttonhole Foot
Button Sewing Foot
Does The CS6000i Come With An Easy Threading?
No more hard times to thread your sewing machine as Brother made it easy on this model, all you need to do is to touch the lever on the side of the machine and you'll see how this model automatically pushes the thread through the needle, so easy!
LCD Display
The LCD display is another great feature that you get with this computerized sewing machine, it will help you to choose the stitch you want to use just by pushing the button, the LCD will help you to know which stitch you're using and it also will tell you which pressing foot you need to use for that particular stitch, in case you're doing something wrong, the LCD display will let you know sharing a message so you can get the right presser foot to work with that particular stitch.
Does This Sewing Machine Have an Oversize Table?
This model comes with a large table that is great to help you to work with ease on any sewing project, quilters love to have more space to work on this sewing machine while piecing and while working on free motion quilting.
The oversize table is easy to install and to remove, but you will find that it is better to have it set up all the time.
Lighting
When you love to sew you might keep working on your project no matter the time, for this reason if you are a sewing enthusiast even at night, today you can find most of the sewing machines in the market come with a light feature, the Brother 6000i has this feature but it's not the brightest, if you sew at nights we will recommend you to purchase a better LED light to have in your sewing table.
Does This Sewing Machine Come With Speed Control?
You'll find this feature will help you to set up the sewing machine speed to determinate the pace at which the fabric is fed into the machine to help you to feel comfortable as you work on your project.
Can The CS6000i Do Quilting?
Nowadays most quilters love to work on the quilting with their machines at home with great success, you can find amazing examples of the free motion quilting on the internet.
From the simplest quilting to the most elaborate patterns, the free motion quilting will help you to turn any quilt top into a master piece that everyone in the family will love!
Grow your passion for making quilts with this feature, start with some small samples and soon you'll feel confident to do the free motion quilting on a small quilt, then you'll be working on a full size quilt with no problem.
The quilting features are easy to set up and you'll have no problem at all to start making the most beautiful quilting patterns on your quilts.
Brother CS6000i Manual
When you buy this model in Canada you get a bilingual manual (English and French) when you buy this model in the USA you get the manual in three languages, English, French and Spanish.
What Is The Price For The CS600i?
Today, when you shop on the market to find the sewing machine of your dreams, you'll find many sewing machines that will check up all the feature points on your list, as you think about giving a try to your passion for sewing and making all kinds of garments, you need also to consider getting a sewing machine with all the features you want on it, but without the need to break the bank.
Brother company knows about the wishes and desires of quilters and sewists and they have made this model with a good selection of features that will please any sewer and quilter, and it has been made with good quality to help you to work on many different projects without the need to break the bank.
Pros
The Brother CS6000i has a good selection of features any sewers and quilters will love to work with.
This model is good for beginners and more advanced sewers
It has an automatic threader that will help you to change the thread in no time.
It's easy to set up
It's easy to work on it with the start/stop button, variable speed control and push button for reverse stitching
It's portable as it only weights 5.9 kg so this sewing machine is light enough to carry it from one room to another, or to take it to sewing classes
The price is affordable
You get with this model a good selection of accessories
25 years limited warranty and free phone support for the life of the product
Cons
It's not a sewing machine to work on high speed
You might have problems while working with thin or thick fabrics
It doesn't have a carrying case
It's not made thinking on sewers who want to work with it as a business, it's made thinking on sewing as a hobby.
You should not buy this model as it's not made to work in countries with no 120V AC even if you use a voltage adapter
You can read also:
Closing Thoughts For The Brother CS6000i Sewing Machine
As you shop on the market to find the sewing machine of your dreams to start sewing, you might want to consider the Brother CS6000i as your best option, as it has a good selection of features any sewer will love to have in a sewing machine. You'll be able to work on small and big sewing projects with no problem.
The Brother CS6000i sewing machine is a popular as is a well made model and it has an economical price!
When you shop for a sewing machine with the features this model has, you'll find this is a great model backed up with the high quality of the brand, and at a very reasonable price.
You might find the Brother CS6000i is the sewing machine to start sewing and grow your passion for your new creative adventure.
More advanced sewers find this model as a back up sewing machine to have in their sewing room.
If you're a beginner and you want to take a look to other Sewing Machines beginners friendly, take a look to this list here!
Check Today's Price On Amazon.com
Check Today's Price On Amazon Canada