Singer Featherweight C240 Sewing Machine  Review, this is light enough at less than 15 pounds to be easily portable model to carry to sewing classes or anywhere around your home, and even with is lightweight it remains stable when sewing.
The Singer Featherweight C240 packs a lot of great features in a lightweight model, perfect for traveling or to attend sewing classes and workshops
Singer Featherweight C240 Sewing Machine Review
Even Feed System
This model has a new integrated even feed system (IEF), and this new technology means you can sew multiple layers of fabrics and have the pieces of fabric you're sewing match up at the end of the seam.
Your lightweight and silky fabrics won't fold and stripes and plaids will match up, and it will sew over bulky seams with no effort, as the fabrics are feed evenly from top and bottom for those perfect seams.
Stitches
This Singer model comes with 70 built-in stitches from basic, stretch, applique and quilting stitches, plus decorative and will sew 700 stitches per minute, but also has an adjustable speed control.
The stitches can be selected with the touch of a button, and displayed on the LED screen and the width and length of the stitch can also be adjusted to you're sewing needs.
Frame
As with most Singer sewing machines, this model also has the heavy-duty metal frame, and a stainless steel bed plate, which are built to last for a long time.
Threader and Bobbin
There is a built in needle threader and the bobbin is drop in with a clear cover to see when your thread is getting low.
The path of the thread is clearly displayed on the sewing machine, color coded for easy threading.
Lighting
There are two LED lights that give plenty of light to the sewing area and will illuminate any dark fabrics you might be sewing.
Presser Feet
There are several different presser feet that come with this machine, the general purpose foot, all-purpose foot, satin stitch, foot blind, hem foot, zipper foot, and the buttonhole foot, and they just snap on to the machine.
For Thick fabrics and more than one layer, there is the extra high presser foot lift, and with the electronic piercing power it is ideal.
And with the touch of a button you can set the needle to stop up or down in the fabric you're sewing for pivoting applique or any other technique.
Free Arm
To access the free arm you slide off the removable storage tray, and then you're ready for sewing hems on pants, cuffs and more.
Carrying
This Singer model comes with a carry case that has a hole in its top for the handle of the machine to fit though when transporting and in addition it will keep out the dust when you're not using the sewing machine.
Accessories
You get the 6 different presser feet, a seam ripper, lint brush for whenever cleaning is required, a package of needles, bobbins, spool caps, spool pin felt, and auxiliary spool pin, clearance plate, and edge 1 quilting guide and the screwdriver and a foot control and the power cord.
And many of these items can be stored in the storage tray, which is the piece you remove when converting to free arm sewing.
Learning to Use
Singer provides an online owners class for the lightweight model, which consist of YouTube video introducing the machine, needle changing, threading, sewing a buttonhole and selecting stitches and more, so you won't have any problem running your new featherweight.
There is also a manual of 27 pages with illustrations showing how to set up you're sewing machine, maintenance, troubleshooting and more.
Key Specifications
Has 70 built-in stitches
3 built-in one step buttonhole styles
Push button reverse
29 needle positions
Able to adjust presser foot pressure
Start/stop button
The free arm for cuffs and parts
Built in needle threader
Top drop in bobbin with clear viewing
2 LED lights
The integrated even feed system
a bed plate from stainless steel
adjustable stitch width and length
Adjustable speed control
Up/down needle programming
Drop feed capability
The thread tension is adjustable
Button to find the pest presser foot for stitching
LED screen
A tie off button-ties stitch and step sewing
Presser feet are snap on
Warranty
This comes with the Singer 25 years warranty, which means the head of the sewing machine is warranted for 25 years, while the electronic parts are for 2 years, and the mechanical parts for 90 days.
Negatives
No automatic thread trimming
One negative for this machine is that sometimes the timing needs to be reset, and these are comments from a few users.
Positives
The Singer integrated Even Feed System is like having a build in walking foot on the unit
Having the 29 needle positions on this model will allow you to sew with confidence different projects like: zippers, machine quilting and stitching in the ditch
Lightweight but still stable
Very easy to use
Big built-in storage
Good illumination of sewing area
Includes a carrying case
Light enough to carry to sewing classes and workshops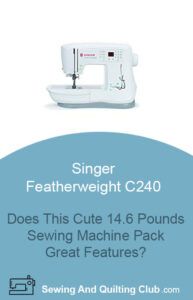 Most comments say how the Singer Featherweight C240 is easy to use from beginners to the more advanced of sewers and people like how well the buttons and controls are, and how easy the machine is to set up and start sewing.
If you want to check on a Brother comuterized Sewing Machine, take a look to the Brother CS6000i Review
Singer Featherweight Sewing Machine Verdict
After testing the Singer Featherweight C240 on a workshop, I can say this sewing machine will be on the top of the list for any sewing enthusiast that wants to sew many different projects like garment construction, home decor, and quilt making.
It's lightweight is a top feature for sewers who like to attend to sewing classes and workshops or if you have in mind to travel carring your sewing machine so you can keep sewing from anywhere. This model already comes with a protective case that will help you to carry it safely to anywhere.
You won't need any other sewing machine to add that decorative touch to any project as you have a wide selection of decorative stitches.
If you're considering to get a new sewing machine that is lightweight but rich featured with the backup of its brand, I will recommend you to give it a try out.
Currently unavailable on Amazon.com, you can check the price on Amazon Canada by clicking on the blue button below