Do you want to learn to sew but even threading a needle is so hard for you?
This article about how to Learn To Sew – Tips For Beginners everything will make it easier for you!
Learning to sew, it's not as complicate as it looks like, with a few sewing lessons you'll manage to learn the basic of this craft you'll be able to start working on some projects from home.
One of the best things of having internet today is that you can learn about anything you want from home and sewing is also on the list, you won't have problems to find great tutorials and videos to learn from threading a needle the right way and in seconds to start sewing some decoration projects for your home and even some new clothing for yourself and for your family.
There're so many good reasons to learn to sew, from mending some clothing to anything that needs a few stitches here and there, to fix some new clothing you just bought and you'd love to have it to your right size.
Finding the right piece of clothing at the stores today can be a problem, it's not that you have gained extra weight, every day the manufactures made the clothing in smaller sizes, this is why many times when you buy a new pair of jeans you might need to work to shorten them up because you need to buy an extra size for you.
Learning how to sew a button to a shirt or to sew a zipper on a pair of pants will be easier for you when you learn the basics of sewing, at it will save you lots of money too, sending any piece of clothing to be fixed can cost money today and you need to wait until it's done.
Adding a new button to the new blouse or a dress will take you no more that 5 minutes and when you learn to do it well, it will last forever!
You can read also: How to choose a sewing machine
Learn To Sew – Tips For Beginners
There are a few sewing tips for beginners that will help you to save all those old problems you used to have with your clothing, no more clothing you can't use that day because it has some problems you couldn't fix at that moment!
Basic Sewing Tools Kit (Basket)
In the old times, our grand-moms and our mothers used to have the basic sewing tools in a cookies tin, I bet you might remember it.
Everytime they had to sew a new button to a shirt, blouse or dress, the first thing they did was grab the cookies tin to find the right needle and a thread that matched the color of the clothing to sew.
Today, you might want to get a nice plastic box or a basket to keep everything in there.
* You can find Affiliate Links on this post, you can read the full disclosure here.
The basic list of sewing supplies is not long:
Some needles
Pins
Safety pins
Different color thread
A good pair of scissors
You can check the Sewing Kit that has it all on Amazon, get it now!
How to thread a needle
Many times you might have seen people trying to thread a needle by holding the needle with two fingers and and pushing the tip of the thread through the eyes of the needle, by doing it this way, sometimes it might work and many times it will take some time to succeed.
The right way to do it, it's holding the thread with two fingers and push the eye of the needle to the thread.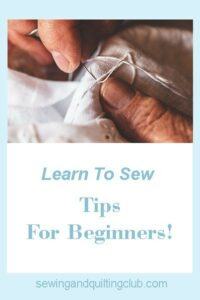 How to make a knot at the end of the thread

Grasp both needle and thread between your thumb and index finger
Wind the thread one or twice on the needle
Shift your grip slightly and hold gently the wrapped thread and the needle
Pull out the needle until the thread has all been pulled through the coil
Now, you have learned the first basic steps to thread a needle and you can start working on your first stitches.
Find helpful this post? Give my Pin a share!
Basic stitches for sewing
Nowadays you can get a good sewing machine that will help you to do most of the sewing to keep your clothing in good conditions, but there's a few stitches that you can do by hand that will help you to do the work in just a few seconds with no need to use the sewing machine.
Hand sewing stitches
Running stitches
– it's the most basic, it has many variations and it's used for gathering or mending.
Bring your needle through the fabric from the back (wrong side). Once the knot hits the fabric, make a stitch to the left or right, bring the thread back under the fabric and pull the needle all way through and take your needle down to the end of the previous stitch you made, and repeat.
Basting stitch
This is a temporary stitch that is used to hold layers of fabric together while working on them.
Bring your needle through the fabric from the back and once the knot hits the fabric, make a stitch to the left or right, make two or three stitches at a time, pull the needle all the way and make two or three more stitches again, repeat.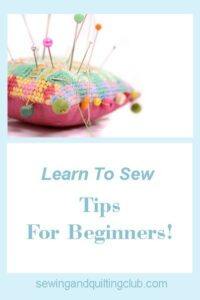 Slip Stitch
This is a stitch that is used to work on hems and other finishes, bring the needle through the fold of the hem and pick up a thread of fabric at the same point, Make the stitches about 1/4 inch apart and fairly loose.
Sew a button up
Sewing a button to a blouse, dress or any garment will take only a few seconds and it will last for years, you will need to thread a needle and make a few stitches by hand to sew the button to the garment. You can see the steps to follow here!
Closing,
With these basic stitches made by hand you can start any easy sewing project or mending your garments at home, as you keep working to do it, you'll get better.
Sewing is a skill anyone can get better at it, it will take sometime practicing the basic stitches to become good at them.
Don't get discouraged by the first attempts at it, every time you work on it, it will get better and soon you'll be working on more advanced sewing projects.
If you have any Sewing Tips For Beginners to share, leave it on a comment.

Find this article helpful, share it!