Easy Gifts To Sew For Christmas everyone on your list will love to receive from an easy scarf to a cosmetic bag, all can be made in your sewing machine!
When you love to sew and with Christmas around the corner, it might be the right time to make a list of some sewing projects you might want to make to give them as a gift to your family members or to your friends.
One of the best benefits of being a sewer is that you can make something to give as a gift that you know everyone will be happy to get.
In times when everything is made in a hurry, sewers can stand out for giving a gift that will make the receiver happy, as you can make it just in the right size or in the right color or in that persons own style.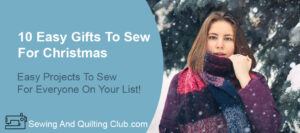 Sewing has many benefits and one more to add to the list is the ability to make personalized gifts for everyone on your list and it won't cost you as much as if you had to buy it already made.
Making the gifts to give away during Christmas time will not cost you much and it doesn't need to be too complicated, I made a list of 10 easy sewing projects to make, beginners and more experienced sewers will love to make for someone in their list.
10 Easy Gifts To Sew For Christmas
1 – Easy Scarf To Sew
When you think about Christmas, you might also think about cold weather (not in the South hemisphere, but you can also make it with a light fabric), giving as a gift an easy scarf to sew could be one of the best gift someone is hoping to get.
This could be an easy sewing project any beginner would love to make, you just need to get a cute flannel or wool fabric and cut it with a pair of scissors and sew a bias all around.
You could decorate it with a patch that you know the receiver will love!
2 – Sew A Warm Winter Hat
No matter where you live, everyone will love to get a Winter Hat made by you, depending on the weather where you live, you can make it with light or with thick and warm fabric, but the sewing project will be the same.
Making an easy to sew winter hat will be a great sewing project to make for the Holidays for any beginner or even for the more experienced sewer, and you can be sure everyone will love to get one made by you.
Buy a nice piece of fabric in a solid color or with nice prints on it and make the hat, you can add some decorative stitches to make it more personalized and easy to find from the rest.
If you're making some to give them as a gift to young people who attend to school, you can sew their names on each hat to help them find their hat from the rest.
3 – Sew And Easy Tote Bag
Making a tote bag to give it as a Christmas gift could be one of the best ideas, as many people are looking to go green and help the planet, anyone would love to get a tote bag made by you to help them to carry their groceries or anything they need to carry most of the time.
Find a nice piece of fabric and follow a tutorial, it won't take long to finish it and you can add some decorative stitches or a patch to make it unique!
4 – Sew A Couple Of Hot Pads
When thinking about sewing something for someone who always use some hot pads to protect the table, you can make a couple in no time!
You can choose to make the hot pads with printed fabric for the Holidays or with a fabric that can be used all year round!
5 – Card Pouch
Everyone will love to get a Card Pouch Made by you, it won't take long to make it and it will help everyone to keep all their cards in one place!
6 – Make Up Bag
Get a pretty printed fabric and with an easy tutorial to follow you can make in less than 15 minutes a Make Up Bag your friends will love to get from you as a gift and you don't need to break the bank to make them happy.
7 – A Simple Face Mask Bag
Some people are asked to wear a face mask and it will be a good idea to have an extra mask in your bag in case you need it, nothing better if you need to give some small Christmas gifts than making a simple face mask bag for each one on your list.
8 – Make A Reversible Drawstring Bag
Everyone on your list will love to get a reversible drawstring bag made by you, whether you use a Christmas print fabric or any other pretty fabric so they can use the drawstring bag anytime, so easy to make and you can follow the step by step tutorial here on my blog!
9 – Tie-Up Fabric Basket
If you're planning to bake some cookies to give as a gift on Christmas, you always can make a Tie-Up Fabric Basket to deliver the cookies in a beautiful way, the receiver will love to have a gift made by you and they will keep the tie-up fabric basket to reuse it!
10 – Sew A Pencil Case
If you know someone who likes to have all the pencils and pens in one place, you can sew an easy pencil case for her/him and they will love it!
You can sew the pencil case like I did with an old piece of denim or you can make it with a nice fabric in cotton or another easy to sew fabric, it won't take you long to finish and it will be ready to wrap it to deliver it as a Christmas present.
FAQ For The Easy Gifts To Sew For Christmas
Can A Beginner Sew Some Christmas Gifts?
Yes, anyone can sew some pretty and useful projects to give them as a gift for Christmas, whether you're a beginner or you're a more experienced sewer, there are many easy to sew projects anyone will love to make and I'm sure the receivers will be so happy to get one gift made by you.
Sewing A Christmas Gift Should Not Be Something Expensive?
No, there are plenty of ideas for you to sew many things to give them as a Christmas gifts, you can decide whether to invest in a fancy and expensive fabric for your project, and it will be OK, or you can decide to use a piece of fabric to make a project that you already have at home.
Sewers, beginners and more experienced, are so creative that while sewing a new project they will come always up with great ideas to turn a simple piece of fabric into something unique and useful by adding some decorative stitches here and there or to sew up a cute button or some beads!
What Type Of Sewing Machine Is The Best To Sew Some Projects To Give As Christmas Gifts?
Any sewing machine will help you to sew many different projects to give as gifts for Christmas, there are many projects everyone will love to receive as a gift that will be made with straight stitching only.
Some projects will require some zigzag stitching here and there, but most of the sewing machine come with a few different features to help you to work on different projects.
If you're new to sewing, I will recommend you to start with a basic sewing machine that comes with a few different features, at home I have a Brother computerized sewing machine (Amazon) and it helps me to work on many different projects, from making a simple scarf to making a whole quilt of regular size!
Easy Gifts To Sew For Christmas Closing Thoughts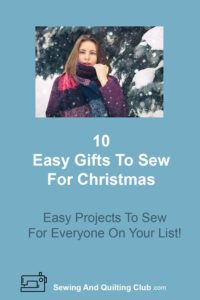 When you love to sew, you might be wondering if you should start sewing some projects to give them as a gift for Christmas.
You might ask yourself if the receivers will be happy with something you made for them?
I've been sewing for many years now, and I can tell you I've made many things to give them as gifts for Christmas, and I got a big thank you from the receivers!
The benefits of sewing your Christmas gifts to give by yourself are multiple, but I would highlight that you know a lot about each person that you have in your list, that will help you to know what color is best or what size you should make it, do they like to have a patch on the project or do they love to have some pretty beads on it?
So, go ahead and start today your sewing projects, they will be ready in time for Christmas!
Note: Just be careful, if you have some young children at home, and you'll be helping Mrs. Claus to make some gifts, you will need to sew by night or be careful nobody sees your projects as you work on them.
You can also read: