The Janome DC5100 Review, this is a computerized model with many features for the experienced and even the beginning sewer to bring out their creative abilities.
On the front top of the machine is a flip up cover that displays all the stitches which is so handy as a reference when you're looking for a particular stitch.
Another thing we like is being able to adjust the sharpness of the computer screen for easier viewing no matter what the light situation is in the room you use for sewing.
This machine also sews quietly even when you're sewing thicker materials, and will give excellent quality stitches.
The LCD screen with the touch pad under it, make it real easy to pick out the stitch you want.
This is not an overly expensive machine for all the features it has, and being computerized, so if you think this would be a good match for your sewing projects, then read further, as we mention some of its features.
Janome DC5100 Review
167 Built-In Stitches
This model comes with 167 built-in stitches, and 5 one-step buttonholes.
Thee are 3 modes for selecting stitches, with mode 1 you can directly select the pattern, mode 2 you can select utility and decorative stitch patterns, and mode 3 is for block letter selection.
The maximum stitch width for this sewing machine is 7 mm, and the maximum stitch length is 5 mm, and both can be adjusted using keys below the screen.
If you're looking for speed the machine will sew up to 820 stitches per minute, and has a speed control lever which adjust the speed to what you want.
There is a reverse stitch button handily located just above the sewing area to tie off the stitches, and an auto-lock button which when pressed will sew locking stitches at the end of a pattern and automatically stop.
Bobbin Winding and Threading
With this machine there is an additional spool pin for bobbin winding, so is no need to unthread the machine.
Just follow the diagrams on the top and the machine will automatically stop when the bobbin is full.
This is a top loading system, so just drop the bobbin in with thread coming off counter clockwise, and follow the guides, and leave about 6 inches of thread out.
To thread down to the needle, follow the numbered arrows down to the needle and thread it from front to back or use the needle threader.
To pick up the bobbin thread, press the up/down needle position button twice, then put both threads under the presser foot, and towards the back of the machine then your ready for sewing.
This machine also has the dial for thread tension, and can be adjusted when needed.
There is no automatic thread cutter, but it has the easy hand use thread cutter at the end of the machine, just above the sewing area.
The instruction manual has a chart for the recommended thread size to use while sewing light, medium, or dark fabrics, plus the needle size to use.
10 Presser Feet
The Janome DC5100 includes a good variety of presser feet with this machine.
Straight stitch foot
Zigzag foot-usually on the machine
Satin stitch foot
Zipper foot
Automatic buttonhole foot
Overedge foot
Blind hem foot
Darning foot – for free sewing or free motion quilting
1/4 inch seam foot
Walking foot
Quilting bar also comes with the foot package.
To change the feet just push the red button behind the foot to release it, and then line up a new one and lower the presser bar, and it will snap into place.
The presser foot lift on this model can raise the presser feet 1/4 inch higher than normal.
Feed Dogs On The DC5100
This model has a 7 point feed dogs system, meaning the fabric is moved by 7 teeth at the same time giving a very smooth flow of the fabrics while sewing.
To drop the feed dogs for free motion sewing or quilting, the lever is on the back of the free arm.
Free Arm
Yes the machine has a free arm for sewing cuffs, pants, sleeves, etc. Just pull off the extension table and you're ready to sew, plus the extension table has a place to store the accessories.
When putting the extension table back on, just push until it snaps back into place.
Lighting
The lights on this machine is over the sewing area, and gives a good bright light which is handy when sewing darker fabrics, plus the screen light can be adjusted.
The Working Buttons
This sewing machine is designed and built with all the buttons you need to work on different projects with ease, you will find most of these buttons on the front of the machine and they are easy to set up to help you to work on any project with ease.
Speed control lever
Up/down needle position button
Reverse stitch button
Screen sharpness adjusting dial
Cursor key – below the screen
Mode key
Stitch width and length keys
Memory key – to keep track of your patterns
Clear key – for pattern selection
While pressing the memory key, you can choose from 3 different languages, Spanish, English or French.
Accessories For The Janome DC5100
4 bobbins
Assorted needle set
Spool pin felt
Additional spool pin
Presser feet
Seam ripper
Screwdriver
Lint brush
Large and small spool holder
Spool stand
Foot control
Power cord
Janome DC5100 manual
Quilting bar
Hard cover
Specifications For The Janome DC5100
This is a well-designed and built sewing machine with sewers and quilters in mind, by its size this is a medium size machine that will be considered by sewers a little heavy if you want to bring the sewing machine as a portable machine to carry to sewing classes or retreats.
24.4 pounds in weight
12 inches by 20 inches by 17 inches
167 built-in stitches
5 one-step buttonholes
820 stitches per minute
7 mm maximum stitch width
5 mm maximum stitch length
10 presser feet
50 stitch patterns can be in memory
Warranty For The Janome DC5100
This machine has the 25-year limited warranty, which is 25 years on the mechanical, 5 years on electronic parts, and 1 year labor.
Always check the warranty when purchasing.
Pros and Cons For The Janome DC5100
Pros
A quiet running machine
Stitches are of excellent quality
Automatically adjust for thickness of what you are sewing
Large amount of presser feet and accessories
Can sew thicker fabrics
Easy to set up
Large choice of stitches
Cons
No automatic thread cutter
FAQ For The Janome DC5100 Review
Is The Janome DC5100 Good For Beginners?
This is a sewing machine good for beginners who want to have a model with all the up to date features to work on different projects, the features are easy to set up and you won't get short of features to work on all the projects on your list, from making a new dress, to doing some crafts and sewing new home decor ideas!
Where To Buy The Janome DC5100?
You can find this model in the specialty stores shelves and also with the sewing machine dealer in your area, but you also can purchase it online.

Our Final Thoughts On Purchasing The Janome DC5100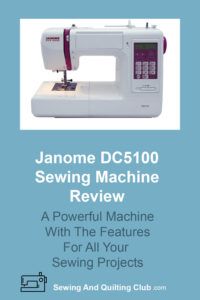 We would recommend this machine for any sewer and as you can see the positives about it are higher than any negatives.
As a computerized sewing machine, we feel the price is reasonable, and because of its many up to date features also.
A few things we noticed were its quality of stitches and how quietly it sewed compared to some other machines.
So if you feel that this machine would be a good match for all your sewing projects, then take it for a test run.
Wishing you all the best on your sewing projects – Happy Sewing!
You can also read: