The Juki HZL-DX7 Review, this is one of Juki's computerized sewing machine, and has all the up to date features to make your sewing so much easier to do for all the sewing projects on your list of things to create.
This machine has a feature called the float function, which is when you can sew with the presser foot raised a little and this can help from getting any folds when sewing through layers of fabric.
This model also runs fairly quiet for a machine in this class, and produces quality stitches.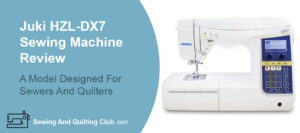 It is easy to set up and start sewing with this model, even a beginner sewer would have no problem, although getting on to the workings of the computer system with its dials and buttons might have a learning curve for some.
We will run through most of the features on this machine, and you can see if it would be a good match for your sewing projects.
Juki HZL-DX7 Sewing Machine Review
287 Built-In Stitches
The machine comes with 287 built-in stitches, and are displayed under the flip up cover on top of the machine for easy referencing.
All the stitches can be accessed via the computer, from straight stitches, zigzag, overcasting, blind, buttonhole, scallop, decorative, and quilt stitches.
This machine is able to sew quite fast at 1050 stitches per minute, and can be regulated by the speed controller on front of the machine.
Also the foot controller will only reach the speed that's preset.
The computer allows for different settings with the section of the foot controller also, you can have reverse stitch, lock stitch, half-stitch sewing foot, one-stitch sewing foot, lifting or lowering of presser foot, thread trimming, and it can have a no-function setting.
There is a button to increase the sewing stitches speed when starting to sew, and when the up/down button is pressed and held the machine stitches at a low speed, plus the reverse stitch speed can be increased or locked at slow, standard or fast.
The length and width of the stitches are also adjustable on this machine, with the two dials below the LCD screen.
This machine can also sew 15 different buttonholes, and has 4 fonts included, the machine comes with the buttonhole sensor system for a perfect feed on all fabrics, and the 1-step buttonhole starts perfectly on both sides of the buttonhole.
Bobbin Winding and Threading
The bobbin winding and threading for most sewing machines is very much the same, but we will mention it here for any beginner, and also as this model has a very easy system to work with.
For bobbin winding you just follow the guides imprinted on the machine over to the bobbin on the winding shaft and wrap thread around the bobbin 4 to 5 times in a clockwise direction, and cut excess thread with the cutting guide.
This machine has an independent motor for winding, and the winding regulator acts as a switch when pushed towards the bobbin, and when the bobbin is full it will stop automatically.
A note here – we have read of a few complaints, that the bobbin only winding about 2/3 of the way, the screw on top of the winding regulator can be used to adjust the amount of thread on the bobbin, and is the same for most sewing machines, should this problem arise.
This model also has the top loading bobbin system, which we find is much easier than a front loading system, just drop in the bobbin and with thread coming off counterclockwise then follow the guides, and cut the thread with the built-in cutter, and close the cover.
Threading down to the needle is just as easy by following the numbered arrows imprinted onto the machine, and down to the automatic needle threader, which is totally automatic by pressing down on the threading lever on the end of the machine.
To start sewing this machine doesn't require the bobbin thread to be pulled out, but if you want the thread pulled out, just turn the hand wheel a couple turns, then pull both threads out and under the presser foot.
If any problems arise there are guides on the LCD screen for winding the bobbin, setting it, and changing presser feet, and needles.
This model has the automatic thread cutter which works very well just by pushing a button.
Thread tension can also be adjusted by a dial on top of the machine, and when set at auto it will work for most fabrics.
The Juky HZL-DX7 manual also provides a chart for the recommended thread and needle to use for the different fabrics.
12 Presser Feet
The Juky HZL-DX7 comes with about 12 different presser feet, and more can be purchased separately.
Standard presser foot – for your straight stitches, zigzag stitches, and heavier fabrics.
Zipper presser foot
Overcasting presser foot – prevents any cut edges from fraying.
Blind stitch foot – used on hems, skirts, etc.
Buttonhole foot.
Manual buttonhole foot – decorative stitches, letters, and manual buttonholes.
Walking foot – quilting and difficult to feed fabrics.
Patchwork foot
Open toe foot – used for decorative stitches and applique
Smooth foot- with vinyl and satin stitches
Quilt foot
Edge sewing foot – used for patchwork, and center line of joined fabrics, etc.
To change presser feet this model has the quick release button behind the presser foot, and then just line up another and lower the holder until the new one snaps into place on the pin.
This sewing machine also has the knee lifting lever, to raise the pressure foot when you need both hands free for any sewing projects, also there is the ability to raise and lower the presser foot by the foot controller, which can be set up by the computer.
Also the presser foot lifting lever has 3 positions, low, ordinary and extra high, and there is a presser foot pivot function that raises the foot a little when the machine stops sewing.
There is also a dial to set the pressure of the presser foot, and for most sewing it is set at 5.
Feed Dogs
The HZL-DX7 has a 7 point feed dog system which will feed the fabric very evenly, and if free hand sewing or quilting is done, then the feed dogs can be dropped by the switch on the front of the machine after removing the accessory drawer.
The Free Arm
The free arm is easily accessible by removing the accessory tray and allows you to sew cuffs, pants, socks, etc., plus with the accessory tray removed the wide table that's included can be easily put on.
Lighting
The lighting for this machine give a bright work area to sew under, and also the LCD screen can be adjusted for contrast in brightness.
Another thing to mention is that when first setting things up, there is a choice of 8 different languages, a pictograph and with English being the default setting.
Working Buttons and Dials
Just above the sewing area you can find most of the working buttons on this model.
Start/stop button – green indicates ready to sew or sewing, and red is not ready, orange when lock stitch is pressed.
Reverse stitch button
Lock stitch button
The speed controller
Presser foot automatic lift button
Needle up/down button
Thread cutting button
Thread tension dial
Presser foot – pressure adjusting dial
Drop feed knob or switch
For the computer screen, the operational buttons are below it, with the stitch length and width adjustment dials, and the pattern selection buttons laid out like the numbers on a phone.
The instruction manual has an excellent diagrammed explanation for each button, and is best to take your time to go over the section and familiarize yourself with it.
The Accessories for the HZL-DX7
Presser feet
Quilt guide
Eylet punch
Twin needle
Hard case
3 bobbins
T-shaped screwdriver
Ripper
Spool caps – small, medium, large
Cleaning brush
Auxiliary spool pin
Foot controler
Power cord
Knee lift lever
Juky HZL-DX7 instruction manuel and DVD
Specifications For the Juky HZL-DX7
287 built-in stitches patterns
4 fonts
16 one-step buttonholes
1050 stitches per minute
7 mm maximum stitch width
5 mm maximum stitch length
8 inch work space by 4.4 inches high
10 direct stitch pattern selections
17.5 inches by 11.5 inches by 8.2 inches
21.7 inches with extension table
12 presser feet
Warranty For the Juky HZL-DX7
Juki has a 5-year limited warranty, which is 5 years against defective materials and workmanship, and 2 years on motor, lights, wiring, circuit board, switches and speed control.
It's always best to check the warranty when first purchasing.
Pros and Cons For The Juky HZL-DX7
Pros
Automatic threading that works well
Can control sewing speeds.
Automatic thread cutter.
Large amount of stitches
Good size work table.
Will sew heavy fabrics.
Produces excellent stitches.
Easy to set up for anyone.
Sews quietly
Has 16 different buttonholes styles.
Cons
Needs to supply extra spool holder.
FAQ For The Juki HZL-DX7 Review
Is The Juki HZL-DX7 Good For Beginners?
This is an easy to set up model and start sewing any sewer beginner or more experienced will love to have in the sewing room. As the stitching speed can be set up, it will help any beginner to start making different projects on slow speed, as the sewer get more skilled the stitching speed can be set up on regular or fast speed to work faster on any project.
Is The Juki HZL-DX7 Good For Making Quilts?
This sewing machine is designed and built with sewers and quilters in mind, it comes with all the up-to-date features any sewer or quilter would love to have in a model to work on the piecing for a new top quilt and it can be easily set up to work on the free motion quilting on any size quilt.
Is The Juki HZL-DX7 A Portable Sewing Machine?
This sewing machine weights 24 pounds and it comes with a built-in carrying handle which makes it easy to move around the house or to carry to the sewing classes.
Where To Buy The Juki HZL-DX7 Sewing Machine
You can find this sewing machine on the specialty stores shelves or with the sewing machine dealer in your area. You can read more reviews online.
Our Final Thoughts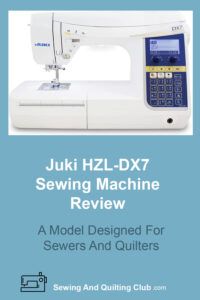 We would recommend this sewing machine as it has many more positives than negatives, and because of its many newer features that can make sewing so much easier.
As a computerized sewing machine, this one has every thing to bring out your creativity with any sewing projects you have.
Another thing we like about it is that it sews fairly quietly, and will produce very good stitches in what ever fabric your sewing.
We feel that this would be an ideal machine for any sewing room, and it can handle all your sewing projects, so if it looks like a good fit for your sewing projects, then give it a test out.
Wishing you all the best on your sewing projects – Happy Sewing!
You Can Also Read:
Juki Machines – Find the sewing machine you need to have in the sewing room to work on your projects with ease.