12 Unique Gifts Ideas For Mom That You Can Sew will help you to find the right gift for her for Mother's day, for her birthday or for Christmas.
When you start to sew, you'll find many times it is better to take the time to work on a sewing project your mom will love, but what she will love most is that you made it for her!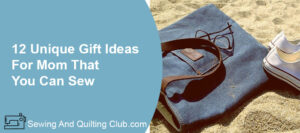 As you grow your sewing skills you'll be amazed on how well and easy it is for you to work on a new project, and making gifts for people you love becomes better and easier.
Mom is a special person for you and you want to make something unique for her, here I share some good ideas of easy sewing projects beginners and more advanced sewers will love to make!
12 Unique Gifts Ideas For Mom You Can Sew
Sew A Pillowcase With A Pretty Fabric!
1 – Who doesn't love to add one or two pillows to your decor at home, pillowcases are so easy to sew!
Just find a pretty fabric you know your mom will love, add a zipper to the pillowcase and voila, your mom's gift didn't take long to make!
Make A Denim Tote Bag Mom Will Love You!
2 – Mom will love to get a tote bag made by you, and when you make one for her from some jeans, you can be sure she will love it!
After you see how easy it is to make this denim tote bag and how well it looks, I'm sure you'll be making also one for you!
Zip Bags
3 – One, two, three and even more, we all need to have zip bags to help us to get organized at home or at the office, your mom will love to get one or maybe more zip bags made by you!
Aprons
4 – When mom loves to cook, she loves to have at least one apron in the kitchen, aprons are so easy to make, from the simple apron shape to some nice vintage looking made with some patchwork pattern.
Making an apron doesn't take long and it's a gift for mom that she will love to get!
Rice Pack Heating Pad
5 – You know your mom loves to heat a pad to help her to heal that sore shoulder or neck? Why not to make a Rice Pack Heating Pad with a case for mom, the case will help to keep the rice pack clean all the time.
Make A Pajama For Mom
6 – Pajamas are easy to sew, and when you get a pretty fabric to make it, it won't take long to finish it, you always can get a pattern to help you to make the pajama.
Shoes Bags
7 – So easy to make, and your mom will be happy to get at least a couple of these bags to help her to keep her shoes together and protected from the dust.
Cosmetic Bags
8 – Cosmetic bags are so useful to have at home to get everything in one place or when your mom goes on a trip to visit one of her friends.
You always can make a small or a big cosmetic bag or you can even make a set of cosmetic bags your mom will love to get as a gift.
Cosmetic bags are easy to make, simply or quilted, they are always a good option to get everything your mom needs in one place.
Sew An Eyeglass Case
9 – Whether your mom uses only sun glasses or reading glasses, your mom will be happy to get as a gift an eyeglass case made by you that will help her to protect her glasses from dust.
Fabric Book Cover
10 – Book covers are easy to sew and they will protect the book as your mom reads it, easy to make and you can choose a fabric of her favorite color.
You can sew a bag on the cover and you can also add a ribbon on it to use it as a book marker.
Sew A Quilter Coin Purse
11 – Making a cute little quilted coin purse will take you not much time to finish it, and your mom will love to have it to help her to keep all those coins in one place.
Whether you want to make it with some patchwork design on it or just with a quilted fabric, this is a good idea to sew as a gift for mom that will last for many years and you can be sure your mom will use it every day!
Make A Quilt For Mom
12 – I'm sure mom will be happy to get a quilt made by you, it doesn't matter if is small or big, if you make it by hand or with your sewing machine, mom will love it and will treasure it forever.
A quilt is not made in one day, it takes some time to finish a quilt, but there are many easy patterns to help you to finish it on time for Mother's Day, for Christmas or for your Mothers birthday.
With the new model of quilting machines on the market, making a quilt will be easier for you, choose a quilt pattern you like and some beautiful cotton fabrics for your mom's favorite color.
If you start to make the quilt today, it will be ready for that special day!
Are you ready to make something unique for Mom? Take a look to the Best Sewing Machine for Beginners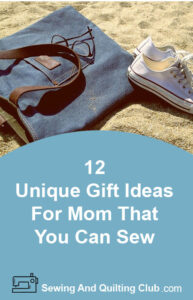 Closing
Mom's love to get some gifts made by their children, and when one of her children is a beginner or skilled sewer, that gift is more treasured by mom.
Making a gift for mom, does not't need to be too elaborate or using pricey fabrics to please her, you might know what your mom likes and what she needs.
From a tote bag to carry all those things she loves to have in a bag, an easy cosmetic bag or an apron, anything you sew for mom will make her happy!