As you start sewing, all you want to do is to find some Easy Sewing Projects For Beginners that will look amazing when they are done!
Sewing is one of the greatest activities that will help you to make from dress constructions, home decor, and everything you might have in your mind for a small sewing projects.
Starting with easy sewing projects will help you to get better results and get more skilled, as you keep working on easy projects you will notice you can read the directions to make any project better and you get to know your sewing machine better.
Before you notice, you'll be more skilled to try a next level project!
Easy Sewing Projects For Beginners
How To Make An Envelope Pillow Cover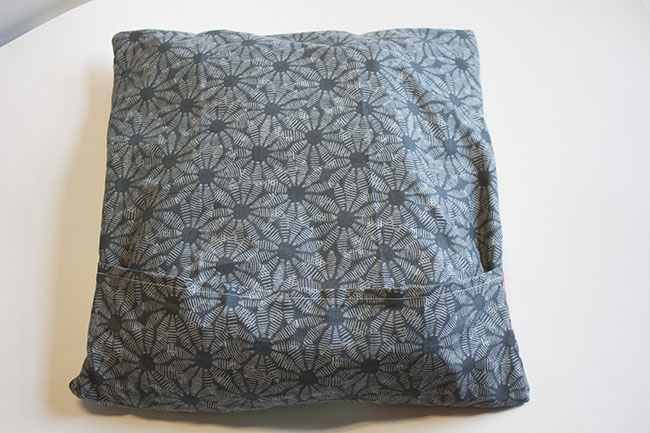 1 – Tired already to see the same pillows on your sofa?
Making an envelope pillow cover can be one of the easiest sewing projects that you can start making to get more skilled, all you need is to pick one cute piece of fabric as big as the pillow you want to keep inside of the pillow cover. Leave an opening on the back of the cover and sew on the sides, turn it out and it will be ready to slip in the pillow.
Don't forget you can make envelope pillow covers for each season of the year! This way you will never get tired to see the same pillows on your sofa or on your bed.
The best part of making pillow covers is that when you don't use them, you can wash them, fold them and save them in a drawer, they will be ready to be used the next time you feel you need a home decor change!
Felt Monsters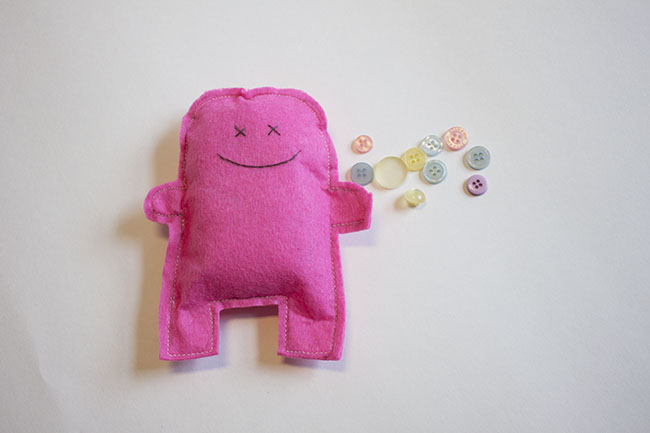 2 – If you have kids at home and they love to play with soft monsters, nothing easier to sew than making a few monsters with felt on different colors.
A Cute Zipper Pouch
3 – When you feel like you're getting more skilled, why not to try to make a cute zipper pouch to carry your make up or all your drawing supplies, it will only take you 20 minutes and you can make them with cute cotton fabrics.
Hand Warmers
4 – Nothing simpler to sew than a couple of hand warmers, all you need to do is to cut two pieces of 4 x 4 inches and lay one piece over the other right side to right side, and pinch a few pins.
Sew on with your sewing machine the four sides of each hand warmer and leave a space of 2 inches in one side to turn it out.
Trim each corner with a pair of scissor and turn each hand warmer out, fill it up with rice and fold the opening inside and sew on with your sewing machine to close, the hand warmers are ready to be used!
Pot Holders
5 – There are plenty of tutorials and DIY to make pot holders, they are so easy to make and you will be making more than one!
Baby Blanket
6 – Baby blankets can be very easy to make as you can buy a cut solid or printed fabric and sew on the seams around the four sides of the blanket as it was a self biding. It won't take you more that 30 minutes to finish the baby blanket and it can be made using a cotton flannel fabric or a minky fabric.
Drawstring Bag
7 – Drawstring bags are easy to make and it will help you to learn more about sewing, if you're a beginner and you're looking to work on an easy project, you can make one, two or as many drawstring bags as you want to, you can make them to keep to use when you go to buy some vegetables at the store, to storage your shoes, or to keep your children's toys in the bags.
Mini Tote Bag
8 – Making a mini tote bag will challenge yourself a little bit more and you will be working sewing on the bag and the bag straps, but this is a sewing project that will help you to get better at it.
There are many good tutorials on the internet where you can follow the steps to make your own mini tote bag, all you need to do will be to pick a cute fabric to make it!
New to sewing and looking for the best sewing machine for beginners? Take a look to the Brother CS6000i
9 – How to Sew A Patchwork Potholder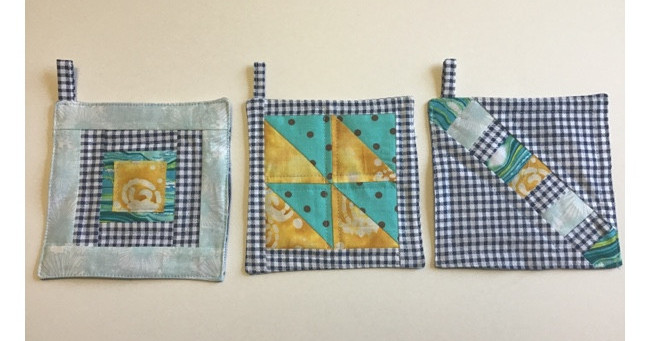 If you're learning to make patchwork, you might have some extra blocks already made, a good way to use them is by making a potholder with them, any patchwork is good, and it will make a cute potholder to have in the kitchen for when you're baking or making dinner for the family!
Don't miss easy sewing tutorial any beginner will love to make, it will help you to learn how to make a basic patchwork block with triangles and it will also help you to learn the steps to follow to make a pretty potholder.
Afther you make the first one, I'm sure you'll be making more to have some extra potholders in the kitchen or to give them as a gift to a family member or to a good friend.
Related: Best Resources For Learning New Sewing Techniques –
Thanks for sharing our blog on your Social Media!
Closing Easy Sewing Projects For Beginners
There are plenty of sewing projects for all of us who love to sew, but as a beginner you might want to try to sew something that is easy for you and that will look awesome when it's finished!
The sewing projects listed above are great for a beginner, you will be surprised on how well you can make them and how well each project helps you to get more skilled
Have you tried another sewing project for a beginner you would like to share with all of us! Leave me a note on a comment and I will take a look at it!