The Singer XL-420 Futura Review, this is a sewing and embroidery machine with up to date features that will help you to do more on any sewing project!
It has a USB port that allows you to hook the sewing and embroidery machine to your computer, and you can transfer your own designs plus it has 200 designs built-in to the software to get creative with.
One thing to mention here is that it only works with Windows XP7, 8 and 10, and does not work on Apple or Mac computers, so is something to keep in mind before purchasing.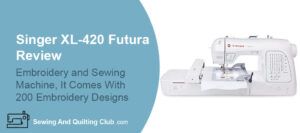 If you're a beginner sewer there might be a learning curve when using the software for the embroidery designs.
This is an affordable machine for most, and comes with a heavy-duty frame, so is not likely to move around when sewing.
We will run through the many features found on this sewing machine, and you can judge if it's a good fit for what you're looking for with your sewing projects.
The Singer XL-420 Futura Review
30 Built-In Stitches
This machine has 30 built-in stitches, 6 essential, 5 stretch, 17 decorative, and 2 one-step buttonholes.
The maximum stitch width is 7 mm and the maximum stitch length is 5 mm, and both can be adjusted manually.
To select a stitch just push one of the buttons to the right of the displayed stitches, and an LED light will be on above the stitch you select.
The machine will sew up to a speed of 1100 stitches per minute, and has a speed control lever for adjusting, also when the foot control is used the speed lever limits the speed of your sewing.
There is the reverse stitch button when pushed the machine will sew 4 stitches in reverse, and is good for tying off or reinforcing stitches.
Another thing we should mention is that even though it has a heavy-duty metal frame it is not good at sewing thick or multi layered fabrics.
Bobbin Winding and Threading
The bobbin for this machine is Singer Class 15 J.
To wind it just follow guides on the top, then put bobbin on winding spindle, and push the latch against the bobbin until it clicks and starts to spin, then when the bobbin is full it will stop automatically.
On this machine it is a top loading bobbin system, just lift the cover and insert the bobbin with the thread coming off counterclockwise and follow the guides, plus it is not necessary to pull up the bobbin thread.
For the thread down to the needle, follow the guides on the machine, then you can use the needle threader, but be sure to put the needle in its highest position before using the needle threader.
There is a thread tension dial on the machine, but 90 % of the sewing will be done with the letter S showing, but if adjustment is needed then do it, with the presser foot down.
There is a chart in the instruction manual giving recommendations for the correct thread and needle to use for the fabric you will be sewing with.
Embroidering With The XL-420
The embroidery unit for this model is separate, and will need to be attached first by removing the accessory compartments and then slide the embroidery unit on until it clicks in place.
To remove it just press the release lever on its front and pull it off to the left.
As mentioned before you can put Singer's software on to your computer for access to 200 embroidery designs. Plus any designs you wish to make yourself or find on the internet, so is almost limitless for designs.
The machine comes with 3 hoops of different sizes a 10 x 6 inch hoop, 4 x 4 inch hoop, and 6.75 x 4 inch endless hoop.
For the endless embroidery function to work you will need the 6.75 x 4 endless hoop attached, then with the Futura program open, you can select an endless embroidery design, and just check in the instruction manual for help.
With the endless hoop you are able to create designs for curtains, or around a tablecloth, etc.
The machine also has 5 of the more popular fonts to personalize any of your projects, and which you can size, shape, or move, create an arc, banners, etc.
There are different features you can do with the Futura software, such as mult-hoop, which is used for large designs, or resize designs, and more.
When using the endless hoop there are 20 different endless designs to chose from.
Singer XL-420 Manual
You can download the manual here!
The Presser Feet
This machine comes with 7 presser feet to meet your sewing needs.
Embroidery foot
All purpose foot
Zipper Foot
Blind hem foot
Satin Stitch foot
Buttonhole foot with under plate
Button sewing foot
To change the presser feet just push the release button behind the foot, then lower the lifter onto another foot until it snaps into place.
There are also 3 positions for the presser foot, low for sewing, the middle position for entering or removing the fabric, and the high to remove feet or thick fabrics.
The Feed Dogs
This machine has the 7 point box feed dog system, which will move the fabric very smoothly while sewing.
The switch for raising or lowering the feed dogs is located on the back of the free arm, and are usually kept in the up position for general sewing, and down when doing free hand embroidery, darning or monogramming.
Free Arm and Accessory Drawer
The extension table with the accessory drawers can be pulled off to the left of the machine, and gives access to the free arm for when you need to sew cuffs, pants, hard to reach sewing areas, etc.
The extension table is just pushed back on, and snaps into place.
Lighting
On this machine the power switch also controls the lights off/on, and there are 6 LED lights located around the sewing area to give a good view when sewing.
Operating Buttons and Dials
Just above the sewing area is the Start/Stop button – has an LED light that's green when ready to start, and red when sewing.
Reverse stitch button – when pushed, the machine sews 4 stitches back then stops.
Needle stop button – for stopping needle at high or low position.
Tacking stitch button – when pushed machine will tie of the stitches
Speed control lever located on the front, and also limits the speed of the foot pedal.
Thread tension control dial on the top above sewing area.
Feed dogs control on free arm at the back.
Pattern selection panel – on front with 5 stitch selection buttons.
Width and length adjusters are just below stitch patterns, plus the twin needle mode button.
Socket for knee lifter below stitch pattern near bottom of the machine, which works very well for free motion sewing or quilting
USB plugs into hand wheel end of sewing machine for embroidering.
Accessories For The XL-420
This machine comes with an impressive set of accessories to help you to work on any sewing project!
3 embroidery hoops
7 presser feet
Thread spool nets
Thread spool caps
Auxiliary spool pin
Spool pin felt
Scissors
Knee lifter
USB cable for embroidering
Package of needles
Foot controller
Bobbin – 15J
Seam ripper
Lint Brush
Software for embroidery
Vinyl accessory bag
Power cord
Specifications For The XL-420
1100 stitches per minute
200 built-in embroidery designs
5 monogram fonts
13 needle positions
25 pounds in weight
22 inches long by 9 1/2 inches wide by 13 inches high
7 presser feet
3 embroidery hoops – 10 x 6, 6.75 x 4, and 4 x 4 inch
Endless designs
7 mm maximum stitch width
5 mm maximum stitch length
30 built in stitches
2 1-step buttonholes
Warranty For The XL-420
There is a 25-year limited warranty on this model, which is 25 years against defective materials and workmanship, and 2 years on the motor, lights, electrical components, plus 90 days parts and labor free of charge.
It's always best to check the warranty when first purchasing.
The Pros and Cons For The XL-420
Pros
Has large amount of embroidery designs
30 stitches is a good amount for your sewing projects
Not overly expensive for all that this machine can do
Easy to set up
Heavy duty frame built to last
Has automatic needle threader
Cons
Some have had problems with the software, and can only be used with Windows.
If thread breaks while embroidering, it will keep sewing, so needs to be watched.
Not suitable for sewing thick fabrics.
Probably difficult for beginners with the software.
FAQ For The Singer XL-420 Futura Review
Where To Buy The Singer XL-420 Embroidery and Sewing Machine?
You can find this embroidery sewing machine on the specialty stores shelves, but you can read more reviews online.

Our Final Thoughts on the Singer XL-420 Review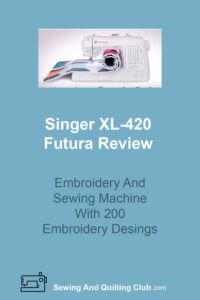 For a machine that has about an equal amount of good and bad points, we would still recommend it. It's a versatile machine with the sewing, and embroidering, and the up to date features, plus at a reasonable price.
So if you are looking for a sewing and embroidery machine for your projects, you might want to give this one a test run.
Wishing you all the best on your sewing projects – Happy Sewing!
You might also want to read this: