Hard to find the perfect gift for the sewer in your family? Our Top 10 Gift Ideas For Sewers is here! A gift list with sewing tools any sewer will love to get!
Gifts To Give A Sewer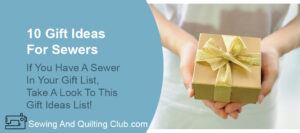 Sewer beginners and the more experienced, love to have everything they need to work on for different sewing projects, and this will help you find the perfect gift to give on their birthday or for the Holidays!
From something simple as a decorated mug for their coffee or tea, or a new pair of scissors, to a new sewing machine, there are many sewing tools that any sewer will love to get as a gift from you, below I will list some of them.
We will list below 10 gift ideas every sewer would love to get, from affordable sewing tools that won't break the bank to some gifts ideas that will cost a couple of hundred dollars but you can be sure they will make the sewer in your family happy to get them as they will help her/him to work on all their projects better and faster!
10 Gift Ideas For Sewers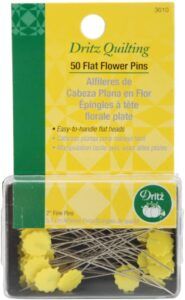 1 – Flat Flower Pins
When you love to sew, you know how important it is to have a box of good quality pins, easy to pinch on any project and easy to look at them as you sew on, having the Flat Flower Pins will help you to work with ease on any project and get accurate seams with a professional finish.
---

2 – Magnetic Pin Organizer
I love to make my own pincushions and I love to have at least a pair of them on the sewing table, getting all the pins in one place is a must have as I work on a new project. But when you get a magnetic pin organizer soon you will notice how good it is to have in the sewing room, not only will it help you to keep all those pins in one place, but it will help you find any pin that might be on the table or on the floor.
Another great benefit of the magnetic pin organizer is how easy it is to put back any pin on it as you sew on and as you work on the pattern it is easier to grab pins to pinch in your project!
---
3 – A Good Pair Of Scissors
From all the sewing tools, if I need to pick one as the most important, it will be a good pair of scissors, they will help any sewing beginner or the more advanced to cut any piece of fabric accurately for any project, this is why scissors become the most precious tool for any sewer and they will pay attention so that nobody at home use them at all.
I've been working on many sewing and quilting projects with a Fiskars scissors, they are affordable and made with high quality that will last for many years!
---

4 -Thread Organizer Box
As the sewer in your family keeps working on more sewing projects, soon she/he will have a big thread collection, an organizer box will help the sewer to keep them well organized and easy to find the one for the next sewing project.
---

5 – Steam Iron
One sewing tool any sewer loves to have in the sewing room is a good quality steam iron, it will help the sewer to get any seam flat and perfect to get a professional finish on any project the sewer makes!
When you think about purchasing an iron as a gift, you might think it would not be a good idea, but when you think about purchasing a gift for a sewer, you can't go wrong with a new steam iron!
---

6 – Wool Pressing Mat
Sewing is also about pressing, and nothing will help any sewer to get any seam well pressed that a wool pressing mat, you can find one that will meet the sewers needs as you can find them in different sizes! It will help the sewer in your family to get those seams well pressed in no time!
---

7 – Homest Sewing Machine Carrying Case
When the sewer in your family likes to take sewing classes or to attend to sewing retreats, she/he will be so happy to get as a gift a sewing machine carrying case where it can be placed as the machine along with all the sewing tools are needed to work on current sewing project. This carrying case is light and it's perfectly designed to carry a standard size sewing machine, it comes with carrying handles and an adjustable over-the-shoulder strap, it can also be stacked with your luggage for easy carrying.
---

8 – Sewing Machine
Have you seen the sewer in your family working more on different projects in that old sewing machine and she/him is doing some excellent work? It might be time to take a look to a new sewing machine that is designed and built with all the up to date features and it will help her/him to work easier and better on any project on their list.
Take a look to the computerized sewing machine that will work great on sewing and quilting projects!
---

9 – Sewing Table
Sewers love to have everything in one place, and what will be better to give the sewer in your family then a good sewing table that comes with a few drawers designed for keeping everything a sewer needs to be well organized. You can find the best sewing table that will help to have all sewing tools and supplies in one place!
---

10 – Sewing Planner
I'm sure you might have seen the sewer in your family writing notes and measuring on a piece of paper, and it can be so hard later to find those papers ever again! As a sewer for many years, I know well that can happens very often.
A sewing planner will help a beginner or the more experienced sewer to have any project notes and measures in one place, it will be easier to find and it will be a time saver no matter what project they are making!
There are many sewing planners where you can choose one for her/him, from a simple notebook with a sewing theme on the cover to a planner designed to help sewers to take notes about sewing projects, all are good and it will help any sewer to take notes from their projects!
---
10 Gift Ideas For Sewers Closing Thoughts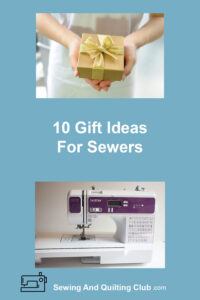 Whether you're looking for a gift idea for the sewer in your family for their birthday or for the Holidays, it will be easier for you to find the right gift after you read this article.
As a sewer myself, I can tell you, sewers always need one new sewing tool to work on new projects or to do a sewing task better and faster!
Some gift ideas for sewers will cost you only a few dollars and you can be sure sewers will be happy to get them, some other gift ideas like a new sewing machine with up to date features will cost more, but you can be sure the sewer in your family will love to get it!
If you're a sewer yourself and if you have another great idea for a gift to give to sewers, please share that idea on a comment, it will help anyone who is looking for a new idea to give to a sewer!
Happy sewing!
You can also read:
10 Must Have Sewing Tools – If you're looking for more ideas to buy as a gift for a sewer, you might find a sewing tools to add to this gift ideas list!