With many positive reviews, the Janome Memory Craft MC9500 Review, this is the favorite sewing machine for sewers and quilters, read my review now!
The Janome Memory Craft MC9500 is a computerized embroidery sewing machine with a touch screen, and can also be used for quilting.
With many positive reviews, the Janome Memory Craft MC9500 is the favorite sewing machine for sewers and quilters, read my review now!
The MC 9500 takes only 2 steps to convert from sewing to embroidery mode, you just have to touch the embroidery key and attach the correct presser foot, then you're ready to attach the hoop which is attached by fitting the pins into the carriage holes, and tightening the attaching knob.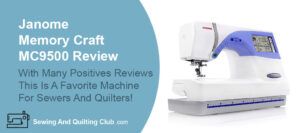 The telescopic carriage will let the hoops move back, forwards, side to side very easily to create your design.
In the sewing mode there is a huge selection of decorative stitches, plus you can combine stitches, and you can save the ones you like in the computer's memory.
This machine would be preferred by the more experienced sewer but someone starting out just might take a little longer to get used to all its features, as it is very easy to set up and start sewing with.
Janome Memory Craft MC9500 Review
We will Mention the feature found on this machine, and you can judge if they would be a good fit for your sewing projects.
Stitches for the Sewing Mode
The machine comes with 98 built-in sewing stitches, and 7 one step buttonholes.
There is a variety of utility stitches from straight zigzag, zipper, quilting, a variety of buttonholes, overcasting, blind hem and many more, including satin and decorative.
Stitches can also be combined and saved to memory, giving a huge amount of stitches to work with.
The maximum stitch length is 5 mm, and the maximum stitch width is 7 mm
Top speed for sewing stitches is 820 stitches per minute, and speed can be controlled with the speed control lever, and also the foot control will only reach the speed set by the speed control lever.
Under the cover at the top of the machine are all the 98 stitches illustrated plus 90 built-in embroidery designs.
To select a stitch you press the stitch pattern key on the touch screen which will give the name of the stitch selected, and image, recommend foot, and settings.
In ordinary sewing mode you have 5 sewing choices:
The utility stitch key which when open gives 12 of the most popular utilities stitches.
The buttonhole stitch key
Satin stitch key
Decorative stitch key-will open a multi page window for decorative stitches.
Monogramming key.
This machine has the reverse button which when stitch patterns 1, 2, 6 or 7 are selected the machine will sew in reverse when the button is pressed, and for all other stitches it will sew locking stitches, then stop automatically.
There is also the auto-lock button which when pressed will sew locking stitches for patterns 1, 2, 6 or 7 then automatically stop and for all other stitches the locking stitches are sewed at the end of the pattern with the auto stop as well.
The stitch length and width can be adjusted with keys on the touch screen.
Bobbin and Threading the MC9500
To wind the bobbin on this machine, just follow the guides imprinted on top of the machine, and with thread in bobbin move the bobbin and spindle to the right, then press on foot controller and bobbin will stop automatically when fully wound.
This machine is top loading for the bobbin, so just remove clear cover and drop in the bobbin with thread coming off counter clockwise, then follow the threading diagram on the clear cover leaving about 4 inches of thread to the back.
To thread the machine follow the numbered arrows down to the needle threader and use it to thread the needle, then to draw up the bobbin thread, push the up/down needle button twice, then leave about 4 inches of thread back under the presser foot, and you're ready to sew.
This machine also has a thread tension dial which features and auto set, that covers a large part of your sewing conditions. Manually adjustments might be needed for some fabrics.
To Open The Embroidery Mode
On the touch screen press the embroidery mode key, and there are 5 categories found in this mode.
Built-in designs window shows 91 built-in embroidery designs.
Monogramming key window shows 5 different styles, Gothic, Script, Cheltenham, 3 – letters and 2 – letters.
PC Card Design key shows designs from the PC Card.
Card Reader 10,000
Editing key window where you can change and combine patterns for original designs.
The hoop size for any selected pattern are shown on the touch screen also, along with the thread color, foot to use, size of design, and the time it takes to sew that design and more.
Also, when in embroidery mode the feed dogs will automatically drop down.
This machine can also use flash memory cards with many more designs for embroidering.
The hoop sizes for embroidery are 5 inches by 4.3 inches, and the second one is 7.9 inches by 5.5 inches.
Also, when embroidering use size 11 needles for the finer materials, and size 14 for heavier fabrics, plus the foot pressure is recommended to be set at 2 for embroidering and 3 for the regular sewing.
You will find that when in embroidery mode there are many things you can do to any pattern you chose, such as using the trace key to show the outline of the pattern without stitching, modify and combine patterns, and much more.
Monogram Embroidery
When the monogram key is pressed you can program words by pressing the alphabet keys, and change the type of font with the font key, and also use upper or lower case letters and even select European accented letters, plus much more.
The Free Arm
For free arm sewing you can remove the extension table which lifts out towards you, giving access to the arm for stitching sleeves, pants, cuffs, socks, etc.
Presser Feet For The MC9500
The MC 9500 comes with a variety of presser feet.
Automatic buttonhole foot
Basting darning foot
Blind hem foot
Button sewing foot
Embroidery foot
Overcasting foot
Overedge foot
Satin stitch foot
Zigzag foot
Zipper foot
To change the presser feet is very easy, just press the red button behind the foot and it drops off, then snap a new one in place by lowering the presser bar.
Each foot is lettered for easy reference, and displayed on the screen when you chose a stitch.
The presser feet can also be raised 1/4 inch higher than normal, and is a big help when sewing thicker fabrics or multiple layers.
This machine also has the foot pressure control dial on top of the machine as mentioned before with settings 3 for regular sewing, 2 for applique, embroidery, basting, and 1 for the finer fabrics.
Lighting
There is a back lit LCD touch screen for easy viewing, and a light to give you the sewing area good illumination, and this light can be turned off/on by pressing the sewing light key.
If the bulb ever needs changing, just remove the end cover, and pull out the bulb, then replace with a new one.
Buttons And Keys For The MC 9500
Start/stop button – Just above the sewing area, and can not be used when the foot control is connected.
Reverse button for reinforcing stitches.
Auto-lock button sew locking stitches.
Up/down needle button
Speed control lever
Pressure dial- On top of machine
Thread tension dial – Can be adjusted for some sewing materials, or layers of fabrics.
Drop feed lever – At back of free arm.
Hand wheel and PC slot for card.
Thread cutter – At end where face plate is.
Touch screen with all the keys for sewing, monogramming, and embroidering.
Multiple Accessories Included With The MC 9500
Presser feet
Set of needles
2 embroidery hoops – 5 by 4.3 inches and 7.9 by 5.5 inches
Template sheets for built-in designs
Spool holders – large and small
Spool pin felt
Additional spool pin
2 screwdrivers
Lint brush
Seam ripper
Scissors
Bobbins
Quilting bar
Foot control
Janome MC9500 Manual
Hard cover
The extension table has an accessory storage area, and to access it just lift the cover towards you.
There is also a foot storage area on top of the machine for easy access.
Specifications For The Janome MC 9500
98 built-in sewing stitches
90 built-in embroidery designs
5 x 4.3 inch embroidery hoop
7.9 x 5.5 inch embroidery hoop
7 mm maximum stitch width
5 mm maximum stitch length
4.7 inch diagonal LCD touch screen
30 to 35 pound weight and has carrying handle
820 stitches per minute
400 to 650 stitches per minute for embroidery
Feed Dogs Adjustments
This machine has the 7 point feed dog system to move the sewing fabrics very smoothly.
The feed dogs can be lowered and raised, for free arm sewing or quilting, and are automatically lowered when in embroidery mode.
The Janome MC9500 Warranty
This machine is warranted for 25 years against defects in material or workmanship, and the electronics are warranted for 2 years, and defective parts will be replaced free for the first year, but you pay the labor and shipping the product, and the warranty is only good when machine is used for normal home use.
As always, it is best to check the warranty when purchasing.
The Pros and Cons For The Janome MC9500
Pros
Machine is easy to set up for even a beginner sewer.
2 steps to start embroidering
Large amount of stitches and embroidery designs built-in
Very easy to work with all the up to date features
Many owners give good ratings to this machine
Cons
Machine is a bit heavy for transporting
No automatic thread cutter
Has a high price tag
FAQ For The Janome Memory Craft MC9500 Review
Is The Janome MC9500 Worth Buying?
When you love to sew and you're serious when working on your sewing projects, you want to have a model that comes with all the features included to work on different projects.
Janome designed this model with sewers and quilters in mind. This is a model that will work great as you make a new dress, some home decoration projects or working on your new quilt!
Where To Buy The Janome MC9500?
You can find the Janome MC9500 Sewing and Embroidery machine on the specialty stores shelves or with the sewing machine dealer in your area, but you can also read more reviews and purchase it online

Our Final Thoughts For The Janome MC9500 Review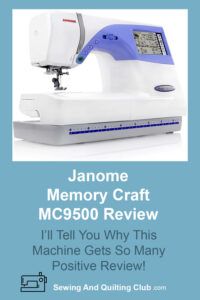 We would recommend the Janome MC9500 to anyone that is looking for a sewing, quilting and embroidery machine that's all in one.
The machine runs fairly quiet and does excellent stitches, and has a large variety of embroidery designs to work with.
The positives are larger than the negatives on this model even if the computer might take a while to get used to, we would recommend this machine for anyone's sewing room.
If this machine is a match for your sewing projects you might want to test it out.
Wishing you all the best on your sewing projects – Happy sewing!

You can also read: