This is a computerized embroidery machine, which would make a great addition to any sewing room. It comes with many advanced features to make embroidering easy and enjoyable to do, and has come a long way from when I remember my mom embroidering by hand for hours at a time. Brother Innov-Is NS1150E Embroidery Machine Review.
This is a professional machine for anyone who loves to do embroidering, and you could even start a small home-based business doing designs for friends and neighbors.
We will mention some of the features found on this machine.
Brother Innov-Is NS1150E Embroidery Machine Review
The Brother Innov-Is NS1150E comes with 138 Built-In Embroidery Designs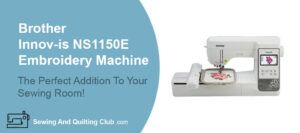 This model comes with 138 built-in embroidery designs, 11 fonts (7 alphabets, 1 Cyrillic, 3 Japanese). And there is 7.4 inches of work space from the needle to the arm, so you can maneuver your projects with ease.
The machine will embroider designs at up to 650 stitches per minute, and the embroidery hoop size is 5 inches by 7 inches.
The Color Touch Screen Display
The touch screen on this model is 3.2 inches and the touch keys are displayed on the screen, plus the sensitivity of these keys can be adjusted to match the user.
There is a help key to press if any problems arise.
The main keys on the screen are:
Previous page key
Next page key
Help key
Settings key
Embroidery key
Back key, and more.
Importing Designs
This machine is able to import designs through a USB port on the end of the machine from the memory stick, as well as connect directly to the computer giving you a large amount of designs to work with.
It also has editing features for letters, resizing, rotating, repositioning, combining designs, and an enhanced zoom.
You are also able to chose from over 5000 designs from iBroidery.com for individual purchase for this machine.
Operating Buttons
Start/stop button – green when machine is ready to embroider or is embroidering – Red when winding the bobbin thread.
Needle position button – to raise or lower the needle.
Thread cutter button – Cuts upper and lower threads at same time.
Threading and Winding the Bobbin
To wind the bobbin follow the diagram on top of the machine over to the bobbin, and wind thread around bobbin 5 or 6 times, then cutting thread in bobbin winder seat.
Moving the bobbin winder to the right and it will snap into place, with the orange light on, then start winding by pressing the start/stop button until bobbin slows down then stop it.
This machine is top loading bobbin model, and just remove the cover and drop the bobbin in with the thread coming off counter clockwise, and follow the guides for the thread and cut the thread with the cutter.
To thread the needle, also follow the guides down to the needle and use the needle threader to thread the needle.
The threader works best when using needles 75/11 through 90/14.
Lighting for the Brother Innov-Is NS1150
The machine has 2 strong LED lights for the work area.
Included Accessories for the Brother Innov-Is NS1150E
Embroidery foot
4 bobbins
3 piece needle set
Cleaning brush
Seam ripper
Screwdrivers, small and large
Spool caps – mini, small, and a large.
Spool net
Scissors
Embroidery bobbin thread
Dust cover
instructions.
Specifications For The Brother Innov-Is NS1150E
17.5 inches long by 11.8 inches high, by 9.8 inches wide.
Comes with a carrying handle.
17.9 pounds
5 inch by 7 inch embroidery hoop
138 built-in designs
650 stitches per minute.
Looking for another embroidery machine, you can also read:
Warranty
This machine has a 25 years limited warranty, which is 25 years on defective materials, 2 years on electrical components, and 1 year for parts and labor from date of purchase.
It's best to always check warranty when purchasing.
Pros And Cons For The Brother Innov-Is NS1150
Pros
Enough features for a perfect embroidery machine
Easy to set up and start working with.
High quality stitches.
Has a large variety of designs and a USB port for more
Can connect to computer and has update capabilities.
Cons
Droplight for embroidery positioning marker not included
FAQ For The Brother Innov-Is NS1150E Embroidery Machine Review
Is Embroidery Machine Easy to Work With?
If you're new to embroidery machines, you will need patience to learn to work with your new machine, the best way to start using your embroidery machine is to read the manual and watch some videos, take your time to work on a few different tests on a piece of fabric, and get familiar with your embroidery machine before you work on a project.
Can I Sew With The Brother NS1150?
Some sewing machines have both features, sewing and embroidery, but this model is an embroidery machine only.
Why To Buy A Brother Embroidery Machine?
Brother Industries is a Japanese company that design and builds different types of sewing, quilting and embroidery machines, it's a well know brand around the globe for its high quality, and they produce affordable easy to use units.
Where To Buy The Brother NS1150E Embroidery Machine
You can find this model on the specialty stores shelves and with the sewing machine dealer in your area.
You can read more review and check today's price on Amazon here!
Embroidery Unit
The embroidery unit just slides into the connection port, and will snap into place, and can be easily disconnected for transporting by a release button on its end.
The embroidery frame can be lined up and will click into place.
You can also read more Embroidery Machine reviews here!
Our Final Thoughts.
The pros far outweigh any negatives about this machine, and if you're into embroidering then this machine is worth the time to take a look at.
It's a professional machine for your embroidery projects, and has enough features to create any of your designs with ease.
The Brother embroidery and sewing machines are well-made, and have a good reputation in the sewing industry.
It's our opinion that the Brother Innov-Is NS1150 would make an excellent addition to any sewing room.
Wishing you all the best on your embroidery projects – Happy Sewing!