How To Sew A Pencil Case For Beginners is an easy step by step tutorial, it will help you to be ready before school starts this year.
If you like the idea of working on a pencil case that is easy to make, you can recycle a piece of denim from an old pair of jeans and it will look amazing!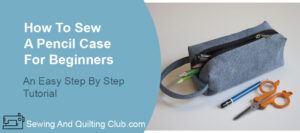 As a beginner sewer you might be looking for an easy to sew project, and as you work on this tutorial, you will get more familiar with your sewing machine and you will learn how to sew a zipper and how to make boxed corners while you make a pouch.
Whether you decide to make this tutorial using a denim piece from an old pair of jeans or if you decide to make the pencil case with a new fabric, it will look pretty and it will help you to keep all your pencils and other supplies in one place
How To Sew A Pencil Case For Beginners
Materials Needed To Sew A Pencil Case
You will need a 9 x 9″ piece of denim and a 8 x 1 1/4″ piece of denim to make the strap, a 10″ zipper, scissors, sewing machine, a pencil to mark fabrics, pins and a patchwork ruler to measure and cut denim pieces.
Step # 1 Sew The Strap
Take the strip for the strap and fold it like a bias, sew on to close the piece and then sew on the other side to make it look like the seams on jeans.
Step # 2 Sew The Zipper
Lay denim fabric face up and zip face down, you can pinch a few pins to hold the denim and zip together while you sew on.
Use a multipurpose presser foot to sew on zipper, don't forget to reinforce stitching at the start and at the end.
Step # 3 Run A Stitch
Fold denim back and place your project on the sewing machine and sew on to make a stitching on the face of the project.
Once you finish sewing on with the sewing machine, it should look like this. Now you need to follow steps # 2 and 3 on the other side of the denim piece and the other side of the zipper.
Step # 4 Sew To Close Pouch
Place your project flat with zipper on the center as shown on the picture below, with the help of a patchwork ruler and a color pencil for fabrics, trace a 3/4″ seam. Sew on the seam with your sewing machine, and do the same on the other side of the project.
When working on this step, before you sew on second side, don't forget to open a little the zipper and keep it this way while you work on the next steps.
Step # 5 Set Up You're Sewing Machine With Zigzag Stitching
I show the LED screen on my sewing machine to show you how I set the machine for zigzag stitching 04 and the machine shows presser foot J.
In case you have a domestic machine that has no LED screen, you can choose the zigzag stitching on the dial to set up different stitching patterns.
Step # 6 ZigZag Stitching On The Seam
To secure the project and make it last for a long time, sew on with the zigzag stitching on the edge of each seam (both sides of your project.
Step # 7 Trace The Four Boxed Corners
Lay your project on the cutting mat, with the help of a patchwork ruler and a pencil for fabric, trace on each corner a 3/4 x 3/4″ square.
Note: You need to trace the square from the seam and not from the project edge.
Step # 8 Cut Out Four Corners
With the help of a pair of scissors, cut out four corners. With the pencil for fabric, mark each side on each corner (where denim fold is). Open each square and meet the mark with the seam, pinch two pins. Do this step on the bottom side of the project.
On the project top side (where zipper closes) open one square and place the strap, then make the mark you did on the denim meet the seam where the strap is, pinch two pins, make same steps to place the other side to be ready to sew on.
Step # 9 Sew On Four Corners
Sew on each corner of the pencil case, seams should be 1/4″
Step # 10 Trim Seams
With a sharp pair of scissors trip the four seams and sew on with zigzag stitching
Step # 11 Turn Out The Pencil Case
With a sharp pair of scissors trim all the threads from your project, open the zipper and turn the boxed pencil case.
You did a great job and your boxed pencil case is finished and ready to use, I'm sure you will be making a few more!
FAQ For The How To Sew A Pencil Case For Beginners
What Sewing Machine I Use To Sew The Pencil Case?
At home, I have a Brother Computerized Sewing Machine, it is so easy to set up and start sewing, any beginner or advanced sewer would love to have it in their sewing room.
How Easy Is It To Set Up For ZigZag Stitching?
This Brother sewing machine is so easy to select one stitching pattern to work on any project, and it only takes to push a button to get the stitching pattern for the next step. It won't take long to push the button to set the machine again for straight stitching.
Can Any Sewing Machine Sew Denim?
Not every sewing machine can sew denim successfully, but I was amazed on how well my Brother computerized sewing machine can handle 6 layers of denim on this project!
It went from sewing 2 layers of denim on the seam to 6 layers without the need to help the sewing machine, after I finished sewing that step, I could check on the quality of stitches, and all of them were perfect!
How To Sew A Pencil Case For Beginners Closing Thoughts
Whether you might be a beginner sewer or if you have already some experience on sewing, you might like to find easy to make sewing projects that will help you to recycling an old pair of jeans and make a useful project.
A new school year is about to start and you might want to make a pencil case for yourself or for your children, I'm sure when you finish the first one and see how easy it is to make, and how well it looks when finished, you'll be making more!
More articles to read any beginner and the experienced sewer will love to make!
7 Autumn Easy Sewing Projects – When weather starts to change, you might want to sew a scarf, a pair of slippers and a few more things to decorate your home!