The Singer 4432 Heavy Duty Review, the sewing machine to have at home for handling repairs, alterations, making clothes, crafts, home decorations and more!
The Singer 4432 is a mechanical sewing machine that's built to last, and will do your sewing projects from making face masks, mending cloths and sewing any other project you have on your list.
The motor on this model is said to be 60 % stronger than other machines like this one, and has a strong metal frame under its cover, so it will sew through heavier materials such as layers of denim, thin leather, and all the finer fabrics as well.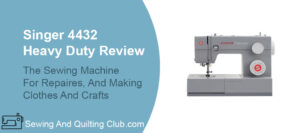 We would like to mention that even though the machine is heavy-duty, it is not meant for industrial sewing, but only for home use.
The machine has enough features to make sewing a pleasure, and has a low price tag, plus would make a good beginner sewing machine, and even the more Experienced sewer would find it a valuable addition to their sewing room.
For Who Is The Singer 4432 Heavy Duty Sewing Machine For?
This is a mechanical sewing machine without many bells and whistles that any beginner sewer will love to have at home to learn the basics of sewing and to work on different projects, as it is easy to set up and start sewing.
The 4432 is a popular model that comes with enough features at an affordable price for a heavy-duty sewing machine.
Singer 4432 Heavy Duty Review
We will mention some of the features found on the Singer 4432, and you can see if the machine is a match for your sewing projects.
How Many Stitches Come With The Singer 4432?
This Model comes with 32 built-in stitches, which include your 6 basic stitches, 18 decorative, 1 automatic buttonhole, and 7 stretch stitches.
The speed of the stitches is controlled by the foot pedal, and will sew up to 1100 stitches per minute, so is not a slow machine at sewing, any of your projects.
The length and width of the stitches can be adjusted by dials on the machine, with the maximum length being 4mm, and the maximum width is 6 mm.
To select the stitches just use the selector dial on the face of the machine that has the stitches displayed.
This model also has the reverse sewing lever handily located, just above the sewing area, for reinforcing the stitches, and to secure the start and finish of a seam.
Bobbin and Threading
To wind the bobbin on this machine is identical to most others, so just follow the imprinted diagrams on the top and over to the bobbin, and with the thread up through it and on the spindle move it to the right then press the foot pedal until bobbin is full.
The machine comes with 4 bobbins and Singer recommends class 15 plastic bobbins for the thread to work correctly.
This model has the top drop in bobbin system which is quick and easy, just remove the plastic cover which has the diagram for the thread direction, and drop in the bobbin with the thread coming off counter clockwise, follow the guides leaving about 6 inches of thread towards the back of the plate.
To thread the needle follow the guides imprinted on the machine down to the needle threader, and use it for threading the needle.
We also recommend that you use a good quality thread for the sewing to work great.
There is a thread tension dial on top of the machine, which can be set for different fabrics with the basic thread tension set at 4.
In the instruction manual you can find the needle, fabric and the thread to use for the different materials.
As this is a heavy-duty machine, we have seen it sew through 8 layers of denim, but is not something we recommend.
Once the machine is threaded, it is best to try it out on some spare fabric for a test run.
The Free Arm
On this model you can remove the storage compartment, giving access to the free arm for sewing jeans, cuffs, sleeves, and other hard to reach areas. This extension table will just pull off towards the end of the machine.
Lighting
The machine has an LED light to give good viewing to the work area, and turns on at the same time as the machine is powered up.
How Many Presser Feet Does The Singer HD 4432 Come With?
The HD4432 has 4 presser feet
All purpose foot
Zipper foot
Buttonhole foot
Button sewing foot
To change presser feet, just raise the lever behind the foot and it drops off, then lower the shank unto a new presser foot till it snaps into place.
The presser foot pressure for this model is preset requiring no adjustment, but if it is needed, there is a presser adjusting screw on top of the machine for this, and the presser foot can be raised to a higher position for thicker fabrics.
Feed Dogs
The feed dogs on this sewing machine will move the fabric very evenly while sewing and with the stainless steel bed plate they slide easy.
It also has the ability to lower and raise the feed dogs by removing the extension table and the lever is at the back for this.
Dials and Levers on the Singer HD4432
The reverse sewing lever – above work area.
Presser foot adjusting screw – On top if needed
The thread tension dial.
Three needle position dial.
Stitch width dial.
Stitch length dial.
Stitch pattern selection dial.
Drop feed lever – at back of machine for free motion quilting and sewing.
Handwheel at end of the machine.
Accessories for the 4432
When you open the box, you will see this sewing machine comes with a good number of accessories to help you to work on different projects with ease.
4 presser feet
Seam ripper
Cleaning brush
Edge quilting guide
Package of needles
Spool holders – large and small
4 bobbins – class 15 plastic
Screwdriver
Spool pin felt
Soft cover
Foot control
Power cord
Singer HD4432 manual and quick start guide
Specifications for the Singer HD4432
32 built-in stitches
1100 stitches per minute
6 mm maximum stitch width
4 mm maximum stitch length
4 bobbins
Around 15 pounds weight – has carrying handle
15.2 inches long by 12 inches high by 6.2 inches wide.
4 sewing feet
Size 14 needles
Warranty For the Singer HD4432
This model has the 25-year limited warranty, and which is 25 years against defective materials and workmanship, 2 years on motor, and electrics, and 90 days parts and labor free of charge.
Always check warranty when purchasing.
Pros and Cons
Pros
Easy to set up and start sewing
Light enough to take to sewing classes
Heavy duty frame
Automatic threading
Strong motor and high speed
Easy machine to work with for beginner sewers and the more experienced.
Has twin needle abilities and 3 needle positions.
Has a low price tag.
Cons
Reports of missing stitches on very heavy fabrics
Speed might take some getting used too for beginner sewers
FAQ For The Singer 4432 Heavy Duty Review
Is This A Portable Sewing Machine?
This is a sewing machine that fits in regular size and it comes with a weight around 15 pounds, which makes of it a portable unit that will be easy to move around or to take it to your sewing classes and retreats.
How Heavy Duty Is This Sewing Machine?
It is built with a metal frame and is designed to work well with different types of fabric, which will give you an excellent stitching quality on all your projects no matter what material you use.
It's also designed to work well on projects where you need to work with multiple layers or thick materials, most owners call it a real workhorse that will last for many years.
Is This An Industrial Sewing Machine?
As this model comes with the name of Heavy Duty, it can be easily confused as an industrial sewing machine, but this is a mechanical sewing machine designed for home use that can work well on different materials, thin and thick fabrics and this is why the Heavy Duty name on this model.
Where To Buy The Singer 4432 Heavy Duty Sewing Machine?
You can find the Singer 4432 on the speciality stores shelves or with the sewing machine dealer in your area, but you can also can purchase it online.
Our Final Thoughts On The Singer HD 4432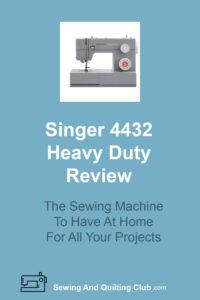 We have found that this is an excellent sewing machine for sewing just about anything around the home.
As it is just a basic sewing machine without too many buttons to press, it does not take long to be ready and sewing.
So if you're looking for a strong sewing machine that comes at a good price, and can meet all your sewing projects, then we suggest you have a look at this one and give it a test run.
Wishing you all the best on your sewing projects – Happy Sewing!
You can read also more Heavy Duty Sewing Machines Reviews here: