Hand Embroidery is so easy to start with, and this is one of the reasons this hobby has more people around the world getting started with it, it doesn't require a big investment and anyone can do it, as a beginner you might want to try with something small and easy.
Hand Embroidery Supplies For Beginners
Hand Embroidery Supplies For Beginners is a short list of needles, fabric, and thread that won't break your bank account to get started with, we will share a short list of supplies you need.
*This post shares affiliate links.
---
Fabric

The first material you need to start with embroidery is a piece of fabric to work on, in general any type of fabric will be good, but as you get more interested to work on different types of embroidery, you will learn more about the different types of fabric you can find on the market.
In general as someone who gets interested to get started in embroidery, you can find any piece of fabric and try some beginner stitches and do an easy embroidery design, you will be amazed on how cute it can look and you will get motivated to learn more about embroidery!
Related: Embroidery Fabrics For Beginners
---
Embroidery Needles

Embroidery Needles can be found in many different sizes, as you get started you might need to try some needles to find one that is best suited for the type of embroidery you'll be doing and finding one that helps you to do the embroidery stitches you will be working with ease. In the market you can find many different types of needles to do embroidery, once you decide what type of embroidery you'll be working on, you can get a package of needles that are made for that type of embroidery, but you can find also some needle packages that come with different needles, needle size 3 – 10.
Related: Embroidery Needles VS Sewing Needles.
---
Embroidery Floss

When it comes to embroidery floss, DMC is the most known brand most embroidery hobbiest use on their projects, as it's well-known by its quality and you won't have any problem to find the right color and tone of thread you need for your new embroidery project.
Embroidery floss comes in 6 strands skeins, that is easy to work with and you can decide to work with a single or more strands in your needle, and it's good for many different types of embroidery.
Related: What Type Of Thread Is Used For Embroidery – Is Washing Embroidery Floss Before Stitching Necessary? –
---
Embroidery Hoop

Embroidery Hoops will help you to stretch your fabric, so you can work on your embroidery with ease. There are some embroidery work that will not need the use of a hoop, but in general keeping your fabric in a hoop will help you to get better results from your embroidery, even stitches and it will prevent any wrinkles or folds in the fabric while you do the embroidery on it.
It's easy to find embroidery hoops in a variety of sizes, shapes and materials, the most common is round and made of wood. Wooden hoops are also used to frame embroideries.
Related:
---
Embroidery Scissors

It will be always handy to have a pair of scissors near anytime you're doing some embroidery, as you will need to cut your thread ends, cut or trim your fabric and from time to time, you will need them to help you to snip out a mistaken stitch. Scissors for embroidery are small and narrow, their blades are usually 1 to 2 inches long and sharp. You might also consider to have a regular size pair of scissors to cut your fabric with ease.
---
Fabric Marking pen
Fabric Marking Pens will help you to trace any pattern on your fabric, there are plenty of pens, markers and pencils to find one that is best for your embroidery designs on the market where you can test a few of them. There are some that are air-erable that will disappear over time, water-erasable that disappear when you wet your embroidery.
Some embroidery artist prefer marking pens over pencils as they come with a fine point that help them to draw fine lines on the fabric, and their ink seems to be easier to disappear from the fabric.
You will need to get some marking pens or pencils for light and dark fabrics, pink or blue ink pens will work great on light fabrics, while white or yellow ink will work great on dark fabrics.
---
Thimble

To have a thimble in the embroidery tools basket always, will help you to work with ease on any type of embroidery and it will protect your fingers from working long hours pushing the needle through the fabric. You might not be used to use it, but as a tip I will suggest to you to get used to it, you will notice how easy it is to work with on any embroidery and there are in the market different types of thimbles where you can find one that fits well on your finger and you will feel comfortable enough to work with it.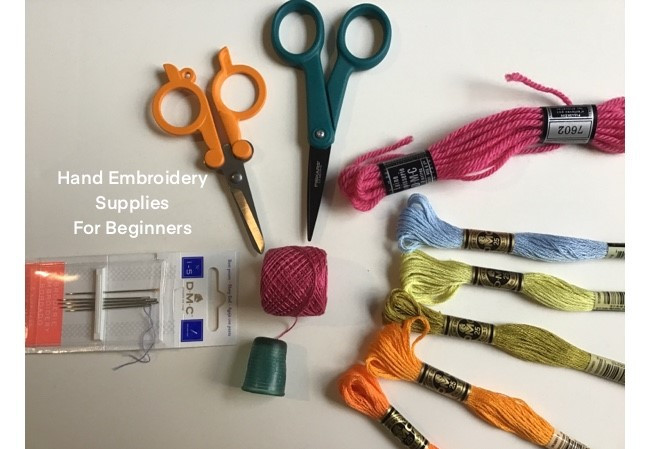 Closing
Embroidery is a great hobby to get started with, it's not expensive and there are many different types of embroidery where you can find one for your creative life.
Start learning the basic embroidery stitches and some simple embroidery patterns, soon you will find yourself working on a higher level or maybe creating your own patterns and designs.
Happy Embroidering!