The Janome MOD-19 Sewing MachineReview will tell you everything you need to know about this basic sewing machine and that it is not a computerized model.
It can sew a variety of materials, and has enough features to make it easy to work with.
It has been given the Women's Choice Award, for 2020, and is highly recommended, plus the price is very easy on your finances.
As with most Janome sewing machines, this one is built to last with its metal interior frame, and should give you many years of service. This is an ideal machine for beginners and does not take long to learn how it work with it.
The machine does have some issues, as there are some complaints about changing the presser feet, and it does have a plastic foot, which is not the best.
But with the modern features on this sewing machine, and the price plus being built to last, we believe it makes a great starter machine for someone just learning to sew.
The Janome MOD-19 Sewing Machine Review
Who's This Sewing Machine For?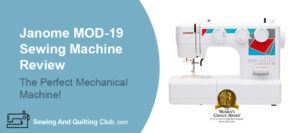 This easy to use model will be the best sewing machine for anyone who wants to start their sewing journey, it will be the delight for any beginner who wants to get to know the sewing skills to work on garment constructions and home decor.
It will be the perfect machine for children interested to learn to sew, and it will be also a great model for any student who wants to keep their outfits at the best of shape.
19 Built-in Stitches
The model comes with 19 built-in stitches, and includes a 1 four-step buttonhole.
The stitches are displayed on the front of the machine and lettered, so are easy to dial up, with the first of 3 dials from the needle area.
You center dial is for setting the stitch length, and the last dial is for the stitch width, then below the 3 dials is the reverse stitch lever, for reinforcing your stitches.
The maximum stitch length is 4 mm, maximum width is 5 mm, and it will sew 750 stitches per minute.
Bobbin And Threading
Winding the bobbin is easy by following the instructions, and when bobbin is fully wound it will stop automatically.
To thread this machine follow the numbered arrows down to number 6 of the needle bar thread guide, and with needle up bring threader knob down and turn knob so hook goes though eye of needle and catches the thread, then turn knob drawing thread through the eye.
To insert bobbin just lift up the clear cover as this is a top drop-in system, but bobbin in and with thread going to the left follow the guides, and then pull about 4 inches of the bobbin thread on top with thread going towards back of the machine under the presser foot, and you're ready to sew, and on the front is a dial for thread tension also.
5 Piece Feed Dogs System
The machine has a 5 piece feed dogs system for a smooth movement through the machine. When the accessory drawer is removed you have access to the lever to drop the feed dog for free-motion sewing and quilting.
LED Lighting
There is an LED light stationed to give a good light on the working area of this sewing machine.
4 Presser Feet
The machine comes with 4 presser feet.
General purpose foot
Sliding buttonhole foot
Zipper foot
Blind hemming foot
To change the presser feet use the lifter to raise the foot, and it can be raised 1/4 inch higher than the normal position for easier removal of foot. To install a new foot, push in into presser holder, and to remove just pull out, some models have the snap on type which is probably better.
Specifications For The Janome MOD-19
12 pounds in weight, so it's easily portable with carrying handle
16 inches long by 12 inches high and 7 inches wide
750 stitches per minute
Work pace – 6.2 inches wide by 4.2 inches in height
Maximum stitch width 5mm
Maximum stitch length 4 mm
Power cord and foot controller plug into end of machine, where the of/on switch is located
Free Arm
This sewing machine is also capable of free arm sewing by removing the accessory tray, then you can sew jeans, sleeves, cuffs or other harder to sew items.
Accessories For The Janome MOD-19
4 presser feet
Package of needles
3 bobbins (class 15)
Screwdriver
Seam ripper
Spool holder
Additional spool pin
Power cord
Foot Control
Instruction Manual
Warranty
The Janome MOD-19 comes with a 25-year limited warranty which covers any problem with materials or workmanship, and the electrics are covered for 2 years, then 1 year for defective parts and labor free of charge. Warranty applies only if sewing machine is bought from an authorized dealer.
The Positives And Negatives For The Janome MOD-19
Positives
An easy machine for beginners
Simple to operate
Will last for years
Light weight-easy to take to sewing classes
Quiet running
Not very expensive
Enough stitches and features to make your sewing easy.
Negatives
Presser feet not as easy as most to change
Not ideal to work with thick materials such as denim
Is This Sewing Machine Portable?
It's a lightweight model, it's a portable sewing machine and this makes it ideal to take it to your sewing classes and workshops.
Is This Sewing Machine Good For Anyone Who Wants To Start Sewing?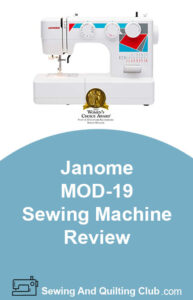 This is an easy to set up model with enough features any beginner would want to have in a sewing machine to learn the basic of sewing. As the sewer gets to know more sewing skills, then you can upgrade to another model such as the Brother CS6000i
Our Final Thoughts For The Janome MOD-19 Sewing Machine
After taking into consideration the negatives and positives for this machine, we would recommend it.
With its lightweight, features and metal interior, this is a good machine for anyone starting out in the sewing journey.
With its low price and ease of use it would be a good investment, so is worth your time to take a look at it, or give it a test run.
Wishing you all the best on your sewing projects – Happy Sewing!