The Juki HZL-LB5100 Review – This is a basic computerized sewing machine, with enough features to let you create some beautiful projects.
The machine is easy to set up and easy to work with, and would be well suited for beginners or the professional sewer.
The Juki company has been making sewing machines for several decades, and are known for producing high quality products that will stand up to all your sewing projects, and are made to last.
As any sewers look for a sewing machine to match their preference, which could be quilting, sewing, embroidery, or even leather, we will mention the features of this model to see if it suits your sewing needs.
Juki HZL-LB5100 Computerized Sewing Machine Review
100 Built-In Stitches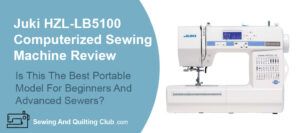 The LB5100 comes with 100 built-in stitches, that include decorative and utility stitches to fit any of your projects, and some stitches included are:
Stretch
Zigzag
Knit
Overedge
Buttonholes,
Other basic stitches
On the front of the machine are the charts displaying all the stitches with a pull out chart behind the first one.
The stitches on the chart are numbered for easy reference, when bringing them up on the LCD screen, and the stitches also show the recommended foot, and as well the screen will also display the foot to use for each stitch.
You are also able to set the stitch length and width on the screen, with the maximum stitch length at 5 mm, and maximum zigzag width at 7 mm
6 Different Presser Feet
Standard zigzag foot
Blind hem foot
Zipper foot
Overedge foot
One step buttonhole foot
Satin stitch foot
The presser feet are easily changed on this model just by pushing the release button behind the foot and them snapping in another one.
Each of the presser feet are lettered, so you know what stitch they can be used with.
There is a lever to raise the presser feet, which can go 1/4 inch higher them normal for helping to change the feet and also to allow thicker fabrics under the foot when sewing.
The Bobbin And Threading
When winding the bobbin just follow instructions as it's basically the same as most machines except is recommended to have speed control slider on its fastest setting, and when fully wound bobbin will stop automatically.
This is a top loading bobbin system with thread going to the left, them through the notches, and leave out about 4 to 6 inches of thread.
Threading is just a matter of following the guide numbers on the machine down to the needle bar, them use the needle threader to thread the needle.
To make life easier the needle threading thread size of 50 to 90 is recommended.
The 7 Points Feed Dog System
The feed dogs system for this machine is the 7 point system, which works very smooth feeding your material while sewing. There is also the button for raising and lowering the feed dogs for free motion sewing or quilting.
Lighting
The machine comes with a strong LCD light giving a good view of the work area.
Free Arm And Storage Area
On the front of the machine you pull off the accessory drawer, and that gives you access to the free arm for sewing cuffs, pants, sleeves, or other difficult sewing areas.
Buttons
On the front of the machine just above needle area is the off/on button for sewing, them next is the reverse stitch button, them the auto lock stitch button and the needle up/down button plus the speed slider, and the obvious controls for the LCD screen.
Accessories For The Juki LB-5100 Sewing Machine
6 presser feet
2 spool caps
Spool seat
Seam ripper and lint brush
Screwdriver tool
Extra spool pin
Spool felt
Package of needles
4 bobbins
Foot control
Power cord
Hard case
DVD and instruction manual
Specifications For The Juki LB5100 Sewing Machine
700 stitches per minute
Stitch length 5 mm maximum
Zigzag width 7 mm maximum
16 inches long by 11 3/4 inches high by 7 inches thick
12.3 pounds in weight – easily portable with handle
Juky Sewing Machine Warranty
The machine comes with a 5-year warranty on mechanical defects, and 2 years on the electrical, and a 90-day adjustment on defects with material or workmanship.
The Pros And Cons For The Juky LB5100
Pros
Lightweight – easy to take to sewing classes
Easy to work with
Will sew thicker materials
Does high quality stitches
Great for beginners and experts
Enough stitches to do a variety of sewing from quilts to dresses or any other project on your list
Cons
It's a little loud
Some users said bobbin thread could snag
Who Is This Sewing Machine For?
This is a versatile model that comes with enough features to help you to work on many projects, from garment construction, home decor, craft making and many others. Different projects require different stitches to work with, this model comes with plenty of stitches to help you to work with ease on each project.
This is a versatile sewing machine that will help any beginner to learn with ease the sewing task to work on different projects, and will help advanced sewers to work with ease on any level project.
How Easy Is It To Set Up The Juki HZL-LB5100 Sewing Machine?
It won't take long for you to set up this sewing machine, all you need is to plug it in and pick the stitch you want to work with, the length and width, thread the machine and drop-in the bobbin and you will ready to start sewing.
Can I Use This Sewing Machine To Work With Thick Fabrics?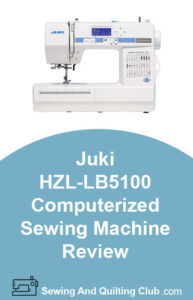 This is a sewing machine designed to work well with all types of materials, you won't have any problem to work with cotton fabrics to make the top of a quilt, or work with denim to make any project.
This is a sewing machine that will work great with thin and delicate fabric and it will also work great with denim, upholstery or other thick materials.
Take a look to another great sewing machine for beginners
Our Closing Thoughts For The Juky LB5100 Sewing Machine
As this machine gets many 5 stars ratings from its users, we would have to say the pros outweigh the cons on this model.
With its many handy features, ease of use, and finger tip controls for convenience, it is an excellent sewing machine.
It comes recommended for the beginner sewer, as well as the more advanced.
And as an investment Juki makes sewing machines that are built to last, and it comes at a very reasonable price for all the user-friendly features found on it.
So in conclusion if this sewing machine matches your needs, them you might want to take a look at it, or give it a try out.
Wishing you all the best on your sewing projects – Happy Sewing!
Read more reviews on Amazon