Juki TL-2000 Qi Sewing Quilting Machine Review, this model has often been described as one of the best models to have in the sewing room for sewers and quilters for its high stitching quality.
This model is well-designed to last for many years, it might look a little pricey but not as much as the Juki TL2010Q quilting machine, for the price of this sewing machine, you get a machine that will work to its best for many years helping you to work on many different projects.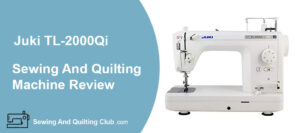 This Juki model is constructed from an aluminum die-cast frame to give very low vibration with its strong 1500 stitches per minute.
This machine has been updated for quilting and home decor, plus other projects. It does only have a straight stitch which it is excellent at doing, and is close to being featured as a commercial machine, as it is very strong and sews fast and well.
The Juki brand of sewing machines are known for their reliability quality of stitching, and are made to last.
Juki TL-2000 Qi Sewing Quilting Machine Review
Features
9 inches of space from needle to arm, so you can do large quilts or other large projects.
Stitches – does only a straight stitch
1500 stitches per minute top speed
200 stitches per minute slow speed
Needle up/down button
Thread tension is adjustable
Presser foot is adjustable
Microcomputer speed control mechanism
Feed dogs switch for up/down
A knee lifter allowing you to raise or lower the presser foot
LED lights to brighten up the work area
Automatic bobbin winder
Basic sewing functions are by the foot pedal
Extension table 23 x 13 inches for increased working area.
Automatic needle threader
Reverse stitch lever
Carrying handle on the top.
Stitches
The Juki TL-2000Qi is a single needle lock stitch machine that is great for quilting, tailoring, home decor, or other projects you might have to sew around the home.
It has a maximum sewing speed of 1500 stitches per minute, and can be controlled by the foot pedal from about 200 stitches per minute and up.
The maximum stitch length is 6 mm and is adjustable from 0 to 6 mm.
There is also the reverse stitch lever on this machine.
Threading
If you're a new owner of this sewing machine, then it is recommended to follow the diagrams in the instruction manual for threading and getting set up for sewing, and there are also videos on YouTube for this as well.
On the front of your Juki TL-2000Qi there is a button to push for trimming the thread at top and bottom when needed.
There is also the ability to trim the thread using the heel of the foot pedal which will cut the bobbin and the needle thread very quickly.
This machine also has a thread tension adjustment which can be set by turning a dial to match the thread and fabric you are using with a scale displayed on the front.
Also, to speed up your sewing projects, the Juki TL-2000Qi comes with the automatic needle threader, and will save you eyestrain.
When you are sewing the machine will stop with the needle down, and there is a button to move the needle up or down to what ever you prefer.
Feed Dogs
The feed dogs work very well and will feed your material through evenly, and there is a lever on front to raise and lower the feed dogs.
When quilting, dropping them will allow you to sew stitches in a curve with ease.
Top Loading Bobbin
The bobbin is easy to load on top of your sewing machine by following your instruction manual.
By removing the latch, just below the needle a new enlarged bobbin case will make it easy to replace and take out your bobbin.
Light
The machine comes with an LED light to brighten up your working area.
Presser Foot
The presser foot pressure on this machine can also be adjusted by turning a dial on top of the machine to match any fabric 1 you are sewing.
With this machine there is a knee lifter to raise the presser foot without the use of hands and there is a lever also on the machine to raise and lower presser foot. The knee lift will go to 12 mm and lever to 9 mm
The machine comes with an even feed foot and a 1/4 inch quilting foot, and there are many other feet for this machine that are optional to buy.
Accessories for the Juki TL-2000Qi
Foot controller
Auxiliary table 23 by 13 inches
Screwdrivers, small and one exclusive
Power cord
Knee lift lever
4 bobbins
Needle set
Spool cap
Sewing machine cover
Even feed foot
Standard presser foot
Lint brush
Oiler
Instruction manual.
This machine will sew through multiple thickness, and even denim and is powerful enough to do some leather.
Specifications
Needle 130/705H
Weight is 25.4 pounds – heavy but still portable and has a carrying handle on top.
Size is 17.8 inches by 9 inches by 8.5 inches
120 V good for North America market
Auxiliary table 23 x 13 inches
Max stitch length 6 mm that is adjustable
Sewing speed max 1500 stitches per minute
Horizontal – axis full-rotary hook
Warranty
There is a 5-year limited warranty meaning 5 years for any defective materials or workmanship
Two years on motor and electrical components.
Pros
An excellent quilting machine
Presser foot knee lifter
Thread trimming by foot pedal
Stitches and tension are always good
Very strongly made
Sewing speed is very fast
Large table for sewing with adjustable legs
Runs very smooth.
Cons
No zigzag or extra stitches
Can be a little pricey
Can You Sew Denim With The Juki TL-2000Qi?
Yes, you can sew on denim and you can even sew with two or three layers of denim with success and this machine will not skip any stitch.
Can You Sew Leather With The Juki TL-2000Qi?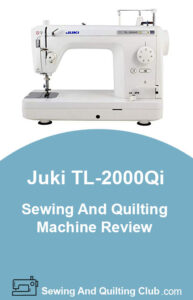 This is not a heavy-duty sewing machine, and it was not designed to sew on leather, however, you can read some owner comments that some sewers have done it, do I recommend it? well, if I need to sew with leather as a regular project, I would prefer to get a Heavy Duty Sewing Machine that is designed to sew leather and other heavy or thick fabrics.
Can You Free Motion Quilting With The Juki TL-2000Qi?
Yes, this model has all the features that will help you to work with success on small and big quilts.
Conclusion
The Juki TL-2000Qi has many advanced features that will make your sewing and quilting easier.
This company has a reputation for making some of the best sewing machines and this one when it comes to your quilting projects ranks very high up there, so you might want to give it a look over or even a test run
Check Today's Price On Amazon.com