The Singer 9960 Quantum Stylist Review, this  is a computerized sewing machine and one of the Singer more popular models.
It is reported to be very easy to use, and will give you quality stitches every time, but a negative about this model is that the manual is hard to figure out, and having a few to many features.
It comes with 600 stitches which can be a little too many for the average sewer, but on the positive side it runs quiet, is easy to get running, and comes with many great features every sewer would be happy to have.
Singer 9960 Quantum Stylist Review
Stitches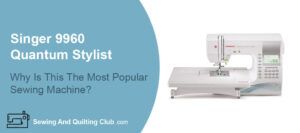 The model comes with 600 built-in stitches, including basic, decorative, stretch stitches, quilting, home decor, crafting, and many more.
The large back-lit LCD screen has a brightness control, giving clear easy viewing of the stitch functions, including stitch length, stitch width, tension, settings, the recommended presser foot, needle up/down position and more.
The stitches are also displayed on the top flip up cover, so you can choose the perfect stitch for your projects.
Also, with just the touch of a button the selected stitches can be mirror imaged giving even more stitch variety with this model.
There is also a stitch elongation button that can be pressed, and any variety of stitches can be made two to five times longer.
Most of the stitches can be set to maximum of 7 mm in width, giving you the ability to create attractive satin and decorative stitches.
There is an automatic locking stitch function giving you the ability to tie-off decorative and utility stitches with the push of a button, and will prevent unraveling, and it has a direct button stitch selection giving direct access to 8 of your most popular stitches.
You can personalize you're sewing projects with a built in block of script style numbers and letters in both upper and lower case, that can be stitched at the 5 mm stitch width.
The stitch length and width are automatically set for what you're sewing but can be changed to suit your own preference, and the machine will sew at 850 stitches per minute.
Bobbin
The bobbin is a top loading system, making it easy to insert, and comes with a clear cover to monitor your thread supply.
The automatic bobbin winding clutch will disengage when its time making the bobbin winding safer.
Buttonholes
There is 13 fully automatic 1-step buttonholes with the exclusive buttonhole under plate.
The sides of the buttonholes are sewn going in the same direction and thus preventing any gaps in the stitching or disturbing the fabric.
Presser Feet
This model comes with a variety of presser feet.
All purpose foot that's already on the machine
Zipper foot
Button sewing foot
Satin stitch foot
Buttonhole foot and the under plate
Open toe foot
Blind hem foot
Overcasting foot
Narrow hem foot
Cording foot
Straight stitch foot
Darning and freehand embroidery foot
Even feed/walking foot
Adjustable bias binder foot
Single welt cording foot
Braiding foot with a guide
Clear piping foot
Stitch in the ditch foot
Fancy trim foot
Shank for the presser feet
Automatic Needle Threader
Another plus for this sewing machine that makes threading the eye of the needle quick and easy.
It also has the thread cutter that automatically trims the top and bottom threads with just the touch of a button.
And when threading the machine you will find instructions printed on the side showing how the thread goes, and with the thread being feed horizontal, the stitches will be better, and have less thread breakage.
There is also a button for changing the position of the needle from up to down or down to up
Feed Dogs
The feed dogs on this sewing machine don't move in the usual arc motion, but move in a box motion which assures perfect feeding of the fabric you're sewing as the feed dogs are always in equal contact with the fabric and pressure foot.
Frame
The frame is heavy-duty aluminum made for lasting durability, and skip-free sewing, and does not require oiling as it is permanently lubricated.
There is an extension table included providing you with a larger working area, which will be a help when quilting or any larger sewing projects.
Lights
It has two LED lights for those hard to see sewing projects, with the bulbs always being cool to the touch and a lasting power of 100,000 hours.
Free Arm
This sewing machine also has the free arm giving easy access to sewing cuffs, collars, pant hems, sleeves or any other hard to reach areas.
There is also the extra high presser foot lifter with two heights, the second giving more clearance when you're sewing thicker layers under the presser foot.
Food Pedal
If you get tired of using the foot control, you can just press the start button, and the machine will sew, and the speed can be controlled by a speed lever.
There is also a control system that senses when extra power is needed when you happen to be sewing thick fabrics.
It also has the automatic reverse button for when you want to reinforce the stitch.
Accessories Included
20 presser feet
extra wide extension table
Pack of needles
Bobbins
Seam riper
Lint brush for cleaning
Auxillary spool pin
Spool pin felt
Screwdrivers
Spool caps
Seam guide
Quilting bar
Clearance plate
Instruction manual
Power cord
Foot control
Shank for the presser feet
Storage area to put the accessories
Pros
The self-cutting thread
Speed control will help all level sewers work on many different projects with no problem at all
It comes with a good bunch of accessories
Very easy to operate
It's a portable model
Cons
Buttonhole quality is not the best
It doesn't come with a Quilting tray
Warranty
The Singer 9960 sewing machine comes with the 25-year warranty, and 5 years on the electronics, and 1 year on the labor.
There are also helpful videos on YouTube, for threading the needle, presser feet training, and installing the bobbin.
This sewing machine is 17 inches long by 8.25 inches wide and 12 inches high, and weighs around 18 pounds making it light enough to move around easily.
It works with 110 volts, so it's basically designed for Canada and the United States.
Can I Do Embroidery With The Singer 9960 ?
Yes, this Singer model can do embroidery, it comes with a darning and embroidery foot, it doesn't hook up to a computer, but you can get creative and work on making great embroidery designs with it.
Does This Model Have A Free Arm?
Yes it does, so you can be sewing with this model sleeves, pant legs, cuffs and many other projects such as bags and more.
Why the Singer 9960 Quantum Stylist Sewing Machine Is So Popular?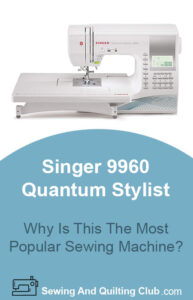 It's a well-designed sewing machine with all the features sewers and quilters want in a model to work on different sewing projects with a great price tag.
Easy to set up and easy to work on it on many projects, beginners and more experienced sewers love to have this model in their sewing room.
You can take a look to the Brother CS6000i Sewing Machine
Singer 9960 Quantum Stylist Sewing Machine Verdict
This model comes highly recommended for quilters or home sewers, and is one of the most popular on the market today, and also comes with a hard cover to keep out the dust.
So if you're looking for an electronic sewing machine with all the bells and whistles, then this one is for you, about the only thing it does not do is make your coffee in the morning.
Check today's price on Amazon.com
.
Check today's price on Amazon Canada