The Janome 001 Thunder Basic Sewing Machine Review: This is a great model for someone starting to sew or even the more experienced sewer.
It has enough features so that you can finish a variety of sewing projects, from mending to scrap booking and paper crafting, or finishing many or your sewing projects.
Janome 001THUNDER Basic Sewing Machine Review
If you want to start learning to sew, and you want to get a basic easy-to-use sewing machine with enough features to work on a few different sewing projects without breaking the bank, then you've found a good model to start with.
Janome have designed a sewing machine to help beginners and young sewers to take the first steps on sewing and make the most of it, with enough features to work on easy sewing projects, you don't need to worry about learning to work on all those buttons and dials to switch from one feature to the next one, this model is a starter sewing machine, easy-to-use.
Another advantage of this well-designed Janome sewing machine is that being a light model, you can carry it around the house or taking it on your next travels, or to the sewing lessons.
Stitches
This lightweight model comes with 10 stitch patterns, your basic, straight stitch, multi-stitch, zigzag, crescent/scallop stitches.
A dial on the front of this sewing machine lets you select the stitch you need.
The multi-stitch zigzag can be used for elastic insertion on sewing garments, and you can choose from 5 straight stitches for easy zipper insertion, and it will do about 350 stitches per minute.
Bobbin
It has a top loading bobbin system with a clear cover to see when your thread is getting low, and has the push-pull bobbin winder.
It also comes with 3 bobbins and has an accessory pull out tray on the front to store your needles, thread, and any other supplies you might have for this machine.
Presser Foot
It comes with a general purpose presser foot that has a finger guard on it for protection for someone starting out in the art of sewing.
There is also the extra-high presser foot lift for when you have thicker fabrics to sew.
It can sew light denim, or cotton knits, flannel, or chiffon, and quilt piecing.
Size of the Janome 001
This is a small sewing machine at 10.5 inches long by 5.8 inches in width, by 9 inches in height, and weighing only 5 pounds, making of this model an easy portable sewing machine.
Foot Pedal
This model does not come with an off/on switch, but uses the foot pedal to control the power to the sewing machine. It has the AC power supply adapter.
It is also equipped with a reverse switch on the front for ease of use.
Threading
The machine is very easy to thread with a diagram to follow, but there is no automatic needle threader, so that you will have to do by hand, with a needle threader provided, and there is also a dial to adjust the thread tension.
Feed Dogs
It has a 4 points feed dog system to move your fabrics as you sew, and also has two needle positions.
Warranty
It has the 25-year limited warranty wish means you protected for any problems with the materials or workmanship, and the electrics are warranted for 2 years from the time of when you originally purchased it.
The warranty also only applies if you bought the sewing machine from an authorized Janome dealer.
After the first year, broken parts can be replaced for free but you pay for the labor to fit it.
Color
This sewing machine also comes in a variety of colors, yellow, purple, lilac, gray, pink, teal, mint and fuschia and more.
Specs
Weight: 5lbs.
Dimensions: 10.5 x 5 x 9 inches
Stitches: Four stitches with six stitch width and length variations; no buttonhole stitch
Speed: 350 stitches per minute
Computerized/Mechanic: Mechanical
Bobbin: Top-loading, drop-in bobbin
Warranty: 25-year limited warranty
Pros
Ease of use / beginners friendly – This is a great machine for anyone who wants to start learning to sew but wanting to try it without the need to put too much money in their first sewing machine. It's also good for young kids who want to learn to sew, it's not a toy but it's a good model to start learning the art of sewing.
Affordable price tag
Small sewing machine – Whether you live in a small house or on a small flat, this model will not take much room and it can be easily stored, it also has a good size and weight to carry around the house or to take to your sewing classes and workshops.
It comes in a ton of colors
Great for learning

Cons
This model has not many features – If you're looking to learn to sew and if you have in your mind to keep at it as a hobby or as a home based business, this is a small sewing machine that will not be to good in the short time for you.
It's not a sewing machine for free motion quilting
A little bit noisy – All sewing machines make noise while sewing, but as this is a small sewing machine, it's a bit noisy, if you can't stand high levels of noise, this is not a model recommended for you.
Slow speed – If you're a sewer with plans to work on different sewing projects and work often to make garments and home decorations, you need to have in your mind this is not a regular speed model, it will work slow. This is a good model for beginners and for your kids, as they can control the speed and work with confidence while making different sewing projects.
No built – in light – If you want to sew with dark fabrics or if you want to sew at nights, you'll need to buy a sewing machine light.
Can't sew on thick fabrics – If you plan to sew with denim, corduroy or canvas, this is not a model that works great on thick fabrics.
If you want to learn to sew, but you want to get a sewing machine that will help you to work on sewing projects for many years with no need to buy a better sewing machine, you can read the best sewing machine for beginners here.
Janome 001 Thunder Overall Verdict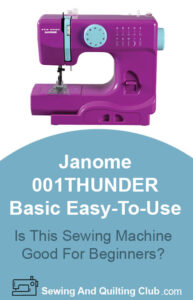 This is a small sewing machine that is easily portable and ideal for anyone starting to learn sewing and is not a toy, and would make a great gift at a very reasonable price.
It comes with bobbins, needle, foot controller, AC adapter, a needle threader and the manual, plus YouTube has a few videos showing how it works, so you might want to give it a look over or try it out.
I would recommend this model to anyone who is starting to learn the art of sewing or for young kids who have the desire to learn to sew.
This is a sewing machine that will help beginners and young kids to learn the basic of sewing without the need to break the bank, and to work on a few different basic sewing projects.
Check Today's Price On Amazon.com
Check Today's Price On Amazon Canada