The Curvy 8763 Sewing Machine Review, this is a computerized sewing machine by Singer.
It has a lavender colored stitch display on the front.
This model is a good choice for anyone that's been sewing for a long time or even beginners starting out.
This sewing machine runs very well, and is easy to work with, and seems to be of better quality than some of the older machines.
Singer 8763 Curvy Sewing Machine Review
Features
30 built-in stitches
Push button stitch selection
Drop and sew bobbin
Automatic thread tension adjustment
Reverse stitch button
Swift smart threading system
Free Arm
Automatic tie-off function
Automatic 1-step buttonhole
3 stay bright LED lights
Extra high presser foot lifter
13 needle positions
Automatic stitch length and width settings
Sewing speed of 750 stitches per minute
Automatic tension for presser foot
13 needle positions
Maximum speed of 750 stitches per minute
Side thread cutter
Stitches
To select the stitch you want to sew with, you will see on the lavender display five rows with 6 different stitches in each, and 5 white buttons on the end of each stitch row.
Press the white button to move a pinpointed orange light to your desired stitch.
Each stitch will have its own length and width preset, but if you want to customize the stitch just slide the levers found just below the stitch patterns to what you would like.
It also has the reverse stitching by just the push of a button.
The 30 built-in stitches are 6 utility stitches, 5 stretch stitches, 17 decorative stitches, and 2 automatic 1-step buttonholes.
Bobbin and Threading
The machine has a Switch Smart threading system, and uses digital technology to make threading on easy process.
Just guide the thread from the spool to the needle via the single grove on the front of the machine, and down to the needle, then just press the needle threader lever located at the end of the machine for easy threading, and thread tension is done automatically.
It has the drop and sew bobbin system, just put your bobbin into the case and pull the thread through the needle plate track, and you're ready to sew.
There is also a clear cover on the bobbin case to see when your thread is getting low.
Presser Feet
There are 5 presser feet that come with this machine.
General purpose foot
Zipper foot
Satin foot
Blind stitch hem foot
Buttonhole foot
The feet are snap on for quick and easy changes.
Also, there are 3 preset settings for presser foot height, down, up and high for thick fabrics, and the pressure on the presser foot is not adjustable on this model.
Frame
The machine has a stainless steel metal frame, making it sturdy and built to last.
It weights about 16 pounds, so it's easy portable with the handle on top.
Free Arm
To get to the free arm for sewing sleeves, cuffs, pants etc, just remove the accessory case.
There is also a switch on the back of the free arm to lower and raise the feed dogs.
Light
The machine comes with 3 LED lights, giving the work space plenty of light.
Fabrics
Cotton – linen – wool
Silk – satin – velvet
Knits
Blends rayon – polyester
Denim
Upholstery
Accessories For The Singer 8763
5 snap on presser feet
Pack of needles
Bobbins – class 15J the metal ones last longer than plastic
Thread spool caps
Screwdriver
Seam ripper
Lint brush
Soft dust cover
Quick start guide with intro DVD
Owners manual
Spool pin felt
Auxiliary spool pin
Darning plate
Warranty
The machine comes with the 25 years limited warranty, and 5 years on the electronics, and 1 year on labour
It works on 110 volts, so is designed mostly for Canada and the United States.
Pros
Comes with an easy to read manual
Good amount of stitches
Can sew light and thick fabrics
Heavy enough to stay in place when sewing
Cons
Presser foot not adjustable
Drop feed control lever not handy, only can be reached after removing accessory tray
Skill Level
Beginners
Intermediate
Expert
Can I Make Quilts With This Sewing Machine?
Yes, you can work with ease while making all sizes of quilt tops.
Can This Sewing Machine Do Free Motion Quilting?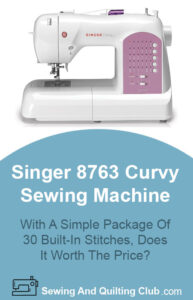 As this model has the feed dog drop system, you can do free motion quilting with it, but it doesn't come with the quilting foot, so you'll need to buy it.
If the price is not the best for a sewing machine for you, I have another sewing machine for you, the Brother CS6000i
Singer 8763 Verdict
After spending a day on a workshop with a friend who owns this model, I could see this model is a good sewing machine that will be perfect for beginners and more advanced sewers to work on many different sewing projects.
I could see how well the Singer 8763 performs on different projects, including piecing a top quilt and working on the quilting.
This is a good model for sewers who want to start learning to sew or more advanced sewers who are ready to move from a mechanical sewing machine to an electronic model.
All level of sewers will value the comfort of working with the programmed needle threading and other features on this model.
The price is not overly high for a computerized sewing machine, so you might want to look it over
Check Today's Price On Amazon.ca
Check Today's Price On Amazon.com