Janome 7318 Magnolia Sewing Machine Review, this is a great model for sewers that are just starting out, and has all the tools needed for that.
It is not a computerized sewing machine, but as a mechanical machine it has enough features to get all your sewing projects done, and is very easy to use.
The Janome sewing machines are of very good quality and made from aluminum for the frame, so they are designed to last a long time.
Janome 7318 Magnolia Sewing Machine Review
What Are The Features Of The Janome 7318 Magnolia?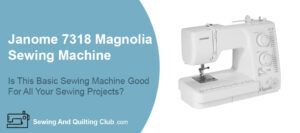 If you're looking for a sewing machine that's well-designed to work with ease on different functions, and any sewer will work on different projects, I can say this model is made to last in your sewing room.
It comes packed with the best basic functions of a well-designed mechanical sewing machine. Easy to set up and easy to select the stitch which you want to sew with just by turning the dial to select the stitch, locking stitches are easy to do with the reverse lever that you can find in the front of the machine.
It's compact and light to carry around the house or to carry to your sewing classes. But it works perfect and it will be the perfect back up for any professional sewer.
Easy to thread and simple to maintain, beginners, intermediate, and professional sewers will find this model a great designed sewing machine to work with on many different sewing projects and have professional finishings.
Work Area
This model provides approximately 6.2 inches needle to base work space and neck is 4.5 inches high. It's a good work space to work on many different sewing projects.
But if you're into making quilts and work with the free motion quilting features, this model provides the features of dropping the feed dogs, but you might find it hard to work on the quilting on big size quilts, however, if you like to make small size quilts, this is a model you might want to try as a starting point.
18 Stitches
The machine comes with 18 stitches, while that's not a large amount, its enough to start out with, and you can make most designs for your sewing projects.
It also has the 4-steps buttonhole stitch that's easy for any sewer to use.
The selector knob is on the front with a diagram of the different stitches you can use so you just have to dial in the letter of the stitch.
It also has a dial for adjusting the length and the width of the stitch you're using, up to a maximum stitch length of 4 mm, and 5 mm width.
It has both utility and decorative stitches along with a reverse stitch lever located on the front.
Sewing Feet
It has 6 different sewing feet.
All purpose sewing foot
Buttonhole foot
Zipper foot
Applique foot
Blind stitch foot
Zigzag foot
The machine is also able to adapt feet from other brands, as long as they are the standard size and design.
There is also a lever in the back to raise and lower the presser feet, with the higher position being for bulky fabrics.
The feet are the easy snap-on style, you just press the button and the foot falls off, then lower the shank unto your next foot and it will snap into place.
Feed Dogs
7 piece feed dogs to guide the fabric through the machine while you sew on without the need of you to push the fabric. The feed dogs will grip the fabric under the needle to provide even stitching.
If you want to work on different sewing projects like free motion quilting or to sew on buttons, this model has the feature to lower the feed dogs so you can work on these projects with ease.
The feed dogs lever is located on the back of the machine, just below the needle.
Easy To Use Top Loading Bobbin
This sewing machine has a jam proof bobbin system, so no more frustration with getting the bobbin going again, and is top loading with a clear cover to tell when your thread is getting low.
It has the push-pull bobbin winder that's easy to set up.
The plate also has markings for the seam allowance, 5/8 inch, 6/8 inch and 1/2 inch to act as a guide when sewing.
Thread Cutter
This model comes with a convenient thread cutter on the side of the machine to help you to cut the thread while you work on your projects
Adjustable Needle Position
Another nice feature you can find on this model is the adjustable needle position, it will help you to work with ease on different sewing projects as you can adjust how close or how far to the fabric you need the needle position.
By changing the needle position, you can create interesting and beautiful stitches without the need to move the fabric as you sew on.
Accessories
A needle set
Two extra spool pins
Felt
Foot control
Lint brush
Seam ripper
Bobbin
Spool holder, large and small
Screwdriver
Instruction Manual
Power cord
Size of the Janome 7318
This machine is 18.8 inches long, 14.8 inches wide and 10.5 inches thick, and weighs about 17.5 pounds, so is easily portable with carrying handle on the top.
It will sew 850 stitches per minute and its speed can be controlled by the foot controller with a little practice.
Storage For Accessories And Free Arm
The storage is at the front and by pulling it off you get the free arm, for hemming pants, sleeves or anything that's round and difficult to sew.
Threading
This machine comes with a thread cutter and a self threading take up lever.
With the needle in its highest position, put your spool thread on the pin on top then keeping the thread tight put it through the thread guide then down the right side following the diagram on the machine, around thread guide and up to the take up lever and back down and thread the needle.
This machine does not come with an automatic threader, so it will have to be done the old way.
Light
It has a light that shines on your working area, and makes the needle threading easier.
Manual
This sewing machine is easy to set up for the first time with this illustrated instruction manual, and you will have it running in no time with its easy to use features.
Warranty
With most Janome sewing machine, this one also carries the 25-year limited warranty against any defect of workmanship.
The electronics are covered for 2 years from the date of purchase.
After the first year, defective parts will be replaced free but you pay for the labour expense, and the shipping for repairs is paid by you.
Pros
Easy to move around
Sturdy construction made to last
Can sew tough materials easily
Easy to set up
Good price
Cons
Light can get hot
No dust cover with it
No automatic needle threader
Small work space
No hard cover
Who Is The Janome 7318 Magnolia For?
This model was designed for beginners who want to start learning to sew, it has the basic features, stitches and feet.
If you're a beginner at sewing, simple models like this will help you to understand how a sewing machine works and it will be simpler to work on different sewing projects with a sewing machine with basic features.
This model comes with enough features to help you to work on garment constructing, mending, home decor and a few different craft and art projects for any beginner and intermediate sewers.
This model is light enough and it has a handle feature on the upper arm to be a portable model to carry around the house or to carry it to your sewing classes or to the sewing workshops.
Can I Make Quilts With This Sewing Machine?
You can work with this model to piecing any size of the top for a quilt with no problem at all, but at the time to work on the free motion quilting, you need to know this sewing machine comes with the feature to drop the feed dogs, but it doesn't come with the spring quilting foot, so you might need to purchase it separately
If you want to read a review on another basic mechanical sewing machine that has a lower price but it's a good model for beginners and more experienced sewers, the Brother XM2701 Lightweight
Janome 7318 Magnolia Verdict
After spending a day on a workshop and having the chance to see one of the workshop participants working with this model, I can say it has the features any beginner sewer wants to have in a sewing machine.
It works with efficiency and it will help you to work on many different sewing projects as you learn to sew. It comes with a few accessories but Janome offers a wide range of sewing accessories to increase the functions of this sewing machine.
Remember Janome designs great quality sewing machines that will last for many years, as you learn more sewing skills this model will help you to keep working on them with ease.
So for a sewing machine that will go through heavy and light fabrics with ease, and easy to set up, you might want to give the Janome 7318 Magnolia a try out
Check today's Price on Amazon.ca