The Juki TL-2010Q Sewing Machine Review is for anyone who wants to own one of the best quilting machines on the market today.
This machine is single stitch, sewing only straight lock stitches, which are perfect every time.
If you are looking for professional results which offers enough room and control for your quilt sewing, this machine is built tough enough to do your quilting projects.
Juki TL-2010Q Sewing Machine Review
In a hurry, you can check today's price on Amazon here!
What Are The Features That Come With The TL-2010Q?
The TL-2010Q comes with many features that will help you to work on your projects with ease, if you're looking for a sewing machine that does one thing, but it does it with excellent quality, then you need to take a look to this straight stitching sewing machine.
Sews heavyweight fabrics
Thread tension scale
Can be used for dressmaking and other projects as well as quilting
One pedal foot controller
1500 stitches per minute
Large throat area
Kneed lifter 12 mm extra lift
Portable
1/4 inch foot and free action foot
Needle stop position
Sliding speed control
Automatic stop bobbin winding
Stitch length 6 mm
Presser foot lift 7 mm by hand
Auto thread trimmer
Foot pressure adjusted to weight of fabric being sewed
LED light
Extension table
Weight about 35 pounds
Foot controlled trimming
Speed control lever and reverse lever
How Many Stitches Can the ST-2010 Does?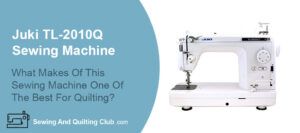 It sews straight lock stitch stitches which are always perfect, and the stitch length is 6 mm
There is a dial to adjust the stitch length, and also the speed of the stitching can be adjusted from 200 to 1500 stitches per minute.
It can stitch though velvet and satin, leather, suede, canvas, plastic and rubber, fur, upholstery and multi layers of fabric.
With its strong motor, it's capable of sewing just about any fabric, and without breaking the needle.
Does This Sewing Machine Comes With Aluminum Die Casting?
As this sewing machine is made with an aluminum die casting, it makes of it a model on the semi heavy side of sewing machines, which is good when you get it to work on your quilts, the semi heavyweight will help you to work on small and big quilts with ease while the machine stays in its place. This will help you to move around the quilt while you work on it no matter what size it is.
The same is for when you work with thick materials like denim, canvas or other type of thick materials to make big projects like curtains and outdoors projects.
The manufacturer states this sewing machine as a lightweight but it's for this particular model, as it designed to help sewers who are interested to have a model to work on big projects or to start a sewing business without the need to buy an industrial machine.
The material that this model is made of, makes it to last for many years.
Does It Have An Automatic Thread Trimmer?
This sewing machine comes with an automatic thread cutting ability.
It will cut the thread at the end of sewing and by pressing on a push-button lightly or by the foot controller which can be activated by pushing back on it with your heel, and it will trim though thick or thin thread consistently.
Does This Sewing Machine Come With Automatic Needle Threader?
It comes with the automatic needle threader by just pushing the lever, the needle will easily thread, so no straining the eyes.
What Type Of Bobbin Does This Sewing Machine Have?
The bobbin is found on the left side of the needle, which is more like the commercial machines, with the cover opening towards the needle.
The enlarged bobbin case makes it very easy to install and take out the bobbin.
When the extra auxiliary table is fitted, it is equipped with a sliding plate cover giving access to the bobbin.
Extra Space To Work On Your Sewing
Throat space on this machine is 8.5 inches by 6 inches, and also comes with an extension table, giving a larger work area for sewing and quilting your quilts.
Why To Look For A Sewing Machine With Knee Lifter Lever?
This lever allows you to raise or lower the presser foot without using your hands, and can raise the foot as high as 12 mm, so that any heavyweight fabrics can easily be taken in or out of your sewing area.
Adjustment Of Pressure Foot
The amount of force on the presser foot when sewing can be adjusted depending on the fabric that you're sewing just by turning a regulator located at the top of the sewing machine.
Thread Tension
You can adjust the Thread tension according to the thread and fabric you are sewing with.
Needle Stop Position
When you stop sewing the needle will stop in the down position, and to move it just press the needle up/down button.
Even Feed Foot
The feed food guarantees that you will be able to sew difficult to sew fabrics such as velvet or leather and will give you beautiful seams every time.
Feed Dogs
The feed dogs on this machine can be lowered or raised with the pressing of a switch, allowing you to sew curved stitches, and move your fabric with ease.
LED Light
It comes with and LED light to brighten up your work table.
There has been a few complaints that the light is not positioned the best, but you can always buy the LED sewing machine light kit, which will improve things.
Accessories For The Juki TL-2010Q
To help you get sewing a few accessories are included.
3 presser feet – you get the standard, the quilting foot and the even feed foot
An extension table
2 screwdrivers
Needles
Spool cap
4 bobbins
Dust cover
Lint brush for cleaning
Knee lifter lever
Foot controller
Power cord
Oiler
The Juki Warranty For The TL-2010Q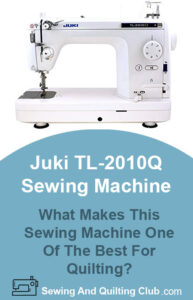 These is a 5-year limited warranty, 5 years for any defective material or workmanship, 2 years on the motor, and light, wiring switches, speed control and other electric parts.
Always better to check on the warranty when purchase this sewing machine.
Pros and Cons For The TL-2010Q
Pros
Aluminum Die Casting –
Stitches are made with precision
Variable Speed
Extra large table to work with ease on your quilts
It will last for many years
Cons
The price is high
High maintenance – this sewing machine needs to be oiled relatively frequently when you use it often
Poor lighting
What Type Of Materials This Model Can Sew?
This is a sewing machine designed to work on many different types of materials to make better your projects in the sewing room
Cotton fabrics
Velvet and satin
Knits
Upholstery
Leather
Fur
Suede
Denim and corduroy
Canvas and twill
Plastic
Multi layers of fabric
The Juki TL-2010Q can work on virtually any type of fabric, but you need to keep in your mind this is a straight stitch sewing machine. It will work with great success on any fabric your want to work on, and with multi layers of fabric as well.
Is The Juki TL-2010Q Good For Quilting?
This model is designed to work great making quilts, I could say this is a true quilting machine, it comes with some features that will help you to do your work on quilting much easier.
It comes with the drop off feed dogs and it comes with the spring quilting foot, easy to set up and you can start working on the free motion quilting on your quilts at home
Juki TL-2010Q VS Brother SP1500SL
When you look for the best sewing machine to make your quilts or other sewing projects with high quality stitching, two models might be on the top of your list, the Juki TL-2010Q and the Brother SP1500SL, and you might want to know what are the differences between these two models and which one is better.
Both models are made by well known brands and these are the two sewing machine brands sewers around the world trust on at the time to buy a sewing machine to work on different projects with professional finish.
Both brands design and build their sewing machines with the sewers needs in mind and built their units to last, whether you buy a Brother or Juki sewing machine, you can be sure you are buying an excellent quality sewing machine that will last for many years in your sewing room.
One of the difference that will help you to buy one model from the other is the price, Brother is well know as a more affordable price, but Juky comes with a higher price, but also is the brand many sewers and people on the clothes industry will pick.
You can read the full Brother SP1500SL Sewing Machine Review here!
Juki TL-2010Q Verdict
This is an exceptionally powerful sewing machine that will sew any fabric you give it, and is built to last.
If you love to quilt, then this machine is for you, and it does not come with an extra 100 stitches for you to think about, it sews a straight stitch that is perfect every time, it will last for many years and it will make the work of making quilts easier for you
It's not a cheap priced machine but if you want something that will last, you might want to take a look at this one.

Check Today's Price on Amazon Canada