Singer 4452 Heavy Duty Sewing Machine Review,  with this model your sewing projects will turn out excellent every time. I tested this model at the sewing classes this past week and I can say I like how well it works and I can say yes in deed it's a well-made sewing machine by its brand and it will help any sewer to sew faster any project with professional finishes!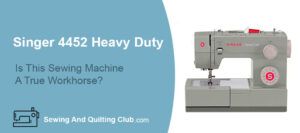 As you sew with this model one of the first things you will notice is the 60 % more powerful motor that other sewing machines, it can sew up to 850 stitches per minute on high speed but you won't have any problem to control the speed as you want to.
Another thing that I was impressed by this model it's the good performance to sew thick textiles like denim, corduroy or fake leather, but it won't have any problem to sew thin and delicate fabrics as cotton fabrics.
This is another great sewing machine made by the Singer Corporation with the same high quality of all their products.
Singer 4452 Heavy Duty Sewing Machine Review
Speed
It's faster than the standard sewing machines with 1,100 stitches per minute being turned out by a stronger motor than a conventional sewing machine
Heavy Duty Frame
The interior frame is made of heavy-duty metal, that ensures you will have skip free sewing, and making this machine very durable, and as the sewing goes – its built to last.
Drop In Bobbins
There is a top drop – in bobbin that's easy to insert and remove, and with a clear view cover you can see how the thread supply is lasting, and it's surrounded by a stainless steel bed plate for a very smooth feeding of the fabric you're sewing.
Auto Needle Threader
You will find the instructions for the threading of this machine printed right on it, and with the automatic needle threader it makes the joy of sewing that much easier, and less eye strain
Stitches
It has 32 built – in stitches, 6 basic, 7 stretch, 18 decorative, fully automatic. One – step buttonhole.
All of these stitches are perfect for craft making, home decor, clothing construction and more.
Even Feed Foot
You can use the even feed / walking foot whenever you are sewing thicker fabrics and you will have a steady feeding from the top and the bottom of the fabric.
Non Stick Foot
When you are sewing vinyl or leather, the non-stick foot works great for this, and the clearance plate is a must have when sewing over denim seams, and size 16 needles are included for these thicker fabrics.
Buttonhole
There is a fully automatic 1 – step buttonhole maker also on this sewing machine.
Specifics
This machine is 15.5 inches long by 12 inches high and 6.2 inches wide, and weighs 17.4 pounds.
The width of the stitches are 6 mm and it sews at 1100 spm, so it's a fast sewing machine and strong, and you can adjust the speed down if that is what you prefer for some projects.
Storage For The Accessories
There's a few extra pieces with this sewing machine, such as:
one seam ripper
lint brush
one set of number 16 size needles
quilting guide
clearance plate
extra spool pin
bobbins
screwdriver
sewing machine dust cover
You won't have to take extra time looking for extra sewing tools.
Few Other Features Sewers Love
Runs fairly quiet
Detachable foot controller
The handy top drop in bobbin system
An LED light for when needed
The free arm is removable
Has a thread cutter
There are 3 needle positions
Even a reverse lever
A clearance plate
The drop feed lever
Six different feet included.
Free Motion Quilting, yes you can do this feature with this heavy-duty sewing machine, however, this model doesn't come with the free motion foot you need so you need to order it online or from the sewing machine dealer in your area or directly from Singer.
The Negatives
About the only negative with this machine is that because of its high sewing speed, and if you're working on a large sewing project, you will find the thread on the bobbin can disappear in a hurry
This model has no manual speed control.
Foot Controller
The foot controller can take a little getting used to, as it is sensitive to the touch, but after practicing you will be able to control the speed.
This is a heavy-duty sewing machine but can easily be moved around weighing only 17.4 pound, and it's very versatile for any of your sewing projects.
Singer Sewing Machine Service
This model has 25 years limited warranty, and can be returned within the first 30 days, but having been built tough to last, it should keep on sewing
Price
Another good thing about this machine is you don't have to sell the farm to buy it, as it has a very reasonable price tag.
Which is the best Heavy Duty Sewing Machine?
You can find on the market that most known sewing machine brands have a heavy-duty model, but among all of them the Singer 4452 Heavy Duty sewing machine is the top pick for many sewers of all level as it's known as one of the best to work on it daily for all type of sewing projects.
Singer Sewing Machine Manual
Singer Company makes everything easy for user of its products with an online service all the time, today you also can count with an app with the Singer Sewing Assistance App and with its YouTube channel to watch videos and tutorial on how to use this model and others from this brand.
Old Singer Sewing Machine
As I've used a few models from this brand, starting with the original Singer Feather Weight (it belongs to my mom) I must say I have no complaints from this brand, you can trust on the quality of each model and it will help you to sew any project with easy and with professional finishes.
When you think about giving a try to your passion for sewing, and starting to work on your sewing machine more, no matter if you just want to make some home decor or garments for yourself or for your family, or if you have in mind to start a sewing home based business, you can trust this machine is the one you want to have at home or in your sewing workshop.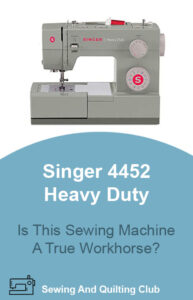 It will work perfect for hours with the high quality that it is made of.
Closing
So for a sewing machine that's a little stronger than average, and that can be used by any sewer no matter the skill level then have a look at this one.
If you're shopping for the Singer Heavy Duty sewing machine, you'll find there's 3 different models, all of them are great, but my pick will be the Singer 4452 as it comes with all the features including the automatic 1 step needle threader, you might notice the price of this model can be from 20 to $30 higher than Singers other heavy weights, but having this feature will help you to set up your sewing machine in no time and work on any project you want to make.
If you want to take a look to another sewing machine that is more beginner friendly, take a look to the Brother SR3774 Sewing Machine
Check Today's Price On Amazon.com
Check Today's Price On Amazon Canada