The Brother XR3774 Sewing And Quilting Machine Review will give you the Pros and Cons of this sewing machine you can buy on a budget on 2019 and it will work great from day 1!
When you decided to start to sew and being creative, and you want to get everything on a machine, your best option for a Brand – price would be this mechanical machine.
Many people who love to be creative and work with textiles agree on putting their bets on the Brother XR3774, because of its features and its affordable price it has become the favorite for many!

Brother XR3774 Full Featured Sewing And Quilting Machine
37 different stitches
74 total stitches functions
One-step auto-size buttonholer that will help you to make virtually perfect buttonholes
8 sewing feet – buttonhole, zigzag, zipper, blind stitch, button sewing, narrow hemmer, walking and quilting feet.
Built-in needle threader
Jam resistant drop-in bobbin
Bright lit LED light
It comes with an instructional DVD, English and Spanish Manual, when you buy it in Canada it has also French instructions
25 years warranty
Free technical phone and online support for the life of the product
Wide table
It comes with a plastic dust cover
Specs.
Weight: 19.5 pounds
Dimensions: 17.5 x 7.6 x 14.6 inches
Stitches: 37 built-in stitches, plus a one-step auto-size buttonholer
Bobbin: Quick-Set top drop-in bobbin system
Warranty: 25 years
Things I like:
I've been a big fan of the Brother brand at the time to buy a sewing machine, it has been on the market for many years and they have always produced high quality products to help people who love to sew, beginners and more advanced to work on their projects with ease.
Brother is a brand that you can trust and it gives 25 years warranty with technical support online that will help you to solve any kind of problem that you might have with your machine.
The Brother XR3774 is a small machine that has many features that will help you to make almost all the sewing projects you have in your mind to make with it.
It's a light sewing machine and you won't have any problem to carry it to your sewing classes or to any workshop where you'll be using it.
This is the perfect machine for any beginner, it's easy to set it up on your work table and it won't take long to learn to use it.
You won't have any problem at the time to work on sleeves, cuffs and pant legs with the build in free arm
Some of the features of the Brother XR3774 are:
Easy Threading System.
With automatic needle threader, with just one touch to the lever on the side of the machine, and it automatically pushes the thread right through the needle.
One Step Auto Sized Buttonholes
When using the buttonholes foot, you won't have any problem to make on any clothing the perfect buttonholes on it with the built-in one step buttonholer.
37 Built-in Stitches
You can get as creative as you want at the time to work on different sewing projects, with no problem you'll be making beautiful embroidery stitches on them.
Jam-resistant Quick-set top drop-in bobbin
It's so easy to get the bobbin in its place with the exclusive Brother quick-set top drop-in bobbin, it will work always great with an even stitch quality that you need.
Stitch Selection
You won't have any problem to change from one stitch to the other as you work on a sewing project, there's an easy to handle stitch selection dial on the front of the machine.
Wide Quilting Table
This machine is easy to work with at the time to work with bulky quilts, it has an easy to set wide quilting table that will help you to work with ease.
Low Price
When you think about how well-made is this machine the price is a good offer for anyone who wants to start his/her sewing passion on a budget.
The Brother XR3774 is a very affordable sewing machine that will work great with many different sewing and quilting projects for a long time.
Easy to Use And Easy To Maintain
It doen't take much to set up the Brother XR3774 on your work table and it will be ready to use in no time. This machine is well-made and it won't take much work to keep it in good condition.
The Negatives
Small Throat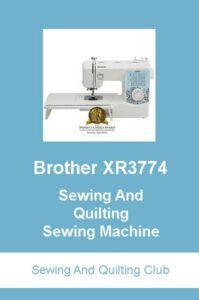 When you talk about a quilting machine, you get the idea it will help you to work on the free stitching on big quilts, it's hard to work on this machine because the small throat.
You won't get any problem at the time to make the quilting on medium and small quilting projects at all.
As it's said, this is a sewing and quilting machine for beginners or for quilters who love to work on the quilting by hand. If you're interested to work with your sewing machine doing the quilting on big quilts, this machine is too small to work on it.
Noisy
If you like to work on a quiet workplace or if you love to listen to music or watch TV while working on your sewing projects, the Brother XR3774 is a little bit noisy.
If you don't mind having a little noise around at the time you work on your sewing, it will be OK then, and you'll be working on a great small sewing machine.
Closing Thoughts on The Brother XR3774
When you want to give it a try to sew as a beginner or when you want to get a sewing machine on a budget, you can't go wrong with it.
It's well-made and it will last for many years, it's easy to set up on your work table and it's easy to carry to your sewing classes or workshops.

If you like the Brother XR3774 Sewing and Quilting Machine and you want to buy it, save this post for later!