The Brother ST150HDH Sewing Machine, if you need a strong model to work on multiple layers of fabrics, then you should give this model a try! and it comes with 50 built-in stitches, and 5 styles of one-step auto-sized buttonholes,
It is considered a heavy-duty sewing machine, but still works like a basic machine, with much the same features.
The machine is strong enough to sew denim, home decor, textiles, even 4 layers of leather without slowing down.
On the front of this machine is the LCD screen which is designed for easy use, and the start/stop button, the reverse stitch button, the needle up/down button, and the adjustable speed control.
Features For The Brother ST150HDH Computerized Sewing Machine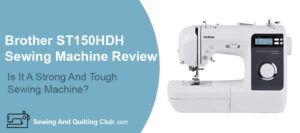 Let's take a look to all the features that comes with this Brother Sewing Machine
50 Built-in stitches
5 styles of one-step buttonholes
7 point feed dog system
Speed control lever
Bright LED light
Top drop-in bobbin system
LCD display area
Start/stop button
9 presser feet
Reverse stitch button
Needle up/down button
Accessory storage on the front
Free arm
Advanced needle threading ability
Dial for thread tension adjustment
How Many Built-IN Stitches Does The ST150HDH Have?
The machine has 50 built-in stitches, with a variety of utility stitches, heirloom stitches, satin stitches, cross stitches, quilting stitches, and 5 built-in buttonholes.
It has a diagram of the 50 stitches on a reference chart that you snap on to the handle making it easy to pick out the numbered stitch you want to use.
On the LCD screen you can change the width and length of the stitches with just the press of a button and using the dial below the screen you can select what stitch you need for the project you are working on.
Is This Top Loading Bobbin And Easy Threading Sewing Machine?
This machine comes with an automatic bobbin winding system for an even wind on the bobbin, just follow the diagrams printed on the top for the thread to the bobbin.
On the bobbin put your thread up through the small hole on the bobbin, and place it on the shaft with the thread facing down, then push the bobbin over and it's ready to wind.
To load the bobbin just lift the clear cover off and insert the bobbin and follow the diagram for the thread and you are done.
Threading the Brother ST150HDH is similar to most machines by following the numbered diagrams on the machine down to the needle threader, then with the needle down, push the lever down and you're done.
How Does The Feed Dog System Work?
This machine has the 7 point feed dogs for a smooth feeding of the fabric and even with tough or thicker materials. This is the highest number of points for the sewing machine feed dogs, it will help you to work on your projects with ease.
You can also drop the feed dogs with the push of a button for free motion sewing or quilting.
How Many Presser Feet Does The ST150HDH Have?
The Brother ST150HDH comes with 9 presser feet
Walking foot for multiple layers
1/4 inch piecing foot
Buttonhole foot
Overcasting foot
Monogramming foot
Zipper foot
Spring action zigzag foot
Blind stitch foot
Button sewing foot
The presser feet are very easy to change with just a snap into place.
How Big Is The Work Space On This Machine And What Type Of Needles Does It Use?
On this machine your work space is 6.4 inches by 4.1 inches high, providing more room for quilts, or any bulkier materials you might have to work on.
There are 2 number 14 heavy-duty needles for leather or jeans or even any other heavy fabric.
There are also 2 number 11 needles for medium to light fabrics, and 2 number 14 ballpoint needles for knits and other stretchy fabrics.
Built-In Lighting
There is an LD light that will brighten up your working area, and is great for sewing darker fabrics. When you turn on the machine the light will turn on too. When you turn off the machine, the light will turn off, this will help you to know you left the machine off after you finish using it.
Does It Come With Free Arm?
Today, most of the sewing machine comes with this feature, it makes it easier for you to work on difficult areas, and to sew easier. The accessory tray will pull off giving access to the free arm for sewing jeans, sleeves, cuffs or other hard to sew areas.
Type Of Fabric It Can Sew On
You won't have any problem to sew on any type of fabric with this model, it will handle from the thinner fabrics such as silk to the thicker and tough type of fabric like denim or canvas, the list of type of fabrics that you can sew on with this model will impress you!
Silk
Taffeta
Satin
Cotton
Flannel
Denim
Corduroy
Tweed
Jersey
Tricot
Faux leather
Faux Suede
You won't have any problem to sew on several layers of fabric, but you need to use the right type of needle for each type of fabric, you can find the list of needles to use on the manual.
You will need to check the needle condition before you start working on your new project, check if the needle point is in good condition or if the needle is bent, then you will need to use a new needle to get the perfect finish on your project.
Thread Cutter
This model doesn't come with an automatic thread cutter, but it does have a built-in thread cutter on the side of the machine, and it's very handy to help you to cut the thread as you work on your projects.
As you get used to using the thread cutter, you'll notice how handy it is and it will save you tons of time to look for your scissors every time you finish a seam.
Accessories For The Brother ST150HDH
9 presser feet
Spool caps
Spool net
Extra spool pin
Twin needle
needle set
4 bobbins
Large screwdriver and small screwdriver
Stitch pattern plate
Eyelet punch
Disc shaped screwdriver
Cleaning brush
Foot pedal
Power cord
Accessory tray
How Good Is Brother Sewing Machines Warranty?
It comes with Brother 25 year limited warranty, with the 25 years against defective materials or workmanship, and 2 year on the electrics and 1 year on parts and labor form date of purchase.
The Pros And Cos For The ST150HDH
Pros
Machine is very easy to set up
Strong sewing motor
Runs quietly
Not overly expensive
Good LCD display and easy to use
Built very strong with its metal interior frame
Will sew multiple layers of heavyweight fabrics and also lightweight silks.
Built to last
Cons
No automatic thread cutter
No hard cover
No extended table
Can the Brother ST150HDH Do Free Motion Quilting?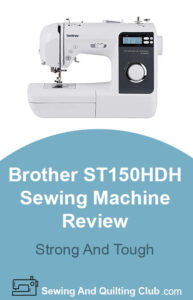 You can work on the free motion quilting with this model, but you will need to buy the spring motion quilting foot separately as it doesn't come with this model.
Read also:
Final Thoughts On The Brother ST150HDH
The Brother company is known for making some of the better sewing machines, and  computerized sewing machines, the ST150HDH is one of them.
It has an excellent reputation among sewers that have been using it, and its ability to sew heavy and light fabrics with ease makes it a valuable addition to any ones sewing room.
It has the ability to sew through 4 layers of leather with ease, and 20 layers of cotton fabric as well as any finer materials.
From a beginner sewer to the more experienced, the Brother ST150HDH is well worth taking a look at or giving it test run, and with just enough good features to make all your sewing projects turn into a piece of art.
Wishing all the best on your sewing projects – Happy sewing!
Where To Buy The Brother ST150HDH Sewing Machine?
You can find this model on the specialty stores shelves and with the sewing machine dealer in your area, but you can also buy the ST150HDH online

Check Today's price on Amazon Canada

If you want to take a look to other Heavy Duty Sewing Machine, take a look to the Brother