The Necchi EX100 Sewing Machine Review – This model comes with the best range of features you will find on this brand of computerized sewing machines.
This is a very high performing strong and reliable machine. The Necchi is one of the larger sewing machine manufacturers in Italy, and was started in 1926, so has many years of experience in the sewing business.
This machine will do crafts, dress making, quilting, and more, and with many advanced features to improve your love for sewing.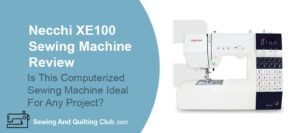 It has a large enough throat area of 7 inches by 5 inches, and an extension table of 16 inches by 11 inches so is able to handle your larger quilting or sewing projects.
Necchi EX100 Sewing Machine Review
Below we will mention the many features of this model.
100 Built-In Stitches
The machine comes with 100 built-in stitches, so you will have plenty to chose from, and also with 6 one- step buttonholes.
With the 100 stitches are a variety from your basic straight stitches, zigzag stitches, over edge, knit, buttonholes, darning, blind hemming and more, including also a variety of decorative stitches.
It comes with a convenient stitch chart that's mounted on top of the sewing machine, over the sewing area, and the chart can be flipped back when not in use, and also when putting on the hard cover dust protector is best to remove the chart.
The maximum stitch width is 7 mm and the maximum stitch length is 5 mm and both can be adjusted on the LCD screen display.
Also on the display when a stitch is chosen it also shows the recommended presser foot and the letter for that foot.
Easy Bobbin And Threading
To wind the bobbin follow instructions on top of the machine, and when ready to wind start the motor and the bobbin will stop automatically when full.
This sewing machine has a top loading bobbin system, just turn off power and remove cover plate, then insert bobbin with thread coming off counter clockwise, and follow the guide and there is no need to pull up the thread.
Threading is a matter of following the numbered arrows down to the needle threader, and is best to use a # 11 to # 16 needle and thread size 50 to 90 for needle threader to work well.
Also on this sewing machine the Janome plastic bobbins can be used and on the front of the machine is a thread tension dial you can adjust.
Feed Dogs
The sewing machine has a 7 piece feed dog system to allow your sewing material to evenly feed when sewing.
The feed dogs can also be dropped by a lever on the back of the machine where the free arm is, allowing for free hand quilting or sewing.
Lighting
This sewing machine has 2 rows of wide angle LED lights to give a very effective lighting to your work area.
The LCD screen is back lit also for easy viewing, and the machine comes with 3 different levels of optic magnifiers that attach above the sewing area for better viewing.
Control Buttons
Start/stop button above sewing area and will not work when the foot control is connected
Reverse stitch button – for ending your stitches.
Auto-lock button – locks the stitches.
Needle up/down button.
Thread cutter button – used to cut thread from needle and bobbin.
Speed control slider – when set the foot controller will only reach preset speed.
Presser foot pressure dial – on top of machine.
Thread tension dial – on front above work area.
Function buttons for computer found below LCD screen
Knee lifter on bottom right front.
Feed dogs button – on back of free arm for raising and lowering.
Stitch width and length adjusting buttons for computer are below display screen.
Free Arm
The free arm is easily accessed by removing the accessory extension storage area.
This will give you free arm sewing for doing cuffs sleeves, or any other hard to reach sewing areas.
With the accessory tray removed you can attach the extension table that slides into place, and has adjustable legs giving you 16 by 11 inches for a larger working area.
Presser Feet
The machine comes with 7 presser feet.
Zigzag foot which is on the machine
Zipper foot
Satin stitch foot
Blind hem foot
1/4 inch seam foot
Automatic buttonhole foot
Overedge foot
To change the presser feet on this machine you just push the release button behind the foot, after raising the presser foot, and then you can snap another one in place.
Each presser foot is lettered and when a stitch is selected on the LCD screen it will recommend the proper foot to use, so is hard to go wrong.
With the knee lifter attached the presser foot can be raised very easily allowing free movement for your sewing or quilting.
There is also a dial for adjusting the pressure of the presser foot, usually used when sewing or quilting thicker fabrics.
What Accessories Comes With The Necchi EX100 ?
7 presser feet
Buttonhole stabilizer plate
2 spool holders large
2 spool holders small
Extra spool pin
4 bobbins
Assorted needle set
Seam ripper
Lint brush for doing cleaning
Screwdriver
Stitch chart
Hard cover to keep out the dust
Foot control
Power cord
Knee lifter
Large extension table 16 by 11 inches
Optic magnifiers 20/40/60
Instruction manual
Specifications For The Necchi EX100
17 pounds
8.6 inch by 6.7 inch sewing bed
15.9 inches long by 11.7 inches high by 6.5 inches wide
100 computerized stitches
5 mm maximum stitch length
7 mm maximum stitch width
16 inch by 11 inch extension table
Warranty For The Necchi EX100 Sewing Machine
This sewing machine has a warranty of 25 years on the mechanical parts, and 2 years on electrical, and 1 year on labor, plus always check the warranty card that comes with your machine.
Pros And Cons For The Necchi EX100
Pros
Has a good amount of stitches
Light enough with carrying handle
Easy to set up and use
Is good for quilting and sewing with large work area and extension table
Very well made
Enough features to make sewing easy
Cons
With the many features, this model has a price that can be a little high, we recommend to shop around for best price.
Why To Choose A Necchi Sewing Machine Over Other Well Known Brands?
Necchi has been on the market for over 75 years and is known by building high quality models with metal frames that will make any of their models to last for years.
Necchi sewing machines are well-built and they work with a good high speed that will help you to work on any project, and these model are known to work well no matter how many hours you work on your projects.
Is The Necchi EX100 A Good Model For A Beginner
This sewing machine is easy to set up and start sewing, it will help any beginner to learn to use a sewing machine and start working on their first projects.
Is The Necchi EX100 A Portable Model?
When you're looking for a sewing machine to move around the house or to carrying it to your sewing classes and retreats, the Necchi EX100 might be in the top of your list, it's a lightweight model with a build-in handle.
As this is an easy to set up and start sewing model, you will love to take it to your sewing classes.
Is This Sewing Machine Good For Free Motion Quilting?
You can work with the free motion quilting with this sewing machine, it comes with the drop feed dogs system that will help you to work on your free sewing and quilting projects with ease.
What Type Of Sewing Projects Can I Make With This Sewing Machine?
The Necchi EX100 is the perfect sewing machine to work on different projects, garment construction, home decor, crafts and making quilts. It comes with a good amount of features to help you to work on any project.
Where To Purchase The Necchi EX100 ?
You can find this sewing machine on any dealer or specialty store in your area, you can give them a call to ask them for a test run, but you can also  check today's price on Amazon.

Note: Due to increased demand, this model might be out of stock on Amazon, come back soon to check again.
You can read the instruction manual here for the Necchi EX100
Our Final Thoughts For The Necchi EX100
This is a very good sewing machine and one of the top of the line for Necchi
As Necchi has been in business for about 100 years this Italian company makes some of the better sewing machines that will last for many years of trouble free sewing.
But as with any sewer it off depends on what you are looking for in a sewing machine which could be just a straight sewing machine or one like this Necchi EX100 with all the up to date features, and enough stitches to give a good variety to your sewing projects.
As this machine is well set up for any quilter to use or sewer for your home project, we would recommend it as a good investment for your sewing room, and we hope this review gives you some help on your choice of a sewing machine.
We wish you all the best on your sewing projects – Happy Sewing!
Looking for a sewing machine for a beginner with a lower price tag? Take a look to the Brother SR3774 Sewing And Quilting Machine