The Necchi QS60 Review, this is another computerized sewing machine from this Italian manufacture. The QS60 is made of solid metal under it's exterior, making it a little heavier than some, but also much stronger, and made to last for years.
This machine comes with all the up to date features you will need for your projects, and if you're into quilting this sewing machine has a work space of 9 inches by 5 inches and an extension table for even more room, so it will be an ideal machine for quilters.
It will also do your crafts, dress making, and making any other sewing projects that you're into.
Necchi QS60 Quilting And Sewing Machine Review
Below we will mention some of the features found on this machine to see if this model would be a good match for your sewing needs.
63 Built-In Stitches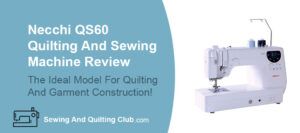 This machine comes with 63 built-in stitches and 5 buttonholes styles.
It has your basic stitches, straight stitches, basting, zigzag stitches, zipper sewing, buttonholes, darning, tacking, stitches for patchwork and quilting, and a large variety of decorative stitches plus more.
With this model you have the ability to adjust the stitch width and length on the LED screen.
And it comes with a stitch chart that's mounted on the top of the machine for quick reference. The maximum width is 7 mm and length is 5 mm, and the machine will sew up to 1000 stitches per minute.
Bobbin And Threading
To wind the bobbin on this machine follow instructions on top and put bobbin on pin, and bobbin winding stopper to the left, then press bobbin winding button on the LCD screen and when bobbin is full it will stop automatically.
With this sewing machine you can even wind the bobbin while sewing as it has a separate motor for this. To install the bobbin, remove the hook cover plate, drop the bobbin in and follow the diagram for the path of the thread that's on the cover plate, and leave about 4 inches of thread out to the rear.
With this top loading system you will find it fast and easy to do.
To thread the machine, have the needle in it's highest position and follow the numbered guides on the sewing machine down to the needle threader, and if any problems arise check the diagrammed instruction manual.
You can use the automatic needle threader and it works well when using # 50 -90 thread and needles # 11 – 16, but will not work with double needle.
Also just above sewing area is the thread tension dial that might need to be adjusted when sewing different layers of fabric.
Feed Dogs System
This model has the 7 piece feed dog system, which means it will grip the fabric you're sewing in 7 places at once to give a smooth and even movement while sewing.
The feed dogs can also be lowered by the drop feed lever located in the front bottom right of the sewing machine and for normal sewing feed dogs should be up plus a message will show on the screen if feed dogs are down.
Lighting
The light for your sewing area on this model comes from a 12 volt 5 watt bulb which gives a good strong light.
Control Buttons
Just above sewing area is the reverse button for tying off stitches.
Auto-lock button – for automatically locking off the stitches
Up/down needle button
Thread cutter button will cut thread from bobbin and needle at same time
Speed control lever – when set control foot will only reach preset speed.
Bobbin winding button – on side of LCD screen
Twin needle button
Clear button – deletes pattern on screen
Memory button – memorizes programmed patterns
Elongation button – to elongate satin stitch patterns.
Stitch width and length buttons – just below screen for easy adjustment.
Pattern select buttons – to pick out a stitch pattern number on the screen.
Thread tension dial – front above work area.
Foot pressure dial on top with window gauge on front.
Knee lift lever – on front at bottom.
Button for correcting stretch stitches if distorted – on front at bottom.
Free Arm
This model does not have the free arm for sewing sleeves, cuffs, etc.
Presser Feet
There are a good variety of presser feet included with this model
Zigzag foot
Overedge foot
Rolled hem foot
Zipper foot
Satin stitch foot
Blind hem foot
Cording foot
Overcasting foot
Automatic button hole foot
Basting / darning foot
1/4 inch seam foot
Even feed foot
Open toe satin stitch foot
To change the presser feet just push a button behind the foot to release it then snap another foot in place, and the presser foot can be raised 1/4 inch higher than normal for easy removable of foot and each foot is lettered.
The presser foot can also be raised by the knee lifter, giving free movement for quilting or sewing, and the use of both your hands.
Standard Accessories Included.
Presser feet
Set of needles
Screwdrives – 2 varieties
Lint brush
Seam ripper
Spool holders – large and small
Bobbins
Quilting bar
Quilting bar for even feed foot
Cloth guide with screw
Foot control
Power supply cord
Accessory box
Storage compartment for feet
Knee lifter
Instruction manual
Specifications For The Necchi QS60
63 stitches
1000 stitches per minute
9 inch by 5 inch work space
7 mm maximum stitch width
5 mm maximum stitch length
27 pound weight and has carrying handle
19.5 inches by 8.6 inches by 11.8 inches.
Warranty
The QS60 comes with a 25-year limited warranty, which is 25 years against any defective materials and workmanship, and 5 years on the electrical components, and 1 year for labor from date of purchase, and always check warranty when buying
Pros And Cons For The Necchi QS60
Pros
Very strong and well constructed
Enough of a variety of stitches
Easy to set up and start sewing
Large work area for quilting and large sewing projects
Has all the up to date features to make your sewing easy
Cons
No free arm – is designed more for a quilting machine
A little heavy – not the best for sewing classes
Price can be a little high for some
Why To Purchase The Necchi QS60 To Make Quilts?
This sewing machine was designed and built with quilters in mind, as this model is built strong with a metal frame, it will help you to work with ease on your large quilting projects, working to piece a new top or working to make the free motion quilting on your new quilt, will be easier.
This model comes with a large working area that will help you to work on big quilts with ease, you only need to decide what type of quilting stitches you want to work with.
Is This Sewing Machine Portable To Take It To My Sewing Classes ?
This is not a lightweight model, it's a 27 pounds sewing machine, it comes with a built-in handle to help you to carry it around the house or the sewing room, but I find it on the heavy side to carry it to your sewing and quilting classes.
What Sewing Projects Can I Make With This Sewing Machine ?
This model is designed and built to help any sewer to work on any project, from garment construction, crafts and even making small and big quilts!
Is This Sewing Machine Good For Beginners?
If you're a beginner and you're really interested to start sewing, this might be a good investment for you, this is a fast sewing machine but you can control the speed and keep it on low speed as you learn the basics of sewing.
When most beginners might choose a low price sewing machine to learn the basic steps for sewing, I would recommend this model for beginners who are truly interested to start sewing on different projects, as when you make an investment in a high quality sewing machine, you can be sure it will last for years and you won't need to upgrade as you get better at sewing.
Take a look to another great sewing machine, the Necchi EX100
Where To Purchase The Necchi QS60 Sewing Machine?
You can find this model on any specialty and fabric store in your area, or you can call a sewing machine dealer in your area to be sure they have this model and ask them for a test run, you can also find the Necchi QS60 online, check the price on Amazon.
Our Final Thoughts
This is a well put together sewing machine by Necchi, with it's heavy construction it is more durable than others, and will give you years of sewing pleasure.
With it's large sewing bed it is a very friendly machine for quilters or any larger scale sewing projects you might have.
With all it's up to date features, and being very easy to set up and start sewing, we believe this machine would be a good addition to any sewing room.
As with any sewing machine it all depends on what you are looking for to create with your sewing projects.
We hope this review will give you some help when choosing a new sewing machine.
We wish you the best on your sewing projects – Happy Sewing!