Many kids will show early what they love to make, if you see your kid is wanting to learn to sew, getting one of the Best Sewing Kits for Children in the market will make the day for them!
Best Sewing Kits For Children 2022
 How old you need to be to start sewing?
I don't think is about one age in particular, I guess is better to go with what every child is willing to learn.
I have a young friend who has a young daughter who was only 5 years old, one day they both visited me and I never paid attention to the young girls looking at the quilts made my me hanging on the walls.
A few days later my friend called me to asked me if I was willing to give her daughter some sewing lessons, my first reaction was to think "she is too young!" but I remember the time when I was learning to sew, to knit and to crochet, and I was not that young as this young girl but my first sewing teacher thought the same about me, this teacher told my mom that it was a better idea to sign me into a school.
My mother had to tell the teacher I was already attending to a school but I was asking for sewing lessons, so that teacher said YES to me and that was how my long sewing career began.
So I said also YES to my friend and I started to teach the young girl some sewing lessons.
The first day of sewing classes she got to my house with a big smile on her face and she showed me she came already ready for the first sewing class, she had in her hands one of her toy boxes where she put some old pieces of clothing and some thread and a big sewing needle!
She was showing me how much she cared about learning to sew!

As we started to work on her first sewing lesson, I noticed her fingers were not too skilled yet to manage a needle but I didn't say anything about that, we started to work with the running stitch and she loved it!
It doesn't matter if they can make a perfect stitch, what it's important is that they enjoy the time while sewing.
Her first sewing project was a doll's small quilt, perfect or not she loved it and she was so proud of herself!
I've had a list of young students (boy and girls) who have learned how to sew with me, and I loved to work with each one of them, kids just love to sew!
They just love to make something by themselves and they love to see what they can do it! Whether or not they will be a textile artist later in life, I don't know, but I know when they are young if they have the call they will love to learn to sew their first stitches from someone who is willing to spend sometime to share the love for sewing.
Best Sewing kits for children
You don't need to wait for the Holidays to give a sewing kit as a gift, if you notice your child is showing some interest to learn to sew, make them happy and get one of the sewing kits for them.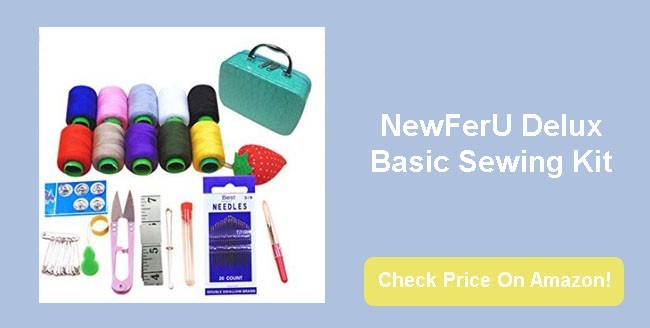 The basic sewing kit box contains only the most essential sewing supplies that your kid will need to start with his/her new hobby, it's smart and compact but it has everything they will need to start working on their first sewing project, simple to use and easy to keep everything tidy inside the box.
Your children will love to work on their sewing projects and make beautiful stitches with 10 different thread colors!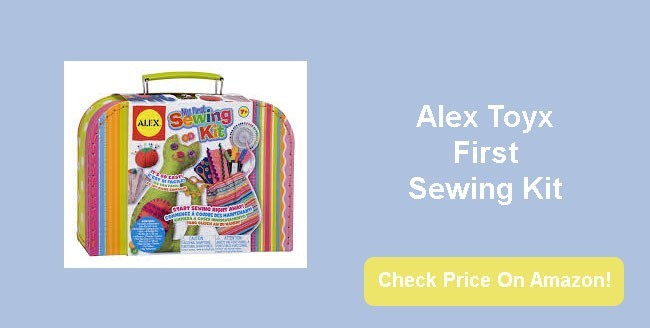 Winner of Dr Toy's Best Classic Toys Award and Parents' Choice Approved Award
What kid that wants to learn to sew won't love to get a beautiful bright colors box with the basic supplies for sewing?
You don't need to have everything to start working on your first sewing project. Starting to sew on felt is a good idea as you don't need to know many different stitches to make the first stuffed animal shape, your kid will love to get creative and bring to life one creature from his/her drawings.
The Alex Toys first sewing kit comes with a full variety of different sewing supplies that your kid will love!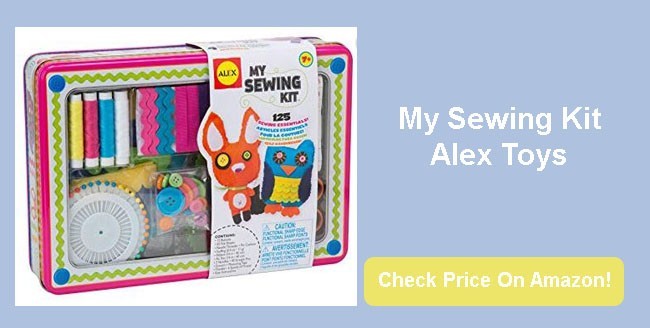 What child could ask for more? My Sewing Kit from Alex Toys will the favorite sewing supplies every kid that loves to sew wish for.
This is a good starter kit, it comes with illustrated instruction that any kid can follow to start making their first stitches and to learn how to thread a needle.
It has a good supply of different things any young sewist will love to have, four different color thread, some coloful buttons, felt precut to work with and many more sewing tools in a nice tin box!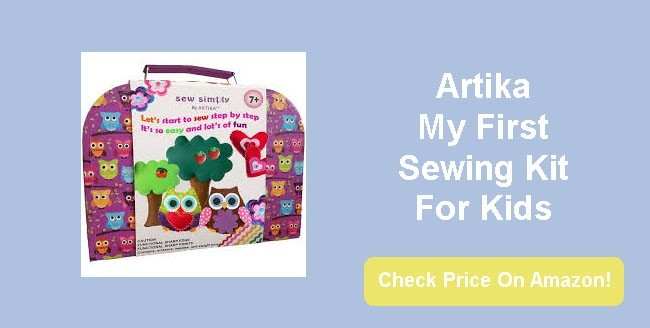 Ages: 7 – 9
Learning to sew with the Artika Sewing Kit for Kids will be the wish come true for any kid who loves to learn to sew.
The sewing kit comes with everything your kid will need to make the most beautiful small stuffed owls and trees made of high quality felt.
Learning to trace, cut and sew will be their favorite activity to bring down the tablet and learn some skill that will lead to an amazing new hobby.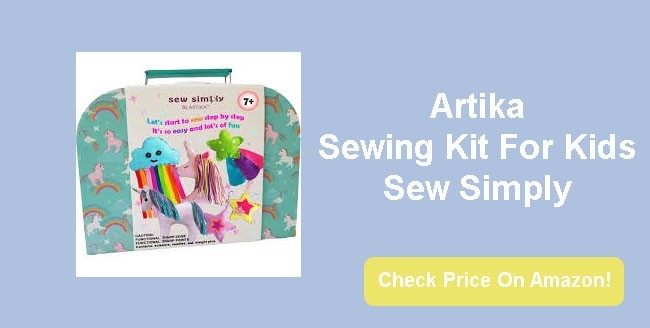 Who won't love to learn to sew making a soft stuffed felt unicorn?
The Artika Sewing Kit for Kids – Sew Simply is also for kids age 7 – 12, they will learn to sew by tracing the patterns on felt, cut the different felt pieces to sew and making a soft stuffed toy with basic stitches for beginners.
The kit comes with everything your kid will need to make a unicorn, a cloud with a rainbow and a couple of stars.
Learning the skills of sewing working on these beautiful sewing kits will the dream come true of any young kid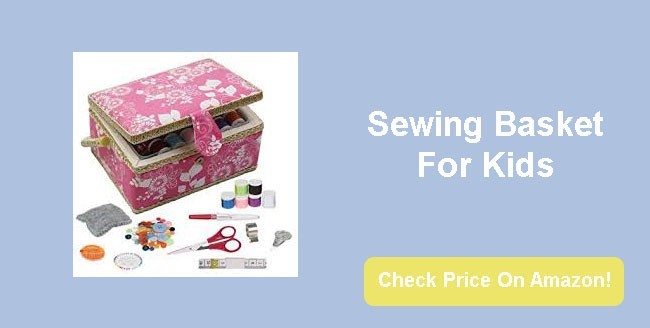 What kid won't love to get a lovely Sewing Basket with all the sewing supplies on it, no more grabbing from mom's or grand- ma's sewing basket a needle or a thread.
Your kid will have everything for working on her next sewing project in it, no matter if she is occasional or daily sewist, she will love to have everything in the basket and ready to use it anytime!
It comes with a beginners starter kit, and it's good for anyone who loves to sew, grand mothers, moms and young girls, everyone will love it!
Disadvantage:
It doesn't come with any piece of fabric or felt, so if you're planning to get it as a gift for a young girl, you need to buy some fabric of felt.

The Craftster's Sewing Kits Little Monsters Beginners
Kids love monsters and they will love to make some stuffed monsters by themselves!
For kids, girls and boys ages from 7 to 13, this sewing kit for kids will be the perfect kit to learn to sew.
Each sewing craft kit includes: pre-cut monster felt shapes with pre-punched holes, 6 colors of embroidery floss, poly-stuffing, 5 metal needles, 2 needle threaders, scissors, 40 pins, pin cushion, non-toxic glue and easy-to-follow instructions
Your kid will love to start learning the art of sewing by making some of the well crafted monsters in this kit, he/she will be excited to work with "real" needles (dull at the end) and as your kid works to make the monsters he/she will learn the basic sewing stitches.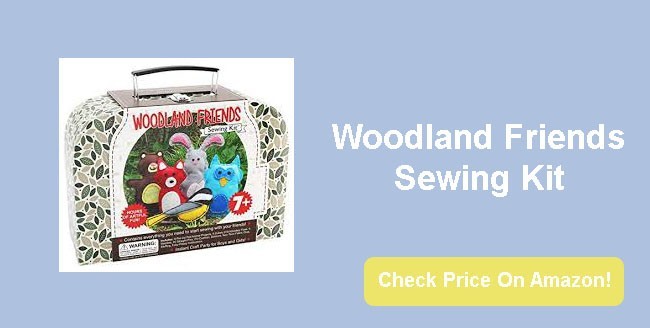 Woodland Animals Kids Sewing Kit
Your kids will love to start sewing with the Woodland Animals from this sewing kit for kids. The step by step instructions and the pre-cut felt and pre-punched holes will help any kid to work with ease while working to make the woodland stuffed animals from this kit.
Kids will love to learn the basic stitches working with the pre-cut and pre-punched holes on felt that is perfect for beginning sewers.
Your kid will be so lucky to make them all: Fox, Owl, Rabbit and a Chickadee.
Each kit includes all the material that your kid will need to make all the woodland animals included in the kit plus some needles, thread, stuffing and instructions.
This kit will be also perfect if you're planning to host a craft party!
Best Age To Learn To Sew.
I can't say there's a perfect age to start to learn sewing, it will depend on each kid, but I will say some kids will show the willing to learn the new skill and some will never be keen to try.
Some people will say the best age to learn would be between 6 to 12 years old, and I would agree with them, when young kids wants to learn something it might be because he/she has seen the parents or other family members doing it, and I will suggest if your kid is asking to be taught to sew, that would be the right age.
The younger they are, they will need more supervision with the use of needles, pins and scissors, but you can buy for them plastic needles to start with and they can start with an easy project.
As they grow up a little bit more and if they keep interested on sewing, they can try to use some regular sewing tools, but always under your supervision.
They will grow up and they will keep the interest to keep working on it, you can look for some sewing classes in your area so they can learn more about this hobby and one day it can turn into their own trade and why not, a way to make a living.
What Should Be In a Sewing Kit For Children.
The sewing kit for children should be small and with just a few things on it as a sewing kit for a beginner.
A good pair of scissors for children with round point, I would recommend a children pair of scissors from Fiskars
Tape measure
Some pins
Magnetic pins holder
Chalk or washable markers
Thimble or plasters
Needle threader
Some small pieces of lovely fabrics
A lovely basket or box to keep everything inside
Which Sewing Kit Is The Best For Your Kid?
If your kid is still young a sewing kit that has plastic needles with a dull end and some pre-cut and pre-punched material to sew whether it is fabric or felt will be good for them.
Get a kit with easy sewing projects to make so your kid can finish it and see his/her first sewing project finished, they will feel proud of themselves and this will give wishing to sew more projects.
If your kid is a little bit older (8 – 12) they can start with more elaborated sewing projects, they will keep the interest to sew for a few days while they work on it, some projects will require more time to finish.
When to buy your kid his/her first sewing kit?
The holidays or their birthday will be the date you might be willing to buy your kid a sewing kit, and this is a good idea, but I will go anytime your kid ask for it that will be the perfect time to buy it!
Closing.
Learning to sew will help your kids to be more creative and more self-sufficient, sewing is an art that will require some skill and time, be patient with your child and give them some encouraging words to keep at it.
As they keep learning children will become skilled, before you notice your kids will surprise you by making some textile art!
Enjoyed this post, share it!