Singer 7258 Sewing Machine Review – Stylist Award Winning 100-Stitch Computerized Sewing Machine has been the consumers Digest winner for 2 times because of its good performance, quality of materials used to make it, easy of use, efficiency, and for the maintenance and service needed for it.
This machine would be an excellent addition for any sewer, and has an easy to understand manual, plus a video to learn all about using the Singer 7258 Stylist, with these your machine will be ready to sew in no time at all.
Singer 7258 Sewing Machine Review – Stylist Award Winning 100-Stitch
Overall Features
Automatic needle threader
Programmable up/down needle position
Speed control
Start/stop button
Heavy duty metal frame
Twin needle capability
Automatic reverse
Extra high presser foot lifter
Automatic tension on the thread
Stitch width of 6 mm
Staybright LED 100,000 hours light
6 segment feed dogs for accurate feeding of your fabrics
Top loading bobbin
100 stitches
Tacking stitch with automatic tie off function
Straight stitch fuction
13 needle positions for projects like zippers, inserting bindings or topstitching
Works on 110 volts, so is good of the United States and Canada
100 Built-in Stitches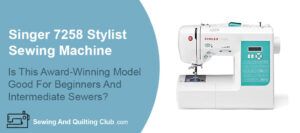 It comes with a 100 stitch options that include 9 essentials, 76 decorative, 8 stretch and 7 full automatic buttonholes, with stitches for quilting, crafts, heirloom, fashion, sewing and many more.
Stitches are displayed on the front of the machine marked from 1 to 100 and an LED display window just above them with the controls to pick the stitch you need.
The stitch length and width are automatically adjusted when you chose your sewing stitch, but also you have the ability to change the length and width of a stitch to your own preference.
You also have the choice of 6 different buttonhole styles to make perfect buttonholes with each use.
The machine is capable of doing 750 stitches per minute, and has a speed control lever for you to select your desired speed when you are not using the foot control.
Top Loading Bobbin With A Clear Cover
The bobbin on this machine is top loading, and has the clear cover so you can keep track of the thread supply.
It has a magnet type vertical —- rotating hook that gives a quiet smooth jam-resistant bobbin system.
Automatic Needle Threading
This machine comes with the automatic needle threader so that with just the push of a lever and you're ready to sew eliminating any eye strain.
Instructions for threading the machine are also printed on the machine and it comes with a built in thread cutter.
There's also a tension dial that will automatically give you superior stitch quality, and the spool pin is located on the top of the sewing machine.
10 Presser Feet
The machine has these presser feet to help you to work on many different sewing projects.
All purpose foot
Darning and Embroidery foot
Gathering foot
Rolled hem foot
Satin stitch foot
Overcasting foot
Quarter inch foot
Blind hem foot
Buttonhole foot
Zipper foot
When changing the presser feet they will just snap on into place.
There are also 2 heights to set the presser feet at, the higher being for thicker fabric, and there is an automatic amount of pressure on your fabric as it pushed against the feed dogs, so you can sew from light to heavier fabrics without making adjustments to the presser feet.
Programmable Needle Up/Down
The needle is programmed by a button to be up or down when you stop sewing and is beneficial if the needle is down when sewing applique, quilting or pivoting fabric or in the up position when removing fabric.
It also has the automatic reverse button conveniently located, and comes with a pack of needles.
Accessories Included
10 presser feet
Pack of needles
Bobbins – it uses (class 15J)
Thread spool caps
Auxiliary spool pin
Spool pin felt
Darning Plate
Needle plate
Screwdriver
Seam ripper
Lint brush for cleaning
Soft sided dust cover
Foot pedal
Power cord 69 inches long
Instruction Manual
DVD for the machine to learn how this sewing machine works
LED Light Good For 100,000 hours
It comes with an LED light that's good for 100,000 hours and will give strong light to your sewing service where needed.
Heavy Duty Metal Frame
The frame on this singer model is made with heavy-duty metal and weighs 14.6 pounds, so that it won't move around when you are sewing.
At 14.5 inches long and 12 inches high by 7.5 inches wide and with a handle on top it is easily portable.
Removable Storage Compartment
The storage compartment on the front is removable giving you a free arm on the sewing machine for hemming pants, cuffs, shirts or other hard to sew projects.
Warranty
The Singer 7258 Stylist sewing machine comes with the 25-year limited warranty
The Positives
Easy To Use
The first thing to notice about this model is how easy it is to set up and to start to sew, as it comes with all the features any beginner will love to have in a sewing machine to work on different projects,
It will also help the beginner sewer to learn more sewing skills to work on different sewing projects, this is a sewing machine that will stay for many years in the sewing room.
Great For Beginners And More Advanced Sewers
As this is a sewing machine easy to use, it will help any beginner to start sewing without any problem to handle the sewing machine correctly, and it will help any advanced sewer to sew on more detailed sewing projects.
It Sews Quietly And Well
Any sewer will notice how well this model sews and how quietly it works, allowing you to listen to some music while you work in the sewing room to have a chat with other sewers at the sewing classes.
The Negatives
I think this is a quality sewing machine that will stay in the sewing room for many years and you'll be sewing with it many different sewing projects, but as many models, there's always a few things you can't sew with this model.
It's Not Good With Thick Material
This model is not made to sew well with thick materials as denim, canvas, leather or vinyl, or trying to sew many layers of fabric.
You need to know this issue in advance if you want to make some sewing projects with this type of thick materials, if you want to work with these materials, you might want to take a look to a Heavy Duty Sewing Machine.
It Doesn't Have An Extension Table
If you want to work on large sewing projects like making curtains, table cloths or quilts, you might want to have an extension table, as this model doesn't come with one, you need to buy one separately.
It Doesn't Have A Protective Carring Case.
If you have in your plans to attend to some sewing or quilting classes, you need to buy a protective carrying case to take your sewing machine to your classes or workshops.
Can I Do Free Motion Quilting With This Sewing Machine?
Yes, you can, as it comes with a foot for quilting included and you also get a plate to cover the feed dogs.
Singer 7258 Stylist Sewing Machine Verdict
So For a very reasonable priced sewing machine with all the features that most sewers will need, you might want to check this Singer 7258 Stylist out
Check Today's Price On Amazon.com
.
Check Today's Price On Amazon Canada