The Juki MO-80CB Free Arm Serger Overlock Machine Review, this serger will finish off any of your latest fashions or other projects you might have.
It has 2, 3, 4, thread capability, and can also accept heavy decorative thread as the looper thread to give a more decorative look to your projects.
There is a free arm on this machine by removing the auxiliary bed giving you the convenience of sewing sleeves, pants, or other cylindrical fabrics.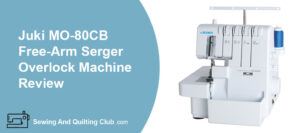 If you're looking for a serger that's a fair price for what it can do then a 2, 3, 4, serger is probably one of the better investments that you can make.
This one also comes with a portable handle and weighing about 14 pounds is easily portable for anywhere you want to take it.
Juki MO-80CB Free Arm Serger Overlock Machine
We will go through some of the features on this machine, and you can judge if it would be a good fit for your sewing projects.
How Many Stitches Can The Juki MO-80CB Make?
This machine can produce different types of stitches with the needle positions, tension adjustments, threading methods, and the use of the right looper/converter.
There are 16 different stitches you can do, and depending on the needle positions, it can sew 2 threads, and 3 threads with a 4 mm wide overlock and a 6 mm wide also, plus the seam can be increased more by adjusting the overlock cutting width dial.
There is a handy reference chart for the different stitch types, giving needle positions, tensions, etc., in the instruction manual.
This machine will sew at a speed of 1300 stitches per minute, and the speed is controlled by the foot pedal.
Stitch length on this machine is from 1 to 5 mm, and can be adjusted even while sewing, and for rolled edges or narrow edges, the recommended setting is 1 to 1.5
How To Thread The Juki MO-80CB?
This machine is color coded for threading and should be threaded in the sequence of blue, red, green and yellow.
It is already threaded to sew a standard overlock, so if you need to re thread it just tie your threads to the original threads and pull them through the machine, and also raise the presser foot to release the tension disc.
This machine can use thicker threads also, and the numbers are #400 for cotton, #100 for silk/rayon, #80, #90 spun, and #80, #100 for polyester.
It's also recommended using the large spools of thread just because they will last longer doing overlock stitches.
The instruction manual has very good diagrams when it's time for threading, and it might take some practice to get used to it.
Once threaded is always a good idea to test the machine out on a scrap piece of fabric.
What Type Of Needles Does The Juki M0-80CB Use?
The needle recommended for this machine are ELx705 size 14/90 and 12/80 which have a flat shank, plus single or two needles can be used for sewing.
The instruction manual has a chart for the different needle positions.
Threading methods, tension adjustments and use of the right looper.
How Many Presser Feet The Juki MO-80 Comes With?
This machine has the snap on type presser feet, which are very easy to change, with the power off raise the presser foot then press the red button on the back of foot to release it, then lower the shank unto a new one and it will snap into place.
You can buy optional presser feet specifically for this machine.
There is also a presser foot pressure adjustment located on the top of the machine with being set to M for normal conditions and if adjustment is needed, L is for lightest and H for heavyweight fabrics.
Feed Dogs
The feed dogs for this machine consist of two sets, one behind and one in front, and work independently of each other.
They can be adjusted by a differential dial, so that they can stretch or gather the fabric, and for overlock stitching on normal fabrics it is usually set at 1.
Lighting
The light on this serger is just above the work area, providing excellent illumination from a long life energy efficient LED light.
Operating Dials On The Juki MO-80
On the front of the serger are the 4 tension dials that can be fine-tuned.
The hand wheel is located on the right and turns towards you.
The differential feed adjusting dial is next above the hand wheel.
Then the stitch length adjusting dial
The cutting width adjusting dial is on the front, just below the sewing table.
The foot pressure adjusting dial is on top of the machine above the sewing area.
Can The Knives On the Juki MO-80 Be Moved?
The upper knife on this serger can also be moved out of the way when not needed, and has a very good diagram of this in the instruction manual.
What Accessories Are Included With The Juki MO-80?
Flat Blade Screw driver
Upper cutting knife
Thead unreeling cap
4 anti-spill nets
Thread guide
Needle set
Needle threader
Brush
Scre driver
Tweezers
2 thread converter
Accessory bag
4 spool holders
Dust cover
Chip box
Oiler
Foot pedal and power cord
An Optional extension table can be purchased separately
What Are The Specifications For The Juki MO-80CB?
2, 3, 4, threads
1300 stitches per minute
ELX 705 size number 14/90 and 12/90 needles
1 – 5 mm stitch length
Standard overlock width right needle 3 mm – 5 mm, left needle 3 mm to 7 mm, and rolled hem min 2 mm
4.5 mm presser foot lift
14 pounds weight with carrying handle
12 inches by 11 inches by 12 inches
27 mm for needle bar stroke
What Is The Warranty For The Juki MO-80CB?
There is a 5-year limited warranty on Juki machines which is 5 years against defective materials or workmanship, and 2 years on the motor and the electrics.
Always best to check the warranty when first purchasing.
The Pros And Cons For The Juki MO-80CB
Pros
Easily portable with carrying handle.
Affordably priced for the features it has.
Color coded for easy threading.
Can use heavier decorative thread
Has the free arm
Cutting knife can be moved out of the way
Has bright LED light.
Cons
No extra presser feet, as they need to be purchased separately.
FQA For The Juki MO-80CB Free Arm Serger Overlock Machine Review
Why To Purchase The Juki MO-80CB For Domestic Sewing Projects?
If you only make sewing projects for yourself and for your family, you might ask yourself if you really need to have a serger in your sewing room, the answer to this question that can help you to decide whether or not you need a serger in your sewing room is to answer this questions.
If you make garments for yourself and for your family with fabric that tends to fray easily, a serger will help you to make your sewing projects to last for a longer time at their best.
If you like to give any project a professional seam finish.
If you make regular sewing projects that will have the add look on them for the seams made with overlock or coverstich on the right side of the projects.
Why To Buy The Juki MO-80CB?
Juki is a sewing machine brand well-known around the world by its high quality, when you purchase a sewing machine or a serger from this brand, you know it will last on its best for many years, it will help you to work on many different projects as you give them a professional finish.
Is The Juki Mo-80CB Good For Beginners?
If you're just starting to sew, but you want to give your projects a professional seam finish, then this serger will be good for you whether you're a beginner or not.
My tip for you as a beginner will be to take your time to learn how to work with it before you start working on a project. Test your serger on different fabric types and take your time to test different stitches and also different ways to sew a seam on the serger.
Learn all you need about threading the machine and how to set the different set up for the different stitching before you start working on a project.
Start with simple and easy sewing projects to make with the serger and as you get more skilled working with it, you will feel more confident to try on more sewing projects.
How To Keep The Juki MO-80CB On Its Best?
Sergers work hard as you work on your projects, as these machines will be trimming any seam as you work on your project, sergers will get lots of lint inside the machine.
Every serger needs to be cleaned after you finish to work with it every day, don't wait to finish a project to remove all lint in the serger, as you might know some projects will take a few days and even weeks to finish them.
On the Juki MO-80CB manual, you can find the instructions to follow to clean it and to oil it to keep it on its best.
Where To Buy The Juki MO-80CB?
You can find it on the shelves of specialty stores or with the sewing machine dealer in your area, but you also can purchase it online.

*This post shares affiliate links to Amazon. Thank you for your support.
Our Final Thoughts On The Juki MO-80CB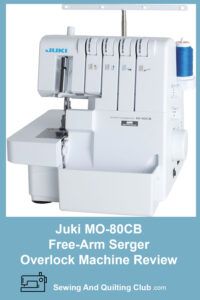 We believe this serger would make an excellent addition to any ones sewing room, giving you the ability to put that factory finish to your projects where needed.
With its free arm, it makes finishing off cuffs, jeans, etc., very easy and does excellent stitches on your fabrics.
For the more experienced sewer, we suggest you might want to try this serger out to see if it fits with your sewing projects, as it comes highly recommended.
Wishing you all the best on your sewing projects – Happy Sewing!
You can also read: