The Bernette B42 Funlock Coverstitch Review, this is a 4 thread 3 needle coverstitch machine that will give you're sewing projects professional quality hems.
You will find that even very stretchy fabrics, and thin knitted materials will turn out excellent.
It has 3 different coverstitches with a width of 2.8 mm and 5.6 mm and also has a chain stitch which will give a professional factory finish to any of you're sewing projects where its needed.
A coverstitch machine does not have any cutting blades to trim off the extra fabric while it sews, so you will have to trim off any extra yourself, which is just one of the differences between a coverstitch and a serger machine, but most of the time they are considered to be much the same.
The machine has a separate needle threader, and a looper threading mechanism, making it easier to thread than some sergers, and with just a little practice you will find it no harder to thread than you're sewing machine.
Bernette B42 Funlock Coverstitch Review
If you think this coverstitch machine would be a good fit for you're sewing projects, we will mention some of the features found on it.
Stitches
The Bernette B42 is able to sew 4 types of stitches by a combination of needle positions, threading methods and the tension adjustments.
Chainstitch – 1 needle and 2 threads for decorative stitch.
Coverstitch – 3 needles and 4 threads. A triple seam is made by using left, middle and right needles.
Coverstitch wide – 2 needles and 3 threads with the left and right needles being used and is good for stretchy fabrics.
Coverstitch narrow – 2 needles and 3 threads with the narrow seam being made by using the left and center needles, and also good for stretchy fabrics.
The sewing speed of the Bernette B42 is 1300 stitches per minute, and is controlled by the foot pedal, so that with a little practice, you can vary the speed that you're sewing with the machine, and it will give you very precise stitching at any speed.
We would like to mention that when stitching there is 87 mm or 3.4 inches of extra work area to the right of the needles, and it also stitches fairly quietly.
Threading the Bernette B42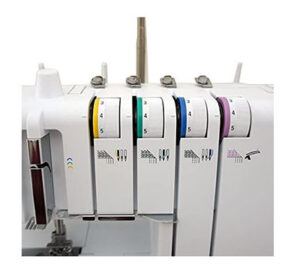 This machine is color coded for threading with a diagram located inside the looper cover for an easy reference.
It is recommended to thread the looper first which is violet color coded, then the right coverstitch needle that's blue coded, then the center coverstitch needle that's green, followed by the left coverstitch needle that's yellow in color, and by following the diagram and practice a few times it will be easy to do.
The thread used on this machine is usually polyester, which are a lighter weight than what's used on many sewing machines, and make it easier for the thread to move easily through the guides plus a good quality is recommended.
Buying the large spools of thread is more convenient than regular spools because the regular will not last long then doing overlock stitches.
Other threads often used on overlockers are textured nylon thread, polyester topstitching thread, rayon decorative thread, metallic decorative thread, and decorative sewing threads.
Also when using the synthetic threads is best to use the spool net, so the thread won't come off the spool and tangle.
Once the machine is threaded it's always good to test it out first on some spare fabric.
Needles For the Bernette B42
The recommended needles are ELx705, 70/11, 80/12 and 90/14, with the number 90 is used on denim, 80 for medium weight, and 70 for shirt weight.
Presser Feet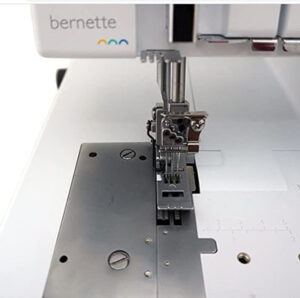 This machine comes with a standard presser foot serger/overlocker which is perfect for rolled seams and flat seams.
Optional presser feet can be bought separately, and it is recommended to not use presser feet intended for other machines, as they might interfere with the needles.
The instruction manual has a list of presser feet to use for this machine.
Changing presser feet is very easy, as these are the snap on type, just raise the needle and foot to their highest positions, then push the colored lever behind the foot to release it, then lower shank unto a new one.
There is a presser foot pressure adjusting dial just above the work area on the end of the machine, and is preadjusted at the factory for most medium weight sewing, but can be adjusted for sewing light or heavy weighted fabrics.
Feed Dogs
On this machine there is a differential feed system which adjust the amount of feed on the front feed dogs compared or in relation to the rear feed dogs.
This system gathers or stretches the fabric, and is very efficient in overedging stretch fabrics.
The dial for this is at the sewing table end of the machine, and can be adjusted from 0.6 to 2.0
Lights
This machine has a bright LED light for over the working area, and is a big help when doing darker fabrics.
Operating Dials
On the front of the machine are the 4 colored tension dials.
The stitch length adjusting dial is on the right end of the machine and usually set between 2 and 3 for most sewing.
The hand wheel is below the stitch length dial, along with the power and light switch.
The presser foot pressure dial is above the sewing area on the end of the machine.
The differential feed dial is on the end of the sewing table
Accessories for the Bernette B42
Large size screwdriver
Oiler
Brush
Needle Set ELx705
Tweezers
4 spool stabilizers
Dust cover
Screwdrive – Allen head type
4 spool caps
4 spool nets
Needle threader / inserter
Foot controller
Power cord
Bernette B42 manual
Specifications for the Bernette B42
4 thread 3 needles
1300 stitches per minute
15 pounds
13 inches by 10 inches by 11 inches in size
2.8 mm and 5.6 mm width for coverstitches
3.4 inches extra work area
Needle sizes 70/11, 80/12, and 90/14
ELx705 industrial needles
4.5 mm presser foot lift
Warranty for the Bernette B42
There is a 10-year limited warranty on Bernette machines, which is 10 years against defective materials on workmanship, and 2 year on the electrical parts.
Always best to check the warranty when purchasing.
The Pros and Cons For the Bernette B42
Pros
Easy to use
Affordable priced for all its features
Has extra size work area
Differential feed is adjustable
It's easy threading and easy to use
Strong LED light
Cons
FAQ Bernette B42 Funlock Coverstitch Review
Where To Find a Tutorial To Learn More About The Bernette B42?
As we were looking for more information, we found the Blog.Bernina.com where they share a great tutorial that we are sure will help you to know more about what you can sew and how to set up the coverstitch machine to help you to work on different projects.
Where To Buy The Bernette B42 Funlock Coverstitch Machine?
You can find this coverstitch machine on the shelves of speciality stores or with the sewing machine dealer in your area, but you also can purchase it online. (affiliate link to Amazon.com)

Our Final Thoughts For The Bernette B42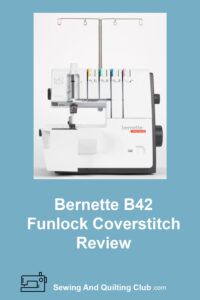 If you're looking for a coverstitch machine that will create professional edges, cuffs, and hems, and is easy to set up and work with, then you might want to try this one out.
It does give a factory finish to even stretchy fabrics and thin knits, and with its color coded threading and with a little practice, you will add that professional look to your projects.
This machine will make a great addition to any sewing room, and save time finishing off you're sewing projects, plus for the features it has the price that is very reasonable.
Wishing you all the best on you're sewing projects – Happy Sewing
You might also want to read: