You will get professional results with the Brother St4031HD Serger Review, with the HD standing for heavy-duty, as it will sew heavy-duty fabrics with ease and is also very good at finishing the lighter weight fabrics also.
There is a heavy-duty metal frame under its exterior cover that adds stability when running at high speeds, and also means that it's built to last for years.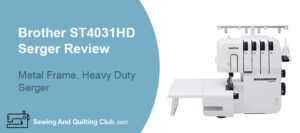 Most sergers are limited in what they can do, but it you want that professional factory finish to your sewing projects, then we suggest taking a look at this serger, as it will make a good investment for your sewing room.
We will run through some of the features found on this serger, and you can see if it would be a good match for your sewing projects.
Brother ST4031HD Serger Review
How Many Stitches Can The Brother ST4031HD Make?
This machine has five varieties of stitches:
The 4 thread overlock
3 thread overlock
Short 3 thread overlock
Narrow overlock stitch
The rolled hemming stitch
The stitch width is up to 7 mm and the stitch length is 2 mm to 4 mm, with both being adjustable.
There is a chart for the different stitches in the instruction manual giving stitch length, needle and thread to use when sewing fine, medium or heavy fabrics.
This machine will sew up to a speed of 13oo stitches per minute with the speed being controlled by the foot pedal, and if you're new to sergers you might want to practice with the foot pedal first before sewing.
How To Thread the Brother ST4031HD?
This machine is color coded for easy threading, with the color guides printed on the machine to make it easy to follow, and trouble free.
This serger also has an all metal thread stand, that's meant to last and makes it easy for the thread to roll off with no tangles.
You can also use 3 or 4 threads while sewing, so that any of your thicker fabrics will turn out with excellent quality stitching, and 3 threads are often used for the more delicate fabrics.
This machine should be threaded by the lower looper first, then upper looper, right needle, and then the left needle, and there is a chart in the instruction manual giving the recommended thread to use for fine, medium and heavy fabrics.
You will also find a chart for the recommended thread tension adjustment for your thread, and three thread.
Also if you're using nylon thread, it would be recommended to use the net over your spool to prevent thread spinning off the spool.
Once you have the machine set up and threaded, we suggest that to first try it out on a scrap piece of fabric.
What Type Of Needles The Brother ST4031HD Use?
The needles recommended for this machine are 130/705 H number 80 or 90, and the instruction manual will have diagrams for installing needles, and which to use for specific fabrics.
How Many Presser Feet Come With The Brother ST4031HD?
This machine comes with 3 presser feet, and the standard foot, blind stitch foot and a gathering foot.
They are easy to change by just pushing the button behind the foot to release it, then moving the holder down onto a new one, while pushing the button till it locks into place.
There are also other optional pressure feet that can be purchased separately for this serger such as a pearl sequence foot, piping foot, taping foot, etc.
Also on the top of this machine above the sewing area, is the presser foot pressure adjustment dial, which for most normal stitching is set at 2.
Can The Knife On The Brother ST4031HD Be Moved?
The knife on this machine can be moved out of the way when ever you wish to sew without cutting the edge of the fabric, and always use caution as this blade is made from carbon steel and very sharp.
The manual will have excellent diagrams on moving the knife.
How Many Feed Dogs Sets Does The Brother ST4031HD Have?
There are 2 sets of feed dogs on this serger and they can be adjusted by the differential feed dial on the right end of the machine, with a normal setting of 1.0
Adjusting them can prevent thin materials from puckering, or stretchy materials from stretching or puckering.
Where Is The Lighting On The Brother ST4031HD?
The lighting for this machine is just above the work area, and will come on when you turn the power switch.
Another thing to mention is that there is a wide extension table to help keep the fabrics level when stitching.
This serger also has free arm capabilities by removing the lid extension so that you can sew any tubular fabrics, pants, cuffs, etc.
How Many Operation Dials Does The Brother ST4031HD Have?
On the front of this machine are the 4 thread tension dials which might need adjustment for different sewing fabrics.
The differential feed ratio adjustment dial on the right end of the machine.
The hand wheel which turns towards you is on the right end.
The stitch length adjustment dial also on the right end of the machine.
The presser foot lifting lever is on the right end.
The stitch width dial is on front just below sewing area.
The presser foot pressure adjuster is on top above sewing area.
What Accessories Come With The Brother ST4031HD Serger?
Standard foot
Blind stitch foot
Gathering foot
Needle set
Wide table
4 spool caps
4 thread nets
Tweezers
Accessory bag
Trim catcher
Foot pedal
Instructional DVD
Dust cover
Power Cord
Screw driver
Foot pedal
Brother ST4031HD Manual
What Are The Specifications For The Brother ST4031HD?
1300 stitches per minute
5 stitches
2 mm to 4 mm stitch length
2.3 to 7 mm stitch width
25 mm needle bar stroke
13 pound approximately
13 x 14 x 17 inches
5 mm to 6 mm presser foot lift
130/705H needles
3, 4 threads
What Is The Warranty For The Brother ST4031HD?
This machine has a 25-year limited warranty, which is 25 years on the frame unit, and one year for the entire machine, then 5 year for the electrics.
We always suggest checking the warranty when purchasing.
The Pros and Cons For The Brother ST4031HD
Pros
Very easy to set up and start stitching
Color coded for threading
Machine is built to last
Will stitch thick fabrics
3 and 4 thread options
Stitch length and width are adjustable as well as the differential
It is an affordable serger
Cons
Machine does not allow stitching with 2 threads
Standard thread not strong enough for high speed, you will need to use a stronger thread.
Where To Buy The Brother ST4031HD Serger?
You can find it on the specialty stores' shelves and also with the sewing machine dealer in your ares, but you also can purchase it online.

*Affiliate link to Amazon.com
Is The Brother ST4031HD Serger Good For Beginners?
If you're a beginner sewer and you're working on projects that need a professional seam finish or decorative stitching with a serger, Brother is a well-known brand to design and build sewing and sergers easy to set up and start sewing. For this reason we believe that this model will be good for a beginner, however we recommend taking your time to learn all about this model before you start working on a project.
Why Buying A Brother Serger Is A Good Idea?
Brother Industries is a well-known sewing machine brand that designs and builds high quality machines for beginners and more advanced sewers at an affordable price, when you buy a machine from this brand, you can be sure it will give you always a high quality stitching you need to work on all your sewing projects without the need to break your bank account.
Brother sewing machines and sergers are well-known by beginners and more experienced sewers around the world as easy to set and start sewing, which this makes them a good addition to any sewing room and this serger is not the exception to this rule.
How Often You Need To Clean The Brother ST4031HD Serger?
As you might know any serger will be trimming the fabric as it sews, sergers will end with a good amount of lint inside, it is advised to open the compartment door after you finish to work on a project and remove with your fingers or with the tweezers all the lint from the serger, it will also be good if you have a small soft brush to remove all the lint than can't be removed with the tweezers.
If you're working on a big project, it will be recommended to remove all the lint as soon as you see the compartment is full.
How Often You Need To Oil The Brother ST4031HD Serger?
You can check on the manual that comes with your serger to know how often Brother recommend oiling this serger, keep a notebook where you can mark down the date, this will help you to know in advance when you need to do a cleaning and oiling on your serger again.
Our Final Thoughts For The Brother ST4031HD Serger Review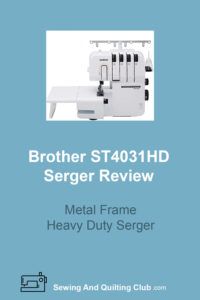 We would recommend this serger as it has enough helpful features and accessories to finish off your sewing projects, giving them a professional look.
As this machine is made heavy-duty it will last, and is able to sew heavy fabrics such as denim, canvas, layered knits, etc. So would make an excellent addition to any ones sewing room.
If you think this machine meets up with what you're looking for in a serger, you might want to give it a try out.
Wishing you all the best on your sewing projects – Happy Sewing!
You can also read: