If you have a large number of sewing projects that you would like to see finished and hemmed, then you might want to take a look at the Singer Professional 14T968DC Serger Review.
This machine has 2, 3, 4, 5 stitch capability, and with all the newer features, Singer has made it easier to get that professional quality finish to your hemming.
The machine is strong enough to sew 2 or 3 layers of denim, and the presser foot can be raised to a higher position for the heavier fabric's clearance.
This serger can also do cover stitches such as a triple cover stitch, the wide and narrow cover stitches, and a choice of 3, 4 or 5 threads, as well as serging.
To do the cover stitches you just have to move the knife out of the way, and change the set up which once you get used to will take no time at all.
So if you have a lot of projects that need hemming, then this machine which can do serging as well as cover stitching might be a good fit for you, so we will mention some of the features found on this model.
How Many Stitches Does The Singer Professional 14T968DC Serger Has?
This machine is able to produce a variety of stitches which are selected by the needle positions, threading method, auto tension selected, and by using the convertible right looper.
The instruction manual which can be downloaded off the internet shows the different 14 stitches and how to set them up from a handy references chart and diagrams.
It might take practice to set them up, so as a beginner sewer we probably would not recommend it, but for the more experienced sewers it could make a great addition to your sewing room.
The machine is able to stitch at 1300 stitches per minute, and speed is controlled by the foot pedal.
There is also a dial on the right end of the machine for adjusting the stitch length, with 4 recommended for your heavier fabric's, and 2 for the lighter fabric's, plus the width can also be adjusted.
How To Thread The Pro 14T968DC?
Inside the looper cover is a color coded threading diagram for easy referencing when setting up.
The number 1 upper looper is green, number 2 lower looper is red, the chain stitch looper thread is brown, the right needle thread is blue, and the chain stitch needle thread is orange, along with illustrated guides in the manual for setting up.
To open the looper cover, just pull to the right and then fold down, plus when the cover is open the machine will not start.
Singer recommends the use of a high quality polyester thread as it is able to run smoothly through the guides.
The machine has automatic tension adjustments which can also be fine-tuned for different sewing fabric's, and when using the large spools of thread its recommended to use the spool net so the polyester thread won't become tangled.
How Many Needles Does The Pro 14T968DC Serger Use?
Singer recommends needles number 2022 and size 14/90 and 11/80 for this machine, which are flat shank industrial needles.
The service manual shows where to install the needles for different stitches, and only use one, two, or three at a time.
How Many Presser Feet Does The Singer Pro 14T968DC Come With?
There are 7 presser feet included and Singer recommends not to use presser feet from other machines as they might interfere with the needles and knife.
Changing the presser feet is the same as many sewing machines as you only have to press the red lever behind the foot to remove it, the snap another in place by lowering the shank.
There is an extra high lift for the presser foot, if you're sewing thick fabric's.
A general purpose foot is supplied along with a taping foot, elastic foot, blind hem foot, shirring foot, beading foot, and cording foot.
This machine also has the dial for adjusting presser foot pressure when needed.
The Feed Dogs
With this serger, there is a differential feed, which controls the amount of feed of the fabric with the front feed dogs in relation to the rear feed dogs.
This is used very effectively when over edging fabric's that are stretchy and fabric's cut on the bias, and when set on N it is for normal over edge stitching.
Light
This machine has a 15 watts screw in light bulb over the work area, and provides a strong enough light to help if you're sewing darker fabric's.
The Operating Dials On The Pro 14T968DC
On the right end of this machine is the on/off button that also turns on the light.
The hand wheel which turns towards the user.
Next above the hand wheel is the stitch length adjusting dial.
Then the automatic tension dial at the top.
On the front are the fine turning levers for the thread.
On the left end of the machine is the presser foot pressure adjusting dial.
The differential feed adjusting dial is on bottom front of the machine.
And the cutting width dial is next.
Knife
The knife will trim off any extra seam allowance while stitching and leaves a factory finish to the seams.
It can also be moved out of the way if you prefer, and the instruction manual has diagrammed instructions for this.
What Accessories Come With The Singer 14T968DC?
Screw driver large size
Allen screw drive small knife
5 thread unwinder spool caps
5 anti spill nets
oiler
Tweezers
Needle set
Brush
5 cone adapters
Waste tray
Cover for the machine
Foot pedal
Power Cord
Specifications For The Singer Pro 14T968DC
1300 sewing speed
2 to 5 threads
19 pounds inweight
14.7 inches by 11.4 inches by 11.8 inches
#2022 needles (EL x 750), #14, #11
4.5 mm presser foot rise
1 – 4 mm stitch length
27 mm needle bar stroke
Warranty For The Singer Pro 14T968DC Serger
Singer has a 25-year limited warranty for the serger which is 25 years for manufacturing defects, 90 days for belts and other accessories, and 2 years on the electrics and motor.
When purchasing we always suggest checking warranty.
What Are The Pros And Cons For The Singer 14T968DC?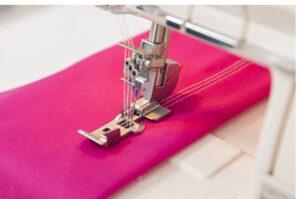 Pros
Has the cover stitch function as well as sergers.
Quiet running
14 stitch capability
Automatic tension control
Width and length of stitches can be adjusted
Attachable waste catcher
2, 3, 4, 5, stitch capability
Reasonably priced for all its features
Able to stitch thick and thin fabric's
Cons
Might not be suitable for beginners
Takes practice to get used to the threading
Does not have free arm
Some of the plastic parts are fragile
FAQ Singer Professional 14T968DC Serger Review
Where To Buy The Singer Professional 14T968DC Serger?
You can find the Singer Pro 14T968DC Serger on the shelves of specialty stores or with the sewing machine dealer in your area, but you also can purchase it online. (*affiliate link to Amazon)

What Can You Do With The Singer Pro 14T968DC?
As a sewer who loves to work on different projects, you can use this machine for many things.
Finishing raw edges – Whether you just make projects for yourself or for your family or if you have a home based sewing business, this serger will help you to give all your projects a professional edges finish.
Create rolled hems on delicate fabric's – A project made with a delicate fabric such as sheers or chiffon, a rolled hem will create the perfect finish to them.
Flatlock seams – it will give your projects that unique and modern look, whether you are sewing on two parts of the garment or you just want to add a focal point on the garment.
Add elastic – not all sergers will have this feature, but this serger will help you to add elastic to any garment.
What Type Of Material Can This Serger Do?
You will be able to work on this serger with different type of materials, it will work great with thin fabric's such as linen, cotton, chiffon and others, at the time to work with thick fabric's, it will also work great with different textiles like Damascus, denim or upholstery textiles.
You will be able to work with different layers of material at the same time, but it will depend on what material you're working with, never try to work with more than three layers of thick materials, if your projects use more that three layers of thick materials you might need an industrial serger, which are build up for stronger work.
Our Final Thoughts For the Singer Professional 14T968DC Serger Review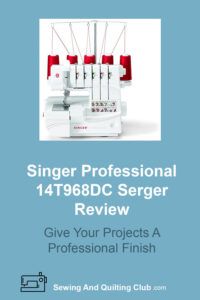 The machine is an excellent choice for anyone looking to give that professional finish to their projects, and would make a great addition to any home sewing room.
As the machine is able to do both over lock and cover stitches it would be an excellent fit for any sewer.
If you think this serger would be a good fit with its many features, then you might want to take it for a test run, and we hope this review has helped you out.
Wishing you all the best on your sewing projects – Happy Sewing

You can also read: