Have you been wondering what is the Best Portable Sewing Machine for you? In the market you might find a few models, this article will help you to know which one is the best to buy.
When you start sewing you might have a list of sewing classes to attend, and you want to bring with you your own sewing machine to the class, this way you can learn how to work on it at the same time as you learn about sewing skills to help you to work on any project.
Best Portable Sewing Machine For Beginners
Why To Buy A Portable Sewing Machine?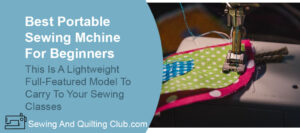 Once you decide to start sewing, you might be facing the fact that as a beginner you have the need to learn from a sewing teacher or from a good friend or from a family member who is an advanced sewist and he/she is willing to share with you his/her knowledge about the art of sewing.
Whether the sewing class that you booked have sewing machines for the students or not, the idea to bring to the class your own sewing machine will help you to know better your own machine and you will get to know how to work with it on any project.
You might know there are many different models of sewing machines in the market, as a beginner it's better for you to learn the new skills as a sewer on your own machine and not on a different machine.
When you learn on a different machine than yours, you might get used to that machine, and if your own machine doesn't have the same features it will be hard for you to work on a project at home.
Why To Bring Your Own Machine To Sewing Classes?
When you bring your own portable sewing machine to sewing classes, you will learn at the same time new sewing task to work with and you will learn also how to work with your own machine.
This way, it will be easier for you to work at home on any project.
Who Needs A Portable Sewing Machine?
Any one who is willing to learn how to sew and who is interested to attend to sewing classes or to get some help from more advanced sewers.
What Features Do You Need In A Portable Sewing Machine?
As a beginner and willing to learn the basic of sewing techniques, you will need a sewing machine with the basic features.
A good model for you will have the basic features as:
Straight stitching
Some utility stitches and some decorative stitches.
Buttonholes – four steps or one step
Free Arm – to work on difficult sewing places like pants, legs, cuffs, sleeves and other hard to sew projects
Drop Feed Dog System – In case you want to learn some basic techniques of free embroidery and free motion quilting
Which Is The Best Portable Sewing Machine?
As a beginner you might not want to put much money on the table for a model that will be traveling with you from your home to the sewing classes.
You might want to buy a good model that is designed with any beginner sewist in mind with enough features on it to help you to learn how to sew on a good number of sewing projects, from garment constructions, home decor, crafts, and even making easy quilts.
Why I Choose The Brother As the Best Portable Sewing Machine?
It's lightweight, so it's portable – It doesn't need much strength to carry the machine around the house or to take it to the sewing class, and it has a built-in handle that make it easily portable.
Have an affordable price – You won't need to break the bank to buy your first sewing machine.
Built to last – Brother makes good quality machines that will last in good shape for years. I've been working almost for 10 years on my own machine, and still works like day one!
Easy to set up – It doen't take long to get the machine on the table to plug it in and start sewing on a new project.
Beginners friendly – Any beginner sewer will love to work with this model, from learning to thread the machine to making a new dress, it has all the features you will need on it.
Have enough features to work on many different projects
Closing Thoughts On The Best Portable Sewing Machine For Beginners – The Brother
I bought this model a few years ago, and I've been working on it to make many projects, from sewing an easy baby bib for my grand-daughter to making king size quilts on it.
I have been working on it from a few minutes or I have spent full days working on it non-stop, and it has worked great all the time.
I bought it when I was short of budget and I was surprise on how well it works, I decided to keep it in my sewing room because of its good performance, I've taken it to sewing classes and sewing retreats and it's light enough for me to carry it by myself.
It can be set up in just a few minutes and I'm ready to work on it!
Today I bought another sewing machine with more features, but I decided to keep the Brother so I can take it in the future to more sewing and quilting classes I want to attend!
You can read the full Brother XM2701 Review here!
Where To Buy The Best Portable Sewing Machine?
Brother company always makes it easy for sewers around the world to find their sewing machines. You can find the Brother in any local big stores or with Brother sewing machine dealers in your area or you can check the current price on Amazon.
Now it's your turn. I would love to hear from you!
Do you have a list of sewing and quilting classes to attend?