The Juki DDL-5500 Review, this is an industrial straight stitch sewing machine that is designed for a professional level of sewing.
It is perfect for sewing lightweight or medium fabrics, and will deliver exceptionally perfect stitches all the time, plus this machine would be perfect for anyone with a home sewing business.
We must mention that this is not a light sewing machine that you could carry around, it needs to put in one place and usually left there unless you put wheels on its support stand, because at 250 pounds it is not easy to move.
The sewing machine itself comes completely assembled, and has a stand, work table, servo motor, work light, etc, and the table has a drawer where you can store the accessories for the machine.
Juki DDL-5550 Review
We will mention some of the important features found on this industrial sewing machine, so you have a better idea if it would be a good match for your sewing projects.
The Motor
Most of the older industrial sewing machines need a clutch motor, which make a quite a bit of noise, while the servo motors run very quiet, and use 90% less energy, than the clutch motor.
Also with the servo motor speed is adjusted with the push of a button, from 5500 per minute down to very slow.
Bobbin and Threading
To wind the bobbin, the machine has a place at the right end where you bring the thread down to, and through a stationary hole, then into a tension disc followed by around the bobbin and onto a post, and start the machine and the bobbin stops automatically when full, and if any difficulty arises, the instruction manual will show how to do it or there are videos you can look at on the internet.
To thread this machine is as easy as any ordinary sewing machine, and if any difficulty, just take a look at the videos or the diagrammed instruction manual, also before inserting the bobbin, have the thread coming of in a clockwise direction.
The thread tension on this machine is adjustable, and is usually set at 3 for most sewing.
Stitches
This machine produces a single straight stitch of professional quality, and is able to sew at 5500 stitches per minute.
The stitch length can go up to 5 mm and is easily adjustable by a dial on the front right of the machine.
To stitch in reverse, you just need to use the reverse lever and when the speed is adjusted it sews at that speed, do matter how far down you push the pedal.
While stitching fabrics there is a large amount of room to the right of the needle for easy handling of any material.
Presser Foot
The presser foot lift is by the lever just behind the sewing area, and is 5.5 mm, and the machine also has a knee lift, that can raise the foot to 13 mm, making it easy to remove the foot, or fabric, or change the foot for another.
On the top of this machine above the sewing area is a dial for adjusting the pressure of the presser foot.
Needles
The needle for this machine is DBX 1 size 9 – 18, and is of industrial quality, so your ordinary sewing machine needles will not work.
Lubrication
This machine comes with its own table, and the sewing machine has an oil pan on the table stand that the machine sets into to keep the main working parts lubricated, and works much like the oil pan on a car.
The oil used is Defrix No 1 and the pan has 2 level marks to keep the oil level at which should be checked once and a while. The stand is 4.8 inches by 20 inches for plenty of room
Lighting
This model usually comes with a light that is attached on the table, while some other models you will need to buy one.
Feed Dogs
The feed dogs on this machine are factory adjusted and work very well at moving your sewing fabric.
They can be adjusted, but is best to check the illustrated instructions for this.
Specifications
5500 maximum stitches per minute
5 mm maximum stitch length
5.5 mm presser foot lift by lever
13 mm maximum presser foot lift by knee lift
Defrix oil No. 1 automatic lubricating
DBx1 needle number 9 to 18
48 x 20 x 48 inches table stand
250 pounds in weight
Servo Motor – runs quiet
Accessories
The machine comes with enough supplies, so you can start sewing and has a drawer on the table stand for accessories.
You get a package of extra needles, bobbin, bobbin case, two screwdrivers, and a bottle of Debrix oil No. 1 for lubrication, and instruction manual.
Warranty
The machine has a 5-year limited warranty, which is 5 years against defective materials, and 2 years on the electrics.
We suggest you always check warranty when first purchasing.
The Pros and Cons
Pros
Easy machine to work with
Self lubricatiing
Built to last a very long time
Excellent stitches
Sews extremely fast and runs quiet.
Reasonably priced for an industrial machine.
Cons
This is an industrial sewing machine, so is very heavy
Does only a straight stitch.
Is This Industrial Sewing Machine Easy To Use?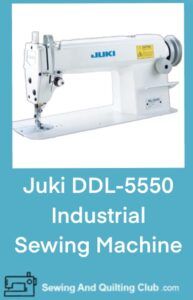 This is a model designed and built with sewers needs in mind, you will be impressed on how easy it is to use this machine on different project where you require straight stitching.
It might take a few days of practice to get confident to use this machine at full speed, I will give you the tip to pactice on some scraps of fabric before you start working on a project. Try it first on slow speed and as you keep practicing the speed you will get more confident to know how to regulate the speed as you sew on with this model.
Is This Sewing Machine Good For Beginners?
If you're a beginner and you get the chance to start practicing on this model, you will learn from the beginning how to sew on an industrial sewing machine, this has many benefits as you will get how it works and how to regulate the speed on this model without the need to make the change from a domestic machine to the industrial machine.
If you don't have the chance to practice on this model without the need to buy it first, I will recommend trying a domestic sewing machine first to know if you're really into the sewing business, a smaller model will help you to learn all you need about working with a sewing machine without the need to buy this model, then you will know if you're ready to buy it.
What Sewing Projects Can Be Made On The Industrial Sewing Machine?
There are plenty of sewing projects that can be made on this model, from easy projects to the most elaborate projects you have on your list to be made that require straight stitching only.
As you start working on this machine, you will be surprised by the good number of different projects that you can make with this machine.
If you are working on projects that require a professional seam finish, you might want to take a look to a serger or to a sewing machine that comes with different stitching patterns, but the benefits of working on the Juki DDL-5550 is the high quality of its stitching and the speed.
Where To Buy The Juki DDL-5550 Industrial Sewing Machine?
You can find this model with the sewing machine dealer in your area, but you also can purchase it online

*This post shares affiliate links.
Juki DDL-5550 Review – Our Final Thoughts
This Juki industrial sewing machine comes highly recommended, and will create excellent stitches every time.
If you're looking for a machine for a home business or just your home projects, then this is probably the best you will find, and is constructed to last you a lifetime of sewing.
So if you're looking for a straight stitch only sewing machine, then we hope this post helps you to know the workings of the Juki DDL-5550.
Wishing you all the best on your sewing projects – Happy Sewing!