The Janome Mylock 634D Serger Review, this serger will give you quality stitching, and add that professional finish to you're sewing projects.
Janome is a brand name that is known for excellent quality, and produce machines that will last in the sewing business.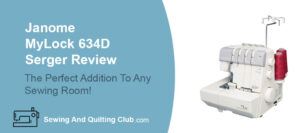 From the tension to the threading, this machine is made so that you're sewing experience is easy, and a pleasure to work with even if you are a beginner sewer.
This model is known for running quieter than many, even when sewing at its top speed, so will be an ideal machine for home use, and has the ability to add decorative borders, even seams, and more.
Janome Mylock 634D Serger Review
If you think this serger would be a good fit for you're sewing projects we will go through the features, and you can judge for yourself.
Stitches
The machine will do rolled hemming, picot edging, narrow hemming, decorative overedging, pin tucking, and you can find in the manual a chart recommending the thread, needle, stitch length, and differential feed for the type of fabric you are sewing.
The maximum stitch length is 5 mm and can be easily be adjusted with a dial on the right end of the machine, and the stitch width is 7 mm maximum and also can be adjusted with a dial under the sewing end side cover.
This machine is able to sew up to 1300 stitches per minute, and the speed is controlled by the foot pedal which you might want to practice with first before sewing, and have the presser foot up when practicing at this.
Also when stitching there are guide lines on the looper cover that shows the distance from the needles.
Threading The Janome Mylock 634D Serger
This serger has the color coded thread guides, and the lower looper is self threading plus a threading chart is on the body of the Machine under the looper cover.
It is recommended to thread the lower looper first then upper looper, then needle on the right followed by the left needle.
Also when threading raise the presser foot which makes it easier to insert the thread between the tension disc, and with a little practice threading this serger will take no time at all.
Once you have the machine all threaded and set up we recommend trying out the machine on some spare fabrics first.
Presser Feet
There is a Standard serger foot that comes with this machine, and you can buy optional feet such as the blind stitch foot, taping foot, cording foot, and piping foot.
The feet are easy to change by pressing the lever behind the foot and it drops off, then snap a new one in place by lowering the foot holder onto it.
There is a foot pressure adjusting screw on top of the machine which for normal sewing it is not necessary to be adjusted, but if needed can be adjusted for heavy or light fabrics.
Feed Dogs
The differential feed for the feed dogs can be adjusted by a dial on the right end of the machine, so that if the fabric you're sewing is stretched, just adjust dial counter clockwise, and if fabric is shrinking, turn dial clockwise.
Knives
The knives can be adjusted for width with a knob under the end cover, and the upper knife can also be set out of the way if you prefer not to use it.
Buttons For Operating and Adjustments
First on the list are the 4 tension dials, upper and lower loopers and right and left hand needles dials.
Under the end side cover is the cutting width adjustment dial, and the upper knife release knob, plus the needle plate setting knob.
Presser foot adjustment is on the top of the machine.
Stitch length, and differential dials are on the right end of the machine, above the balance wheel.
Lighting
This machine has a 15 watts light bulb just above the sewing area for illumination, and if it ever needs to be replaced just remove the face plate to take it out.
Accessories For The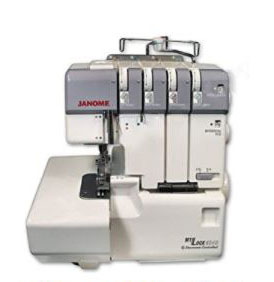 Janome Mylock 634D Serger
Upper knife
Needle threader
Set of Needles
4 Spool caps
4 spool nets
4 spool holders
Tweezers
Standard serger foot
Spreader
Lint Brush
Screwdrivers large and small
Waist container
Oil
Thread stripping disc
Standard needle plate
Foot controller
Power cord
Janome MyLock 634D Serger manual
Specifications
Janome Mylock 634D Serger
2, 3, 4, thread serger
1, 2, needles
1300 stitches per minute
21 pounds in weight
13 x 16 x 15 inches in size
5 mm maximum stitch length
7 mm maximum stitch width
3.1 mm to 5.1 mm adjustable cutting width
11 to 14 needles recommended HA-ISP
Warranty For The Janome Mylock 634D Serger
There is a 25-year limited warranty on Janome machines, which is 25 years against defective materials, and 5 years on the electrics, and 1 year on labor from date of purchase.
It's always best to check warranty when purchasing.
The Pros and Cons
Pros
It's an excellent machine for the experienced sewer and the beginner.
Has good stitch quality
Handle for portability
Runs quietly
Has built-in rolled hem so no changing of plates required
Comes pre-threaded and is easy to thread with just a little practice
Cons
A little pricey
Limited stitch options
Where To Buy The Janome MyLock 634D Serger
You can find this serger on the specialty stores shelves and with the sewing machine dealer in your area, but you can also read more reviews online on Amazon. * This post may share affiliate links.

Our Final Thoughts On The Janome MyLock 634D Serger Review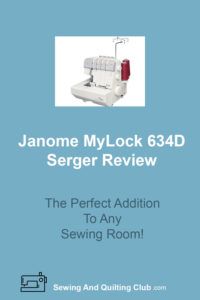 We would recommend this serger because it's easy to thread, gives good quality stitching and is built to last, along with the ability to adjust almost every function it has.
It can finish off synthetic fabrics such as rayon – polyester, knits, cotton, wool and even denim, plus more, and can give you that professional finish to your projects.
As Janome is known for producing good quality machines, you might want to take a look at this one, and try it out first just to see how it goes.
Wishing you all the best on you're sewing projects. Happy Sewing!
You can read more Sergers Reviews here:

Serger – Find the serger you're looking for to bring to your sewing room
Brother 1034 Serger Review – Brother has an affordable serger that will help you to give the professional finish to all your projects.