The Brother 1034D Serger Review, this model will finish your seams with a professional look, and is easy enough to set up that even a beginner sewer or the more seasoned will truly appreciate, and the best part is that the machine is priced so most sewers can afford to have it in their sewing room.
This serger works well on knits, stretchy fabrics, denim jeans, and any of your finer materials and you can hem most garments with the rolled hem or blind hem.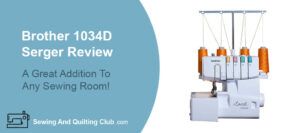 There is actually quite a few things you can do with this serger, from gathering fabric, to a cover stitch, piping on clothes, doing shirt sleeves, and cuffs, and more.
We would suggest when you first purchase this machine to go through the instruction manual and the instruction video to get familiar with the settings and the threading.
In a rush? Check today's price on Amazon here!
Brother 1034D Serger Review
Features
On this serger we will go through some of the features it has, and you can tell if it would be a good machine to have for your sewing room.
How Many Stitches Does This Serger Make?
The machine comes with 22 built-in stitches, and has 4-thread over lock, 3-thread over lock, flat lock stitching, decorative, rolled hem, heirloom, narrow over lock, and more.
It has 4 mm stitch length that can be adjusted from 2 to 4 mm.
The stitch width is 7 mm and also can be adjusted from 2.3 mm to 7 mm.
The stitch width and length dials are located at the left end of the machine for adjusting, and a normal stitch length is 2.5 to 3 mm, plus a normal width is usually around 5 mm.
This serger will sew at a speed up to 1300 stitches per minute with the speed being controlled by the foot pedal.
How Easy Is It To Thread the 1034D Serger?
Before threading you will need to remove the front cover which will reveal the threading diagram.
The threading is color coded, and numbered for upper and lower loopers, also always thread in the order of upper looper,lowerlooper, right needle, and then the left needle.
The machine has 4 tension dials with the two on the left being for needle tension, and the 2 on the right are the looper tension dials.
When threading you need to hold the thread tension release button to the right, and pass the thread through the tension discs.
The yellow tension disc is for the left needle, and the pink tension disc is for the right needle, and green disc is for upper looper, and blue for the lower looper, with a setting of 4 for most sewing, but can be adjusted for thicker or thinner fabrics.
If you have not threaded a serger before we would suggest you practice a few times following the color coded guides on the machine, and the instruction manual.
There is a reference chart in the manual giving the recommended stitch, thread, needle, and stitch length for the different materials that you sew with.
Another thing we recommend is to always do a test stitching on a piece of scrap fabric after threading.
How Many Presser Feet Does This Serger Come With?
This serger comes with 3 presser feet, standard, gathering, and blind stitch, plus extra feet are available to be purchased.
On this machine the pressure of the presser feet are adjustable much like any standard sewing machine where you can adjust for thick or light fabrics.
Presser feet are easily changed by pressing the button on the presser foot holder releases the foot, and a new one can be snapped into place.
How Do The Feed Dogs Work On This Serger?
This serger has 2 sets of feed dogs for moving the fabric while sewing, and it has a differential feed control which is on the left end of the machine.
This control when set at 1 allows both feed dogs to move at the same speed.
When set at less than 1 the front feed dogs move slower than the rear which stretches the fabric when sewing and is used for lighter fabrics.
Setting the differential feed higher than 1, then the front feed dogs move faster than the back dogs, and this will help to remove any rippling when serging stretch fabrics.
A normal setting is usually at 1, and when you sew denim or other non-stretchable fabrics do not use the differential feed as it might damage the fabric.
Free Arm On The Brother 1034D Serger
To access the free arm you will need to remove the bed extension which just pulls off, then you can sew cuffs, pant legs or other tubular pieces of fabric.
Brother 1034D Serger Knives
This machine has an upper and lover knife that cuts the fabric while serging giving a professional finish to your sewing.
If you can cut a thread in front or rear of the knife, then it is sharp enough and if they get dull it will cause the fabric to pucker with uneven stitches.
There is a lever to raise and lower the knife when needed, and the upper knife can be used as a guide for the fabric and adjusted with the stitch width lever while the needle is at its lowest point.
The Brother 1034D Serger Operational Controls
Hand wheel – On right end of the machine, and turns counter clockwise.
Presser foot lifting lever – On right end.
Stitch width lever – On left end.
Stitch length lever – On left end.
Differential feed ratio lever – Left end.
Knife lever – To raise and lower – on left end.
Thread tension dials – On top front of serger.
Accessories Included For the 1034D Serger
4 needles 130/705H recommended 2 #80, 2 #90
4 Thread spool caps
4 thread nets
3 presser feet
Trimming catch trap
Long tweezers
Hexagonal wrench
Cleaning brush
Soft cover
Foot Controller
Brother 1034D Serger Manual
Specifications For The Brother 1034D Serger
1300 stitches per minute
2.3 mm to 7 mm stitch width
2 mm to 4 mm stitch length
1 inch needle bar stroke
Snap on presser feet
13.2 inches by 14.8 inches by 10.9 inches
15.4 pounds weight
Manual thread tension adjustments
Utility stitch function – 3/4 thread over lock, blind hem, and rolled ham
Lighting
This model has a strong light over the sewing area.
Warranty For The Brother 1034D Serger
Brother has a 25-year limited warranty on their machines, which is 25 years on defective materials or workmanship and 2 years on electrical, and 1 year on parts, labor, from the date of purchase.
And we always suggest to check warranty when first purchasing.
The Pros and Cons For The Brother 1034D Serger
Pros
Price tag is low enough for most sewers.
It's easy to use for any beginner or for the more experienced.
Uses regular sewing needles.
Color coded and numbered for easy threading.
Easy to use adjusters.
It's sturdy enough to sew most fabrics and can sew fast.
Retractable knife
Cons
Have been complaints about the machine being a little loud.
Has 15 watts bulb and not LED light.
FAQ For The Brother 1034D Serger Review
Does The Brother 1034D Serger Come With A Thread Cutter?
When you get used to your sewing machine to work on different projects, a feature you might love is thread cutting as it helps you to work faster on every step of the project, when you purchase your first serger, you might want to keep working with it as you do on your regular sewing machine, having the thread cutting feature on your machine is a time saver!
Most sergers don't come with this feature, you might need to get used to keep a good pair of sharp scissors to trip the thread as you work on the different steps on your project.
Bonus tip: When I had a sewing workshop a few years ago, I got a serger as part of the equipment we needed to deliver the best sewing service on each order we got, as I hired a few women who had worked previously in the industry, they showed me how they cut the thread on the serger without the need of a pair of scissors, as they were very skilled sewers even if they were so young, they learned to speed the serger and with their fingers they hold the end of the stitching and used the serger's knives to cut the thread.
What Type Of Thread Should You Use With A Serger?
When I was searching for information to do the review, I see this serger can use regular thread, the same thread you will use to sew any project you have in your list.
But let's think practical and let's think about the cost, you might be using the best quality of thread in the market to sew your projects and Sergers in general use a big amount of thread, this is why you can find thread made especially for sergers and they have a cheaper cost for you.
The "Cons" about using this thread made for sergers is you might not find the same big variety of color where you can get one that will match the fabric color you're using on your project.
A good tip I got from the time I had the sewing business from a good colleague was to use the same thread you use on your project on the serger to do the stitching, and use thread made for sergers in a neutral color on the threads that makes the loops. This way you will get a very good quality of stitching and you will get lower costs.
Where To Buy The Brother 1034D Serger?
You can find this serger on the specialty store shelves, you can also visit the sewing machine dealer in your area, but you also can purchase it online. (Affiliate link to Amazon)

Should You Buy It?
From my point of view, if you love to sew and you're interested to sew on different projects and give them a professional finish, then you might love to have a serger in the sewing room, it will help you to work better and easier on all your projects, no matter if you're working to sew a set of new napkins or a table cloth, or if you're working on making a new garment for yourself or for someone in your family or a friend.
A serger in your sewing room will be a good complement to help you to work on many different sewing projects and it is worth having it.
You don't need a serger in your sewing room if you love to work on sewing projects that don't require any perfect professional finish on any seams, like making quilts or making fabric dolls.
Our Closing Thoughts For The Brother 1034D Serger Review
We believe that this is an excellent machine for beginners or the more experienced, and with its low price tag can make a great addition to any sewing room.
This machine is also easily adjustable and will give a good quality finish to any of your sewing projects.
So if you're looking for a good affordable serger, then you might want to test this one out to see if it is a fit for your projects.
Wishing you all the best on your sewing projects – Happy Sewing!
You can read also: