Learn where are all the Parts Of The Sewing Machine are, this will help you to get familiar with your machine and to work better on any project.
The sewing machine is probably one of the most important inventions to come along into the modern world, it has helped many to sew their own garments and also to start a home based business to support their families.
You can find many different sewing machines and brands on the market, but most of them come with the same parts, as sewing machine from any brand will work in a very similar way, and whether you buy a new or a used machine from one brand or another, it will come must likely with the same parts any sewing machine has.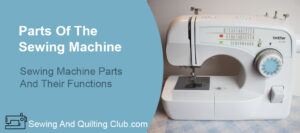 Learning about each part of the sewing machine will help you to know more about your machine and what for are each part. As you start working with your machine making different projects, you might need to adjust the length, the width of the stitching and you might need to choose one stitching pattern to a different one.
Nowadays you will find in the market different sewing machines:
Mechanical or basic sewing machine – this machine comes with a few dials where you can set the stitching width and length and you will find also another dial to set up the stitching tension. These machines are easy to work with, and they are perfect for beginners and young sewers.
Electronic Sewing Machines – These machines are one step ahead from the mechanical machines, you will see these machines come with a screen to help you to set up different functions such as stitch pattern, width, and length. Some will come with a start/off button as one button to set up the stitching speed.
Computerized Sewing Machines – These models are fully computerized and they come with a good number of buttons to help you to set up all the functions you need for each project, these machines also come with a USB port so you can get the model updates, and also to get any new design or stitch.
Today we will share the Parts Of The Sewing Machine, you will find the picture of a mechanical sewing machine and a computerized sewing machine from Brother.
In case you're sewing machine is from a different brand, we hope to help you to know more about the different parts of a sewing machine, you can find more information from your machine in its manual.
Parts Of The Sewing Machine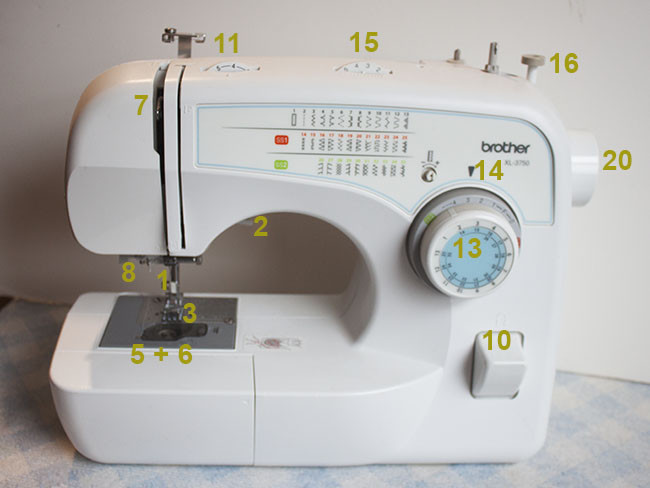 1 – Needles
The first part of your sewing machine you should know about is the needle.
Needles are graded from a low number to high numbers, with the low numbers being for finer fabrics, and the higher number for heavier or thicker fabrics.
A number 8 needle could be used for silk or any very fine material, and a 10, 11 and 12 needles progressively thicker materials while a 16, 18, and 20 needles would be used for denim or cords or heavier fabrics.
2 – The Presser Foot Releaser
The presser foot release is designed to lift the presser foot up, so you can move the fabric you're working on.
On some machines the presser foot is held in place by a large screw which can be turned by hand or with the use of a small screwdriver depending on the machine.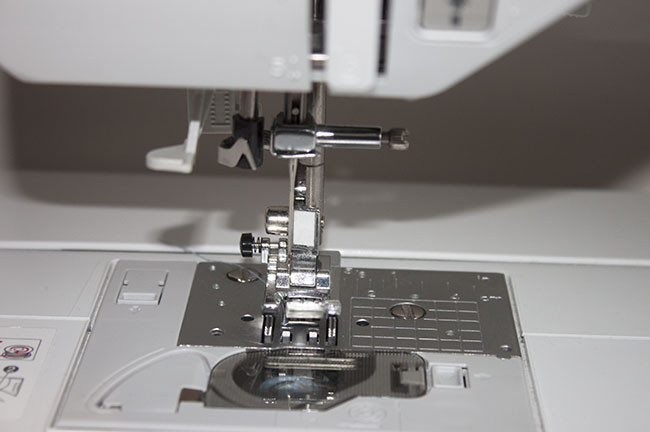 3 – Presser Foot
The presser foot sits down on your fabric holding it in place, while you sew, and most machines will come with an all-purpose presser foot, but there are many other presser feet for different sewing applications.
To name a few, there is the zipper foot, buttonhole foot, straight stitch foot, satin stitch foot, and many more to chose from.
You always can check with your machine brand which presser feet there is for your model.
4 – The Feed Dogs
The Feed dogs sit just below your presser foot, and move the material you're sewing with each needle stroke.
They move up and down as well as in a circular motion to move the fabric.
There is also a lever for moving the feed teeth, if you want to sew a button or sew in a direction you want, you can just lower the teeth.
It's best to consult your machines manual to find the lever, as it can be in different places on different brand sewing machines.
5 – The Bobbin
The bobbin sits in the bobbin case on top loaded machines, and is usually plastic, while the front loaded machines the bobbin case will be metal, and there is usually a button to open them.
Most of the new sewing machines, will face a clear cover where the bobbin is, and is so handy to see how much thread you have left while sewing, and if it needs any lint cleared out.
7 – Guide For Your Upper Thread
This is located above the needle and presser foot area, and will guide the thread, and is best to consult your manual for this as the thread needs to have the correct path through the different guides and disc so that you will have the correct tension on the thread.
8 – Built In Threader Needle
If you're sewing machine came with a built in threader for the needle, then you will know just how handy that is.
You just move the thread down to where the eye of the needle is, and the machine will insert it automatically, a big saving on time if there is poor lighting or your eyes are tired.
9 – Start/Stop Button
Most of the new machines come with the start/stop button, which gives you the choice of using the foot pedal or the button for off/on.
10 – Reverse Button
On most of the new machines you will find a reverse button, it's usually used when you want another layer of stitches at some point, or just to go back and forth a few times.
11 – Upper tension Control Dial
The tension on the thread needs to be set correctly to give good quality stitches, and might need to be adjusted when changing fabrics or thread.
If it is set too tight you will see loops appear on the surface of the fabric as you sew, and if it's to lose, then loops will show up on the back of the fabric.
Test out on a scrap piece of fabric, and usually tension number 3 on your dial is a good starting point.
The bobbin also has an adjustment, but seldom needs to be reset, there's a small screw on the outside of the case for this.
12 – Sewing Machine Speed Control Lever
Some sewing machines will have a lever or dial control for the speed that you want to sew at, also you can control the speed with the foot pedal.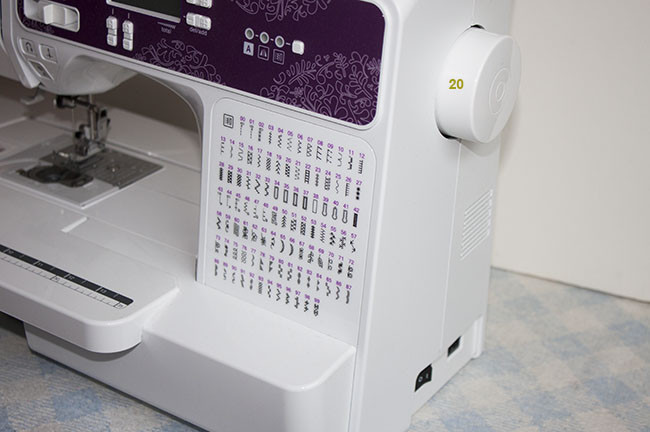 13 – Sewing Machine Pattern Selection Dial
With this dial you can turn it in either direction to choose just what stitch you want.
When selecting the stitch put the needle in the highest position, otherwise the needle or fabric might be damaged.
Some sewing machines will have 25 or 35 different stitches to choose from, and some with less, and other with computerized displays will find this control in the display area and these machines can come with a few hundred different stitches patterns from you can choose the one to use for each project.
14 – Sewing Machine Stitch Length Dial
The stitch length dial is usually located on the front of your machine, and depending on your selected stitch you might have to adjust the length of the stitch for good results.
The numbers on the dial represent the stitch length, with the higher number meaning a longer stitch so is best to test this out on some scrap fabric, and check your manual for the different settings for your brand of sewing machine.
15 – Sewing Machine Width Dial
This dial is usually on the front of you're sewing machine, and can be used to select the width of your stitch with the higher number giving a wider stitch.
Also when the straight or triple stitch is chosen the needle position can be changed from left to right by adjusting stitch width dial.
16 – The Sewing Machine Bobbin Winder Spindle
The bobbin winder is found at the top back of the sewing machine, and you push your bobbin down to lock it in place and push it to the right side for winding the thread on the bobbin.
With a spool of thread on the spool pin pass the thread around the pretension disc and then through the hole on the bottom of the bobbin and make a few winds around the bobbin, then stop and cut off any excess thread above the bobbin.
Then continue winding until bobbin is full, some machines have a bobbin winder stopper that automatically stops it when bobbin is full.
17 – Sewing Machine Foot Pedal
This pedal sits on the floor, and the speed of the machine is controlled by the pressure you put on the pedal, and also for starting and stopping the machine.
Some machines use the start/stop button to run the machine without using the foot pedal or you can choose between the two, if your foot gets tired from sewing for a long time.
18 – Light For Sewing
Some machines come with a light to shine where you're sewing, and could be a bulb from 15 to 20 watts while others use an LED light, which is very bright and saves your vision, especially if you're sewing at night.
19 – The Extended Arm or Flat Bed Attachment
If you're doing large pieces of fabrics then the extended arm is very handy, adding more space for your fabrics.
On some machines they are built-in while others you just put them on or off at what ever is convenient for you when sewing.
Just below this attachment on the front of some machines, you will find an accessories' compartment, to store a few bobbins, needles and other accessories'.
20 – Sewing Machine handwheel
This is located at the end of you're sewing machine, and is used to move the needle up and down, by turning it towards you by hand.
When you stop sewing or want to move your fabric, you move the needle up out of the way.
21- Buttonhole Lever
Some machines will have this lever that you lower when doing buttons.
you will have to attach the buttonhole foot first and then set your pattern selection dial to F.
Open your button plate and insert button, then lower buttonhole lever, and push it back a little.
While holding the upper thread lightly start sewing and stop when finished.
It's best to practice this on a scrap piece of fabric first, before doing it on a good garment.
22 – Sewing Machine Accessories
Some of the accessories' that come with most sewing machines will include a brush for cleaning, a seam ripper to remove stitches, a screwdriver to tighten or loosen the needle, and extra bobbins and sometimes a quilting bar guide which is used with a special presser foot for your quilting projects.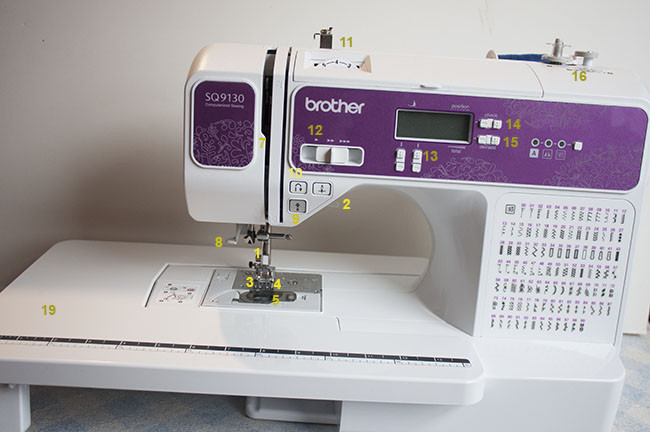 You Can Also Read:
Parts Of The Sewing Machine Final Thoughts
Taking your time to learn more about all the sewing machine parts will help you to know more about your machine and it will help you to work better on any project you want to make.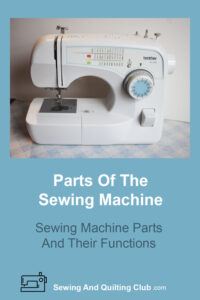 Take your time, start with the basics and you will keep learning as you keep sewing different projects, your machine is designed and built to help you to sew many different projects, keep your machine manual near you're sewing table and consult it if you have any question about any button, dial or lever you seldom use on your projects.
Some brands also have a support phone number where you can call them in case you have any question.
New Sewing Machines can be intimidating to beginners, but I encourage you to learn more about your machine and spend sometime making running test about the different functions on your machine.
A mechanical sewing machine, will be always easy to work with it on many different projects, take your time to learn how to set up the different functions as stitching width and length and make a sampler of the different stitch patterns, it will help you to learn more about your machine and how to set it up for your next project.
We hope this article will help you to know more about you're sewing machine and it will help you to set it up for your next project!
Happy Sewing!