The Janome Sewist 721 Sewing Machine Review, this model is a straight mechanical model, so if you're looking for a non-computerized sewing machine, then you might want to give this one the look over.
As with most of the Janome sewing machines, this one has the heavy-duty metal frame, and will give you smooth sewing of any fabric.
Who Is The Janome Sewist 721 For?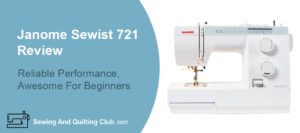 If you are a beginner or even a more experienced sewer, then this is an excellent machine for you, as it has just enough features to increase your love for sewing.
You will find this machine very easy to set up, just take it out of the box and thread it, then you are ready to sew, and can be used for mending, crafting, fashion sewing or home decor, without the stress of taking hours to learn all the features.
19 Unique Stitches
The machine comes with 19 unique stitches, and 21 stitch selections. All the stitches are diagrammed on the front of the machine for an easy reference and each stitch lettered from A to J.
The stitch selector dial is located just below the stitch chart for easy dialing in, and also has 4-step buttonholes to chose from.
On this machine the stitch width is 5 mm, and the stitch length is 4 mm, and there is a dial just below the stitch selector that can be set for stretch stitch adjustment length.
The maximum sewing speed is 820 stitches per minute.
Also, on the front of your machine below stretch stitch dial is the reverse stitch lever for reinforcing your stitches, and on the top of the machine close to the bobbin winder is the stitch width adjusting dial. You will also find in the diagrammed instruction manual the settings for the different stitches, plus the presser foot recommended for that stitch.
5 Standard Presser Feet
The machine comes with 5 standard easy snap on presser feet, and each one is lettered for what ever stitch you're doing.
All purpose zigzag foot
Buttonhole foot
Blind hem foot
Zipper foot
Sliding buttonhole foot
To change the presser feet, raise the needle and the presser foot, then press the lever on the back of the foot holder, and it drops off, then simply line up and snap on the next one.
The foot pressure can be adjusted also on its dial with a 3 setting for regular sewing, and 2 for applique, cut work and basting, and the 1 for your finer fabrics such as chiffon or lace.
The Bobbin And Threading
To thread the bobbin, just follow the diagrammed instructions printed on top of the machine, and control the winding with the foot pedal, once fully wound it will stop automatically.
It has a top loading drop in bobbin where you just drop in the bobbin with the thread coming off to the left, and into the front notch, then between the tension spring blades and side notch then pull out about 4 inches, and you can refer to the directions on the cover plate.
To thread your machine, follow the imprinted guides that are numbered down to 6 of the needle bar thread guide and use the needle threader with the needle in the high position and presser foot down, thread the needle.
There is also a thread tension dial for the stitches you use.
Feed Dogs
The feed dog system on this machine is a 4 point system, and there is a button on the back to lower and raise them for free motion sewing when needed.
Lighting
This machine comes with an LED that shines down on the work area providing enough light.
The Free Arm And Storage
On the front of the sewing machine, there is a slide-out accessory storage compartment.
With the storage area removed it gives access to the free arm for sewing pants, sleeves, cuffs or other hard to sew areas.
Specifications of the Janome 721
14.4 pounds in weight – easily portable with carrying handle
15 inches long by 6.5 inches wide by 10.75 inches high.
830 stitches per minute
6 foot power cord
Heavy duty metal frame
Accessories For the Janome 721
5 standard snap-onfeet
3 plastic bobbins
Needle set
Additional spool pin
Felt
Screwdriver
Lint brush
Seam ripper
Spool holders – large and small
Foot control
Hard cover
Instruction book
Warranty
It has the 25-year limited warranty which is 25 years against defective materials or workmanship, and 5 years on the electrics, and 1 year on labor from the date you purchased it.
Pros And Cons For The Janome 721
Easy to set up
Very strong and built to last
Easily portable with a lite weight
Quick-reference stitch chart and easy selection
The best part- not very expensive
Cons
No Extra wide table
No speed control slider
No button for thread cutting
Is The janome Sewist 721 Sewing Machine For Beginners?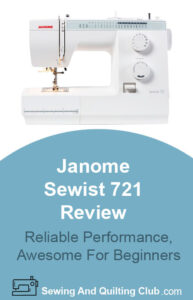 This is a mechanical sewing machine that is easy to set up and easy to sew with on any project you have on your list, any beginner will love to start their own sewing journey with this model.
Is This Sewing Machine Good For A Teen Ager?
This is a sewing machine that comes with enough features to help anyone who is interested to learn to sew, easy to set up and easy to work with, your teen ager will love to start making his/her new outfits or his/her bedroom decor with this model
Closing Thoughts For The Janome 721 Sewing Machine Review
This is a great quality sewing machine, it doesn't have all the features of a computerized model, but has enough for most sewers, and make a great machine for someone starting to learn about sewing.
If you're looking for a very dependable machine that you can use on your craft projects, fashion sewing or home decor and more, then this one would be worthwhile taking a look at, or giving it a try out.
As an investment for sewing this sewing machine is very reasonable priced for what it does.
Wishing you all the best on your sewing projects – Happy Sewing!
You can take a look to the Janome 721 on Amazon.com here!
You can also read: