Janome Memory Craft 14000 Sewing And Embroidery Machine Review, this model can take your embroidery to new levels of creativity and ensure perfection in your projects.
This Janome model has 350 built-in embroidery designs, 11 fonts for monogramming and 2 and 3 letters monogramming functions.
Janome Memory Craft 1400 Sewing And Embroidery Machine Review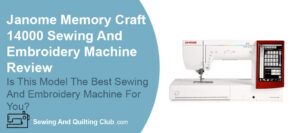 The embroidery speed can go up to 1000 stitches per minute on a maximum hoop size of 9.1 inches by 11.8 inches, so you can complete any large project in very little time.
There is a full color LCD touchscreen to work with, and the ability to use the machine in Real Time PC connection to Horizon Link Suite to make embroidering designs seem unlimited.
The Janome 1400 is also for sewist and quilters with the ability to choose from 400 built-in stitches, and it has 13 one-step buttonhole styles.
It has a unique stitch composer program where you have the ability to create and edit stitches from the on board computer.
You will find that free motion quilting is very easy with a variable zigzag option, and an Acufeed Flex technology gives you perfect control for any detailed project.
Also, the Acu Fil software gives quilters the ability to create matched stippling around a quilt top.
The Many Features Of The Janome 14000
Sewing Features
400 built-in stitches
13 one-step buttonhole styles
Automatic thread tension
Automatic built-in needle threader
Snap on Presser feet
Acui guide automatic cloth guide
Top loading full rotary hook bobbin
Automatic presser foot lift
7 piece feed dogs
Free arm for sleeves, pants, etc.
Drop feed
Start/stop button
Speed control slider
Automatic thread cutter with memory function
Easy reverse button
Adjustable knee lift
Motor for bobbin winding is separate
Variable zigzag free motion quilting with a width adjustment for satin stitch
One step needle plate conversion
Memorized needle up/down
AcuFeed Flex layered fabric feeding system
Stitch composer stitch creation program
Locking stitch button
Twin needle guard
Memory capacity of 4 MB of storage
Extra high presser foot lift
Maximum stitch width 9 mm
Maximum stitch length 5 mm
LCD full color touchscreen 7.7 inch x 4.7 inch
Foot presser adjustment
Foot height adjustment
Sewing application support with on-screen help
Retractable High Light and accu View Magnifier in three different locations
Full intensity lighting system with 10 white LED lamps located in 5 locations
15 inch embossed stainless steel bed.
Embroidery Features
Real time PC connection with Horizon Link Suite
350 built-in embroidery designs
11 fonts with European characters
2 and 3 letters monogramming fictions
The maximum embroidery size is 9.1 inch x 11.8 inch
Adjustable hoop positioning
Accu Fil quilting system in Horizon Link Suit
Linear motion embroidery system
Embroidery sewing speed 60 to 100 stitches per minute
Embroidery format JEF, JEF+, JPX
Programmable jump thread trimming
Adjustable speed while embroidering
Design transfer options: USB, Direct PC connection via Horizon Link Suite
Editing functions: resize, combine, duplicate, rotary, flip, arc, group, drag and drop, zoom, trace and user color choice.
Flexible stitch traveling by units of 1,10, and 100
Automatic enabling cutwork
Automatic return port thread break
Thread brand selection: Janome (acrylic and polyester), Gutermann Sulky Rayon 40, Madeira (poly neon 40), Robison-Anton (polyester 40 and rayon 40), mettler (poly sheen) and Jenny Hskins (rayon
4 Hoops included
Stitches
The Janome 14000 comes with 400 built-in stitches and 13 one-step buttonhole styles, so you will have more than enough to do any project.
On your touch screen display window at the bottom press home key, then you have a choice to pick:
Utility stitches – which can be used for seaming, overcasting, blind hemming, basting, and sheet tuckings.
Buttonholes And Any Speciality Stitch – Used for buttonholes, darning, tacking fly stitches, and eyelets.
Decorative and Quilting Stitches – Used for applique stitches, heirloom stitches, quilting stitches, satin stitches, bridge and decorative stitches, long and pictograph stitches, play and created stitches.
Monogramming – You can program lettering as well as characters and symbol patterns.
Sewing Application – You can select your stitch for any specific sewing project, and the fabric type from the application in this category.
There are such a variety of stitches on this machine you will have to read the manual to discover them all, and it is easy to change the width or length of your stitches by just pressing a + or – key, and the machine also can save any customized stitches that you wish to use often.
Bobbin
To wind your bobbin just follow the instructions for your thread around the thread guide then to the bobbin.
When the bobbin is fully wound it will stop automatically, and the bobbin stopper returns to its normal position, and also the speed of the winding can be adjusted in the setting mode.
It is top loading rotary hook and by just pressing a release feature the clear plastic cover is easily removed and bobbin inserted with the thread going to the left and following the guides, then you are ready to sew without drawing the bobbin thread up.
Threading
Threading the Janome 14000 is basically the same as most sewing machines, by just following the guides down to the automatic needle threader and under the hook then through the slit and up to the thread cutter, then press the needle threader button and you can pull the thread loop out and you're ready to sew.
Lighting For Your Jenome 14000
This machine comes with 10 white LED lamps that are in 5 locations.
There is an adjustable light above the sewing area, and by pulling the light feature out will automatically turn it on, and also for even a better view there is an optic magnifier that fits into a hole at the bottom of the face plate over the needle area.
Accessories With The Janome 14000
1/4 inch seam foot
Blind hem foot
Darning foot
Free motion quilting zigzag foot
5 bobbins
Spool pin
Screwdriver
Seam ripper
Quilting guide bar
Spool holder – small and large
Scissors
Felt
Needle set
Straight stitch needle plate
Lint Brush
Additional spool pin
Cloth guide
Net
Stool stand
Button shank plate
Touch panel stylus
Bobbin holder cleaner
Zig zag foot
Satin stitch foot
Zipper foot
Concealed zipper foot
Rolled hem foot
Open toe satin stitch foot
Free motion quilting closed toe foot
Free motion quilting open toe foot
Button sewing foot
Duel feed quilt piecing foot
Duel feed zipper foot
Embroidery foot
Couching foot PC / and PC2
Automatic buttonhole foot
Dual feed foot – twin and single
Stabilizer plate
Duel feed holder, twin and single
Yarn guide bar
Yarn guide
4 embroidery hoops
Bobbin thread for embroidery
Special bobbin holder for embroidery
Magnetic clamps
Foot control
Knee lifter
Power cable
Optic magnifier
USB cable
Instruction book and instruction video DVD
Key Icon reference chart
Accu tools CD-ROM with install guide
Extension table
Warranty
The warranty for the Janome 14000 is 25 years against any defective materials or workmanship, and 5 years on the electrics, and 1 year labor from the date of purchase.
Dimensions
25.6 inches long
12.6 inches high and 10.2 inches deep
34.6 pounds in weight
11 inch by 4.7 inch work space
5 mm maximum stitch length
9 mm maximum stitch width
9.1 inch by 11.8 inch embroidery size
1000 stitches per minute for embroidering
7.7 inch by 4.7 inch touchscreen
Storage
On the front of the machine below the needle area is a drawer to store some of the accessories.
This piece will also pull off giving access to the free arm for sewing sleeves, cuffs, or pants.
The embroidery module at the back can also be removed, but not necessary to access the free arm.
There is also an extension table that can be added for a larger work area.
Embroidery Attachment.
On the Janome 14000 the embroidery unit is attached by sliding it into place on the back of the sewing machine until it clicks into place.
Your embroidery hoops are attached to it, and the embroidery arm is moved out by pushing the release lever on the end of the unit.
To load your embroidery hoop just remove the center insert, and loosen the hoop with the screw on it, then lay your material over the hoop and put your insert back it making sure the fabric is tight with no wrinkles then tighten the screw on the hoop to hold things in place.
Then you press the embroidery button on the screen, when the machine is on then click on and embroidery arm will move and menu appears on the touch screen, then slide your hoop into place locking it into the back unit.
The designs are displayed and just pick which over one you want to use from the 350 built-in designs, and the screen also shows you which hoop size to chose.
Different thread colors can be used also just thread the color you like and your design can also be moved around on the screen to where you want it on your material.
Once threaded just hit the start button and you're ready to go, and you can adjust the speed with the lever on the front when sewing.
Once your embroidery is done, press home button and the OK, then remove your hoop, take it apart and admire your new embroidery design.
Pros And Cons For The Janome 14000
Pros
High quality top of the line machine
Does everything in sewing, quilting and embroidery
No negative reviews
Cons
Does not have wireless ability to connect with the internet
Expensive
Controls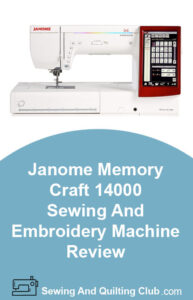 All the buttons and controls are on the front of the machine handily located just above the sewing area from your start button, thread cutting, speed lever, needle threader button, presser foot lifter button, needle up/down button, auto-lock button, reverse button and bobbin winding button.
All of the presser feet are the easy snap-on type for this machine
Closing the Janome Memory Craft 14000 Sewing and Embroidery Machine Review
This is one of the best sewing machine you can find if you want to take your sewing, quilting and embroidering to new levels.
This machine has everything and is built to last, and about the only drawback is the price, but if you're shopping for the best, then you might want to take a look at this sewing machine, or give it a test run.
Wishing you all the best on your sewing projects.
Check Today's Price on Amazon.com
Check Today's Price on Amazon Canada
Do you want to take a look to another Sewing And Embroidery Machine? Take a look to the Brother SE600 Sewing And Embroidery Machine