Computerized VS Mechanical Sewing Machine, both are good options to have in the sewing room, but when you need to chose between these two types of sewing machines, you might have a few questions to make to find which one is better for you.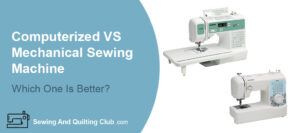 When is the time to get a new sewing machine for you to work on your sewing projects, you need to spend some time thinking about the pros and cons of these two models, the computerized vs the mechanical sewing machines.
As you know more about the pros and the cons of each type, it will help you to know which model is better for you.
Buying a new sewing machine means to make a small or big investment in your new hobby and it can grow as big as you want it to.
Getting the right sewing machine will help you to get the model that will last for many years in the sewing room and it will help you to work on many different projects with success.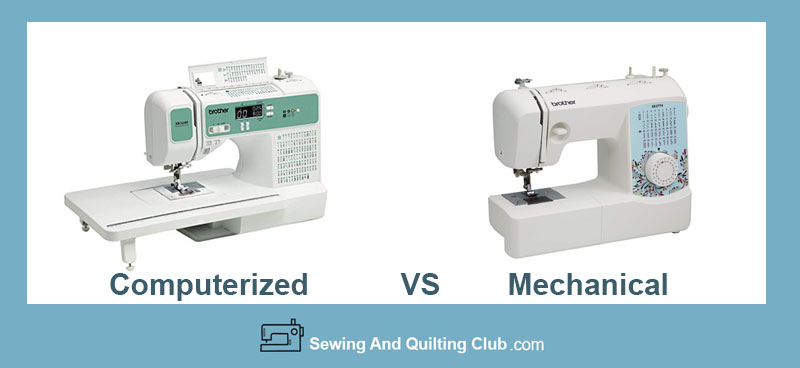 Computerized VS Mechanical Sewing Machine, Pros And Cons
Mechanical Sewing Machine Pros
Easy To Use – As you get your new mechanical sewing machine to your sewing room, you won't have any problem to set it up and start sewing with it.
No matter which model you pick to buy, most of them are similar and easy to work with.
As a beginner, it won't take long for you to learn how to work with it and before you notice you'll be working on your first project with ease.
Nostalgia – Who doesn't remember to have seen his/her mom or grandmother working on a sewing machine at home? Most of us grew up in a family where our moms or grandmothers used to take that old sewing machine to make a new piece of clothing for the children or for the house.
In many houses a sewing machine was part of the home decor! I still remember that old Singer Featherweight I leaned to sew with!
It's Like Having A Good Friend – Mechanical sewing machines are so easy to work with that they become like our best friends, some sewers even named their sewing machine and some of them even have a chat with them as they work on a new project.
Affordable Price – You won't have any problem to find a good sewing machine for your projects at a very affordable price!
Mechanical Sewing Machine Cons
It Takes Longer – When using a mechanical sewing machine, it will require from you to work more to get the sewing machine to start sewing, it's common to help the sewing machine to start sewing by turning the wheel by doing this you help the machine to work better from the start.
Another thing you will need to do every time you stop sewing, you will also turn the wheel to control the needle to the up or down position.
One Style Button-hole – Most of the mechanical sewing machines come with one style buttonhole, and in some cases you need to measure the buttonhole and mark it down on the fabric to know in advance the size of the buttonhole.
Check Today's Price on Amazon.com
Check Today's Price on Amazon Canada
---
Computerized Sewing Machine Pros
More Features – The computerized models come with many more features, from more stitches, to up/down needle position, speed control and more
By having more features in one model you can work on more different projects, and with the ease to switch from one feature to the other by pushing one button, you can save tons of time.
Versatile – Sewing machine brands know the need of the sewing enthusiast and they design the models to help sewers around the globe to work with ease on different projects without the need to have to buy many different sewing machines.
From working with thin and delicate fabrics to work with thick materials or many layers of fabric, a computerized sewing machine can handle with the same stitching quality all types of textiles.
Extra Features – As you get more involved on your sewing journey, you might want to try more and new projects, no matter what you want to work on, you can find the right model to have in your sewing room to release your creativity.
Making quilts and work on the outstanding quilting design on modern quilts will be no problem for you with the features of keeping the needle down every time you stop your sewing machine. Another features you will be happy to have when working on big quilts on a computerized sewing machine is the feature of trimming the thread with the ease of pushing a button or by pushing the foot pedal with your heel.
Controlling the speed will be no problem for you, with the slide button to slow or fast speed.
Computerized Sewing Machines Are Lighter – There is a difference of weight and these models are much lighter than the mechanical sewing machines, if you have in your plans to carry your sewing machine around the house or to carry it to your sewing classes or workshops, these models are the winners.
Computerized Sewing Machine Cons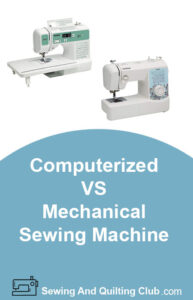 A Learning Curve – Whether you're an experienced sewer or a beginner, it might take you sometime to learn how to work with your new computerized sewing machine.
As these models often come with a good number of different features, it can take you some time to learn how to work with each one of them.
But I don't want you to miss the point, that once your learn how to work with your new model, it will be so easy for you to set up each one of the features you pick to work with on your projects.
Price – The more features a model has the higher the price will be, some models are in the range of affordable, but as you look for a model with more features to work on specific projects the price can go higher.
Don't be surprised to find a sewing machine ranging on the $1000 price and even more… much more
Is it worth it to pay that price for a sewing machine? Well, I must say it depends on what projects you'll be working on, and getting one of these sewing machines will make your sewing journey happier and better.
Check Today's Price on Amazon.com

Check Today's Price on Amazon Canada
You can take a look to more sewing machine models for beginners here!