Brother SE600 Sewing And Embroidery Machine Review is a computerized sewing and embroidery machine, it has everything to get you started making professional designs.
This machine has modern technology and new features that will make your sewing and embroidery projects a pleasure to work on.
It does not come with any embroidery programming, but you can upload your designs into the Brother SE600 to create them when needed.
The machine is easy enough to set up and work with, so is good for seasoned sewers and beginners.
In a hurry? Check today's price on Amazon.com here!
Brother SE600 Sewing And Embroidery Machine Review
The Features of the Brother SE600
Automatic needle threader
Free arm
Quick-set drop-in bobbin
25 year limited warranty
Twin needle set
Dust Resistant cover
710 stitches per minute
80 built-in embroidery designs
6 embroidery fonts
Colored 3.7 inch LCD touchscreen
4 x 4 inch embroidery work area in hoop
103 built-in stitches
Needle up/down button
Button for cutting the thread
Control for setting sewing speed
Drop feed for free motion sewing
USB port to transfer designs
Workspace of 6.4 inches wide by 4 inches high
10 Buttonholes styles
Carrying handle
How Many Stitches Does The Brother SE600 Have?
The Brother SE600 comes with 103 built-in sewing stitches, and includes automatic sized buttonholes.
With the utility stitches you get a variety of decorative stitches to customize any of your projects.
The decorative stitches include stars, hearts, scallops, waves, feathers, decorative scrolls and Greek key.
Embroidery Sewing Machine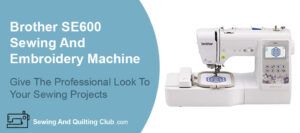 This machine has 3.7 inch LCD colored touch screen which shows any embroidery design you select, and with the ability to preview that design to see how it will look before sewing unto your project, and also is able to preview different thread colors on your design or place lettering.
There are 80 embroidery designs or import your own from the internet, through the USB port on the end of the sewing machine.
It also has 6 embroidery lettering fonts to chose from, capital and lower case, numeric and symbol characters, and with each can be displayed in small, medium or large sizes.
The 4-inch by 4 inch embroidery hoop is easy to set up, and connect to the arm by just pushing it over and snapping it down into place, with the hoop, arm and foot being included.
Also on the display you are able to move the design by the touch of your finger to where ever you like it.
Threading The Brother SE600
To thread this sewing machine, just follow the numbered diagrams on the machine down to the automatic threader and into it, then push the lever at the end down and needle is threaded and you're ready to sew.
This is very handy when you need to change the thread multiple times for embroidering.
On the top of the machine there is a dial to set the thread tension also.
Is This A Quick-Set Drop-In Bobbin Loading Machine?
The bobbin is jam-resistant quick-set drop-in loading.
Just remove the plastic see through cover, put in the bobbin and follow the thread guide and to wind your bobbin just follow the diagram on top.
Does It Come With A Bright Light For The Work Area?
The machine has LED lighting that's strong enough to brighten the working area around the needle, and very helpful for embroidering, darker fabrics or free motion quilting.
7-Points Feed Dogs System
The Brother SE600 comes with 7-points feed dogs system for a smooth feeding of your material
How Many Presser Feet Do I Get With This Sewing Machine?
This machine comes with 7 presser feet of snap-on type.
Zipper foot
Buttonhole foot
Blind stitch
Button sewing
Spring-action zigzag stitch
Monogramming stitch foot
Overcasting stitch foot
The spring-action foot is designed longer to be able to have a more even feed of the material you are sewing. And there is also an embroidery foot
Does It Have A Free Arm?
The machine also has the free arm for sewing cuffs, pants, sleeves or any round material that's difficult to straight sew.
What Are The Accessories That Come With This Sewing And Embroidery Machine?
7 sewing feet and embroidery foot
Embroidery hoop
Needle package
Foot control
Power cord
Dust cover
Seam ripper
Cleaning brush
Spool caps
Bobbins
Operating manual
Screw driver and scissors
Dimension Of The Brother SE600
The machine is 21.2 inches long by 15.5 inches by 16.5 inches and weights 14.3 pounds.
With its lightweight and carrying handle is easily portable.
Speed of 710 stitches per minute
Embroidery work area is 4 inches by 4 inches.
This is not a heavy-duty sewing machine, but it does have plenty of power to sew and embroider most fabrics.
With the push lever on the front for speed control when stepping down on the foot control it will only reach the speed you set it to.
Warranty
The warranty on this machine is for 25-year limited with free technical phone support for life of the sewing machine
What Are The Pros And Cons For The Brother SE600?
Pros
Small enough to be portable
USB connection to put in your designs
3.7 inch colored LCD touch screen to preview designs
Embroidery and sewing-serves two purposes
Price is reasonable for what you get
Cons
The automatic threading can take time to get used to
Some might find it a bit pricey
Is The Brother SE600 Good For Beginners?
You might be afraid to let a beginner to work on a Sewing and Embroidery machine, but once again Brother makes it easy for beginners, designing a model that is easy to work with for beginners or advanced sewers.
There are plenty of tutorial videos on YouTube and the Brother website will help any beginner to know how to set up this model and start to work with it.
Is This Sewing Machine Good To Work With All Type Of Textiles?
You need to keep in mind this is not a heavy-duty sewing machine, there are plenty of types of textiles that you can work on with this model with no problem at all.
However if you have in mind to work with thick textiles like denim or canvas with the sewing or embroidery feature of this model as a regular projects, then this is not a model I would recommend to you.
How Fast Is This Sewing Machine, Can I Adjust Its Speed?
This model can make 710 stitches per minute, but this sewing and embroidery machine has two stitching speeds, when you use the sewing speed it can make up to 710 stitches per minute, when you use the embroidery feature the maximum speed it can reach is up to 400 stitches per minute.
This model comes with the foot pedal and you can use it to control the speed as you work with it.
Can I Make Quilts With The Brother SE600?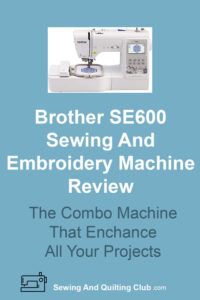 Yes you can, with the sewing feature you won't have any problem to piecing any quilt top size with ease, it also has the drop feed dogs features to help you to work with the free motion quilting on quilts.
However, you need to keep in mind that this model has not a large throat so it might be difficult for you to work on the free motion quilting on large quilts because of this.
You will need to get the spring motion foot and the working foot apart.
Brother SE600 Review Conclusion
Actually the Brother SE600 with its dual purposes of being a sewing and embroidering machine is a good buy.
Once you get used to all its functions and controls then you might really like working with this sewing machine.
From the novice to the more experienced sewer it is really worth your time to take a look or try out the Brother SE600, if you think it's right for your sewing projects.
Wishing you all the best on your sewing and embroidery journey.