The Brother SE1900 Embroidery Machine Review, this model can bring your creative designs to life on its large 5 x 7 inch embroidery hoop.
Brother SE1900 Embroidery Machine Review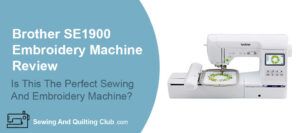 This Brother sewing machine comes with 138 built-in embroidery designs for you to chose from, and preview on the 3.2 inch Sew Smart touchscreen.
It also has the ability for you to import your own designs using the built-in USB port.
With its 240 built-in stitches including a large number of decorative stitches, and 10 styles of one-step buttonholes that are automatically made to fit your buttons, you will have no problems finishing your sewing projects.
The Brother SE1900 is also able to drop the feed dogs for free motion quilting or sewing allowing you to make your own designs with thread.
Features Of The Brother SE1900
3.2 inch color LCD touchscreen
5 x 7 inch embroidery area
240 sewing stitches
138 built-in embroidery designs
USB port to import designs
11 embroidery fonts
Free motion sewing
LED lighting
Automatic needle threader
Quick-set top drop in bobbin
Accessory storage area
Adjustable presser foot pressure
7 point feed dog system
Up/down needle position
Start/stop button
Automatic feed thread cutting
6 built-in alphabet fonts
Speed adjustment
5 built-in lettering sewing fonts
10 buttonhole styles
Knee lifter
850 stitches per minute maximum
Quick reference stitch guide
5 mm stitch length
7 mm stitch width
7 presser feet
Reverse stitch
240 Built-In Stitches
This sewing machine has 240 built-in stitches, that are displayed under the top cover.
You can pick your stitch on the LCD touchscreen and are able to change the width and length of the stitch, and the screen will tell you what presser foot to use with each stitch.
It also has 5 built in sewing stitch fonts – Gothic font, handwriting font, Cyrillic font, and a Japanese font.
You can combine sewing stitch letters to create words, and it has the ability to create your own custom stitches, and you can combine your stitches with the built in characters.
Top Loading Bobbin
To wind the bobbin is very easy, just follow the diagram on the top of the machine then wind the thread 4 or 5 times around the bobbin, and pass it through the guide slot, then press the start button.
To install the bobbin just remove the cover and drop your loaded bobbin in and follow the arrow with your thread and you're ready to sew.
Threading the Brother SE1900
To thread the machine follow the printed arrow, from 1 to 9, the top down to the automatic threader, then push down the lever and your needle is threaded.
You can also find on screen instructions for anything that you require.
7 Point Feed Dogs
This machine has the 7 point feed dogs system, so that your fabrics will flow evenly when sewing.
There is also a switch to drop the feed dogs allowing for free motion sewing.
7 Presser Feet
The machine comes with 7 presser feet.
Spring action zigzag foot
Blind stitch foot
Zipper foot
Buttonhole foot
Overcasting foot
Monogramming foot
Button sewing foot
The pressure can also be adjusted on the presser foot, which is sometimes needed when sewing thicker fabrics.
You can use the on screen settings for this adjustment, with the usual setting at 3 for your normal sewing.
There is also a knee lift lever for the presser feet with this model.
Free Arm Sewing
When you remove the accessory storage it gives you access for free arm sewing for shirts, cuffs or pants.
Speed of Sewing
The machine has a sliding speed selector from low to high, and when set at a certain speed your pressure on the foot control will only reach that speed.
The embroidery speed is 650 stitches per minute maximum and sewing speed is 850 stitches per minute maximum.
Brother SE1900 Specification
Weight of 22.05 pounds
23.9 inches long by 11.54 inches high by 13.43 inches wide
7.4 inch x 4.1 inch work space
Accessories for the Brother SE1900
7 presser feet
Thread
Package of needles
Knee lifter
Foot control
Bobbins
Screwdriver
Scissors
5 x 7 embroidery hoop
Alternate bobbin case
Sewam ripper
Twin needle
Lint brush
Eyelet punch
Spool caps, large and small and medium.
Extra spool pin
Operating manual
Spool net
Embroidery foot.
Embroidery
The embroidery attachment connects into where you remove the accessory tray, and will just snap into place, on the front of your sewing machine.
With the 138 built-in embroidery designs you have a large variety to chose from.
When you chose your design on the onscreen display it will also tell you which color thread is best for that design, and will let you position your design wherever you like.
With its USB flash drive port, you have the ability to read thousands of embroidery designs, and the USB flash drive can store thousands of designs from your computer, then just plug in the flash drive into the sewing machine, and you will have enough new designs to last a very long time.
With the 5 x 7 inch embroidery hoop, you can do pillow cases, blankets, shirts, and more, and it's also possible to buy extra different size hoops for the Brother SE1900
Pros And Cons
Pros
Easy to use
Comes with USB port and 138 embroidery designs, has a large amount of designs to chose from.
Works well – One of the best models for embroidery
Cons
Price is high
Probably not the best buy for someone starting out in the sewing and embroidery
Warranty
The Brother SE1900 comes with a 25-year limited warranty, so is 25 years against defective materials or workmanship, and 2 years on the electrical components, and 1 year on parts, labor from the date of purchase.
The Brother SE1900 Review Conclusion
The Brother SE1900 computerized sewing and embroidery machine has the ability to brig your sewing and embroidery creativity to life!
With all its features, there is no end to what you can create, so if you're looking for a great sewing and embroidery machine, check this one out, or give it a try!
All the best on your sewing projects
Check Today's Price on Amazon.com

Check Today's Price on Amazon Canada
If you're not sure if this Embroidery Machine is the one to bring into your sewing room, you can take a look to the Janome Memory Craft 14000