Janome MC-6300P Sewing Machine Review – this is a computerized model that is great for quilting and designed to sew from light to the heavier fabrics with perfection.
It has a heavy-duty motor with a metal frame under the hood, so will not bounce around when sewing. The machine is smooth running and comes with enough features to make your sewing and quilting a pleasure.
The working buttons are all handily situated on the front of the machine and the buttons for the computer take no time to learn.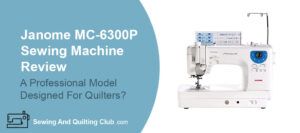 If your're asking yourself if it would be a good sewing machine for beginners, well we think it would as it does not have to big a learning curve to set it up and start sewing, and as it is designed with the quilter in mind, most professional sewers will love to work with this model.
As a quilting machine it does not have the free arm for doing sleeves, cuffs or pants, etc. As it is not designed for that.
The Janome MC-6300P Sewing Machine Review
We will go through the features found on this model of Janome.
1000 Stitches Per Minute
This machine will sew up to 1000 stitches per minute, but is also able to control the speed with a slide control on the front of the sewing machine.
The MC-6300P comes with 66 built-in stitches and 4 buttonholes.
On the top of the machine is a display chart showing all the stitches, and it will fold up or down when needed.
The chart has grouped the stitches into categories.
1 – 19 Utility stitches and buttonholes
20 – 30 quilting stitches
34 – 46 Satin stitches
49 – 66 Decorative stitches
The stitch width is 7 mm and the stitch length is 5 mm and both are adjustable with buttons under the screen.
With the 7 mm stitch width your will have no problem creating wider border designs on your quilts.
The machine has a twin needle guard button, that prevents the person from selecting a stitch that your're unable to sew with the twin needles.
On the computer there is the option to customize your stitches with combination or individual stitch editing.
Presser Feet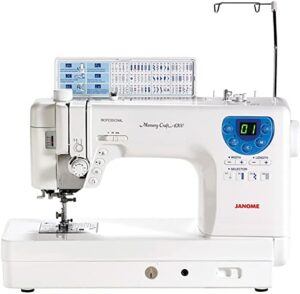 The machine comes with a good amount of presser feet with each one lettered.
A – Zigzag foot
R – Automatic buttonhole foot
C – Overedge foot
M – Overcasting foot
H – Cording foot
E – Zipper foot
G – Blind hem foot
F – Satin stitch foot
P – Basting / darning foot
O – 1/4 inch seam foot
Even feed foot
F2 -Open toe satin stitch foot
On the LCD screen the recommended presser foot is shown for the stitches. The presser foot lifter raises about 1/4 higher than normal, which makes it easier to remove the foot, and allows thicker fabrics to be sewn.
The feet are the snap on type and very easy to change. There is also a knee lifter with this machine model to raise the presser foot giving your hands free for quilting and sewing, and the machine has the dial to adjust the foot pressure.
The Bobbin and Threading.
To wind the bobbin is very easy by following the printed diagram on the machine, and on the opposite side of the stitch chart are also threading diagrams for quick reference.
The machine has a separate motor for winding, and a button on the screen to start the process, and it will automatically shut off when full, plus your can wind the bobbin even while sewing.
To load the bobbin it has the convenient top drop in, and your need the thread coming off counter clockwise. Then follow the diagram on the cover and leave about 4 inches of thread.
To thread the sewing machine follow the numbered arrows down, to the automatic threader, and the threader works very well when using #50-90 thread and needle # 11 – 16.
Another thing to mention is that the automatic threader won't work on the double needles, and also there are adapters to use the large cones of thread.
There is also an indicator light that shows whenever the bobbin is getting low.
Feed Dogs
The feed dogs on this machine can be dropped by moving the lever switch on the bottom front of the machine, giving your access to free hand quilting and sewing. For normal sewing the feed dogs need to be up, and a message will show on the LCD screen when they are down.
Lighting
The lighting is from a 12 volt 5 watts bulb, is fairly bright but sometimes the LED's are a little brighter.
The Control Buttons
Just above the sewing area and within easy finger reach your find these buttons:
Reverse button – to lock up the stitches
Auto-lock button – used for locking stitches at the end of a pattern.
Up/down needle button – for positioning needle up or down, and the LED screen will have a signal when needle is down.
Thread cutter button – always so handy as it cuts thread from bobbin and needle saving time looking for scissors.
Stitch width and length buttons – just under screen
Pattern selection buttons
And on Screen – Bobbin winding button – Twin needle buttons, clear button, memory button, and elongation button.
The foot pressure dial is on top
Tension regulator dial above work area.
Knee lifter socket and drop feed lever on the right bottom front.
Free Arm
This machine does not have this feature, which is often needed
Accessories
Seam ripper
4 bobbins
2 spool holders – large and small
Quilters guides – large and small
Screwdriver
Lint brush
Presser feet
Cloth guide
Needle set
Knee lifter
Large quilt extension table – adjustable legs
Foot pedal
Power cord
Soft dust cover
Storage accessory box
Very detailed instruction manual.
Specifications For The Janome MC-6300P
1000 stitches per minute
26.5 pounds – carrying handle provided
7 mm stitch width
5 mm stitch length
19 inches long by 11 inches high by 8 inches wide
Warranty For The Janome MC-6300P
The warranty for this machine is 25 years on mechanical parts, and 2 years on electrical parts, and 1 year on labor, but always read the warranty with the machine to be sure.
Pros And Cons
Pros
Will sew heavy materials
Excellent quilting machine
Good quality stitches
Built to last
Easy to set up
Small learning curve for beginners
Not overly expensive for all it does
Cons
Lacking a free arm ability
Lighting could be a little stronger
Is This A Good Machine For Making Quilts?
This is a sewing machine designed for quilters, it has a large throat space of 9 x 5 inches, that allows your to work with ease when your make the piecing for a quilt top and to work on the quilting of small and big quilts.
The size and weight of the machine is also designed to help your to work on big projects such as quilts, with ease.
What Kind Of Projects Can I Make If This Machine Is Designed For Quilters?
You can use this machine on any other type of sewing projects as garment constructions, home decor, crafts and any other your have in your project list to make.
This sewing machine is designed to work great with all types of textiles, your can use it to work with thin fabrics as silk, cotton or taffeta, and your can also work with thick fabrics as denim, canvas or others, just remember to use the type of needle recommended for each type of fabric.
Is This Sewing Machine Good For Beginners?
This is a model easy to set up and start sewing, as this is a computerized sewing machine, it's easy to switch from one feature to another and this will help any beginner to start learning to sew. Beginners will love to set the sewing speed on this model as they learn the basic steps of sewing at slow speed.
Is This A Portable Sewing Machine?
This is a bigger and heavier model than the rest, for this reason I would suggest keeping it in the sewing room, if your need a model to bring to the sewing classes or retreats, I would suggest a lightweight model as the Brother CS6000i
Where To Purchase The Janome MC-6300P Sewing Machine
Janome is a well known brand and your might find a dealer in your area that has this model, your can also find this model on Amazon
Our Final Thoughts For The Janome MC-6300P Sewing Machine Review
This is actually a great machine for quilters and sewers, as its very easy to set up and start using, and has a small learning curve.
It will give high quality stitches and is built strong enough to handle your large projects, and give your many years of great sewing.
The machine is not to light so taking to sewing classes might require a strong arm, but then it all depends on what your are looking for in a sewing machine.
We hope this review gives your a good insight into this sewing machine and what it can do.
Wishing your all the best on your sewing projects – Happy Quilting And Sewing!