The Sewing Room Ideas On A Budget, when starting to sew, before you notice you will have many things around, it's always better to get organized as you start working on your first projects and this way keep everything in a place where it won't take long to find it.
Sewing as any other creative activity will require you to purchase lots of materials and tools, everything is useful and will help you to do better, but before you notice, the sewing room can look messy and it will take you some time to find that tool you need for the next step, whether is marking or cutting, and you will be spending time finding that tool and it will take longer before you finish each project.
Sewing Room Ideas On A Budget
Benefits of Keeping Your Sewing Room Organized.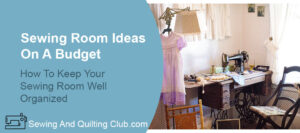 Whether you're just starting to sew or if you have some time already sewing, I will recommend spending some time to get the sewing room organized.
I'm not the best one to keep my sewing room well organized all the time, but I have learned to take a day or half day organizing and cleaning it and this way it looks better and it helps me to get back to work on my next project more organized.
Start Where You Are.
You don't need to have a fancy or expensive furniture to keep everything in its place, anything you have in hand will help you to get organized, and there're so many great ideas to use low price boxes to help you to get everything well organized.
Anytime you go to the store, the next time, and you see a new plastic or fabric box on sale, get a couple of them and take your time to get organized something else in you're sewing room.
One Thing At The Time.
If you're new at sewing, you might want to keep everything well organized before you start sewing, but if you have been sewing for a while, and you want to get the sewing room well organized, don't push yourself hard and try to do everything in one day!
You can get organized to do one thing at the time, take half day or a couple of hours to organize the fabric stash, another day you can work on threads, and the next time it will be to organize the tools.
Fabric Storage Ideas
All fabrics tend to fade if they are exposed to the sun light, many sewers like to keep fabrics in plastic containers or boxes, if you keep your fabrics in these containers for a long time, it could happen when you take a fabric from a plastic box, it will have a fade line from the sun and it will be ruined. If you use the plastic containers it will be better to keep those plastic boxes in a drawer or in a closet, or at least you can also put inside a piece of cardboard to protect the fabrics from the sunlight.
You can also use some fabric boxes (brown or black) to keep your fabrics inside and place the boxes on bookshelves
Sewing Table
When starting to sew, you can use any table to place you're sewing machine, to work on your projects, you might want to save the money from buying a new sewing table and get some material for your projects.
Any table will be good, look for one with a regular height to help you to be comfortable when you work on your projects.
As you keep sewing, later you might want to get a sewing table that will help you to get everything near you while you keep sewing.
There are great sewing tables and you can find a one at good price to bring it to you're sewing room.
Sewing Books And Magazines
Sewing books and magazines will help you to find a good project to work on or to find a good idea, keep them well organized in a small bookshelf or in an open box.
Sewing Tools Basket
It doesn't matter if you have a fancy sewing tool basket or if you keep all the tools in a cookie tin, keep them all in one place and it will save you tons of time looking for them as you work on your next project.
Threads
Keeping all threads in one place will help you to find the one you need for your next project, clear plastic boxes can be a great help, threads do much better to keep the color from sunshine fading.
You can also find a nice wooden box to keep your threads in it.
Buttons
Glass or plastic jars are excellent to keep the buttons well organized and easy to find the ones you need for your next project.
Work In Process
Some sewers like to work on a single project at the time, but some love to work on more than two projects at the same time, when you work on two or more projects at the same time, it can happen that pieces can get missed or mixed and it will be hard to find the piece you need to work on the next step.
Keep your different projects well organized in plastic bags or boxes and it will be easier for you to go back to work on it later.
Sewing Room Ideas On A Budget – Final Thoughts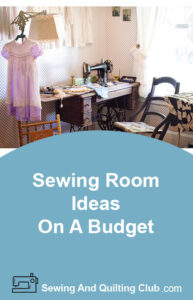 Keeping the sewing room well organized can be something about keeping a room pretty, but when it happens that the sewing room is the room where you'll be spending tons of time working on an activity you love, it's better to keep it well organized.
Don't push yourself too hard if you have been sewing for a long time and you're sewing room really needs you to spend a week or more to get it organized, do one thing at the time.
As you work to keep you're sewing room organized you will find how easy it is to find everything you need to work on your next project, soon before you notice, you'll find yourself spending no more than 10 minutes every time you finish to work to put everything in its place!
Keeping you're sewing room well organized is a new habit for every sewer, it takes time to change the old habits into the new ones, take your time and enjoy the process.
You're sewing room will look much better and it will help you to work better on your next projects.
Happy Sewing!