The Janome HD3000BE Sewing Machine is a heavy-duty well-designed model made to last for many years, and it will help you to work on a good deal of different sewing projects, as it comes with a variety of interesting features
This is a well put together sewing machine with great reviews from anyone who owns it, or uses it.
Janome HD3000BE Sewing Machine Review
The Janome sewing machine is one you will love, and if you're looking for a well build mechanical model that will last for years and that will help you to work on a good deal of different sewing projects, look no more than on the Janome HD3000BE review I'll share what points I like about this model.
I had the chance to test it on a quilting workshop, and I kept sewing on this model while the owner worked on piecing a top for a small quilt and then she worked on the free motion quilting like a breeze.
This sewing machine might not have the fancy good looks of other models and it's not packed with many features as others, but it works great and smooth and it's a model you can trust on to work at doing many different projects.
Working to sew projects with thin and delicate materials will be a work you will love, but when the time comes to work with thick materials like denim, canvas or even leather, it's a sewing machine you can trust to have in the sewing room.
Features
18 stitches
Heavy duty aluminum construction
Hard cover for dust protection
Thread cutter
5 feed dogs
Drop feed slide control
LED lamp
Extra presser foot lift
The free arm capability
Built-in needle threader
Adjustable stitch length and width
Drop in bobbin
Hinged see through face plate with diagrams for viewing bobbin
9 accessory feet – over edge, blind ham, zipper, satin stitch, zigzag, transparent, buttonhole and sewing, ultra glide foot and buttonholer
1 four step buttonhole
Automatic declutch bobbin winder
Speed of 860 stitches per minute
Macimum stitch width 6.5 mm
Macimum stitch length 4 mm
A bonus quilt kit
It weights 23 pounds so is easily portable, and is 11.3 inches high by 7.2 wide by 16 inches in length for its dimensions, which is around the same size as most sewing machines.
The insides are metal with metal gears and not hard nylon, so it's designed to last a very long time.
Stitches
This machine comes with18 stitches and there is an instruction guide in the top tray door of this machine with the stitch setting and feet to use.
The stitch length and width adjustments are located on the front of the machine, with a maximum stitch length of 4 mm, and 5 mm for the stitch width.
These are the basic stitches, fashion, quilting, heirloom, decoration, and also customized depending on stitch width, length, buttonhole size, and the type of fabric.
You can do a maximum sewing speed of 860 stitches per minute.
The adjustable stitch length and zigzag width are adjusted to the right setting for your stitching by turning the dial.
Bobbin
This sewing machine has the drop in bobbin top loading with the clear plastic window, so you can tell when your thread is getting low, plus a handy diagram on the plastic window for how the bobbin goes.
Presser Feet
It has 9 snap on accessory feet, which include:
Overedge
Zipper
Blind hem
Satin stitch
Hemmer
Zigzag
Transparent buttonholer
Button sewing
Ultra glide
Needle Threader
Yes, this model comes with the automatic needle threader which is always a bonus. It has also a thread trimmer.
There is a thread tension dial control also that you can use to adjust the tension depending on the type of the fabric you are sewing.
Sewing Area
Your work area on this model is 7.1 inches wide by 4.3/8 high, and it has the extra presser foot lift giving you room to sew thicker fabrics or a few folded fabric layers without any problem at all.
Free Arm
Also, by removing the front piece, it will give you the free arm sewing area for doing sleeves, hemming, pants or other difficult to sew areas.
Backstitch
There is a reverse lever, which easily lets you back stitch for locking seams.
Feed Dogs
This model comes with a 5 piece feed dogs for a smooth fabric feed no matter what you are sewing, and works great for quilts.
Accessories Included
8 bobbins
Package of regular needles and one package of universal needles
Screwdriver
Seam ripper
Foot controller
Instruction manual
Lint brush for cleaning
Spool cap, large and small
Automatic buttonhole foot
Spool felt
Power cord
Quilting attachment kit
Accessory feet
Warranty
The Jacome HD3000BE comes with the 25-year warranty on mechanical parts, and 5 years on electrical parts, and 1 year on the labor.
For a great sewing machine that will last with its heavy-duty aluminum body construction, it is a choice for many sewist.
With its ability to sew thick fabrics with ease, you might want to take a look at it.
Pros
Well built with metal frame for durability and stability
Heavy duty sewing machine to sew thick materials
Fast stitching speed
Easy to use
Cons
Can I Make Quilts With The Janome HD3000BE?
This model comes with a bonus bundle of different feet and accessories that will help you to sew and piecing all type of quilt tops.
At the time to talk about free motion quilting, yes you can do it with this model, it comes with the spring quilting foot and you can also use this foot to do some free motion embroidery.
Can I Sew Thick Materials Like Denim, Leather Or Canvas?
Yes, you won't have any problem to sew thick materials.
Can I Sew Thin Textiles Like Cotton?
Yes, you can plan to work on different sewing projects with all type of thin and delicate materials like cotton, silk and other thin materials.
Is This Sewing Machine Portable?
This is a sewing machine you want to take with you to your sewing classes and workshops, with a weight of 10.7 kg you can manage it. It also comes with a hard dust cover with an open on the top so you can grab the handle when you take the sewing machine with you
Why Trust Jacome?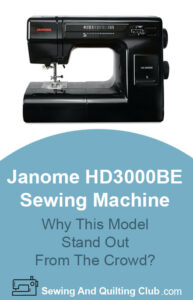 Jacome is a Japanese industry that started making sewing machines in 1921, it was in 1954 when the company was renamed as Janome Sewing Machine Co.
Janome Co. has build many types of sewing machines always thinking on the needs of the users. They have many types of sewing machine designed for beginners and experts.
Janome is well-known brand for Heavy Duty and industrial sewing machines with great models for every user to find a model for their needs.
You can take a look to the Brother ST371HD
Jacome HD3000BE Verdict
If you're looking to get the best mechanical sewing machine in the USA or Canada, then you might want to take a look to the Jacome HD3000BE
This is a champion for sewing heavy stuff with this machine, and with an excellent stitching quality, with enough features to help you to work on a good deal of different sewing projects no matter what type of textiles you're working with.
This is a model designed to work well for many years with all type of fabrics you will be working with.
Check Today's Price On Amazon.com
Check Today's Price On Amazon Canada