The Singer One Easy-To-Use Computerized Sewing Machine Review, this model has one touch stitch selection, which is automatically set for optimal length and width for the stitch, but this can be changed for personalization.
The Singer name is well-known by many sewers around the globe as a brand of good quality sewing machines, the Singer One is a beautiful designed model taking the past and bringing it to the 21st Century. This is a model that beginners and more experienced sewers will pick to work on a wide range of sewing projects with success.
Singer One sewing machine has enough features and stitches for most of the sewing projects any sewer has in her/his mind. If you love the ionic and vintage look of the vintage sewing machines, but you want a model with modern features, this is the model you might have on top of your list and I will explain what features I love on this model in this review.
Singer One Easy-To-Use Sewing Machine Review
It's one of the easiest and smooth sewing machine in the market today, it's very user-friendly and will sew through thick materials easily.
If you're a beginner, who wants to start with a computerized sewing machine, you'll find this model easy to use and not overwhelming as other models can be, it's a machine that will grow with you as you get more sewing skills and this means you won't need to buy another sewing machine for a few years to come.
It has a fairly simple LED display for its one touch 24 stitches that are displayed on the front of the machine.
There are 6 basic stitches, 4 stretch stitches, 12 decorative stitches, and two buttonhole stitches.
Easy To Use
It has a large sewing surface of 14.7 inches making it a very easy sewing machine to use, and runs quietly. There is a heavy-duty metal frame on this machine holding all the parts in perfect alignment for excellent sewing and is meant to last, and has a maximum sewing speed of 750 stitches per minute.
Threading
It has swiftsmart threading and the automatic needle threader. You only have to take the thread from the spool going through only one groove and then you can thread the needle by pressing a lever.
Bobbin
There is a drop and sew bobbin system on this model where it has the special top drop-in bobbin and no longer any need to raise the bobbin thread, just drop it in and start sewing, making it very convenient to start sewing any project.
Presser Foot Sensor
This model also has a presser foot sensor that makes sure that the presser foot is in the correct position when ever you start sewing.
To See What You're Sewing
There are three stay bright LED lights that stay cool to the touch for when you're sewing dark fabrics.
These LEDs are supposed to last 100,000 hours but personally have never had the time to test that out.
Drop Feed
There is a conveniently located lever that lowers the feed dogs to give you free movement when you're doing embroidery, monograms, or button sewing and it also has a reverse button.
Free Arm
There is a button which you press to free up the table so you can use the free arm to sew on sleeves, and pant legs.
Stitching tension.
It has a dial to set up so you're sewing machine can automatically fix the sewing tension.
Accessories
It comes with some extras that can fit into the sewing machine storage compartment.
These are five presser feet all-purpose foot, blind hem foot, satin stitch foot, zipper foot and a special purpose foot.
You also get a package of needles, bobbins, a spool pin and felt, thread spool caps, a seam puller, screwdriver and a lint brush for cleaning.
It also comes with a soft cover, and an instruction manual with a DVD for intro instructions, and a foot control and power cord.
The machine runs on 110 volts which is basically designed for Canada and The United States only, and weights about 17 or 18 pounds, so it's a little heavier than some other sewing machines.
Warranty
It has a 25 years limited manufacture warranty, which basically means 25 years on the head of the sewing machine, and 5 years on the electronics, and 1 year on belts, bulbs and attachments.
Pros
Swiftsmart threading
Nice looking sewing machine
Easy set up and easy to use
Good performance
Cons
Could have more features for its price
Only 24 built-in stitches
Only 5 presser feet
No Spring free motion foot
Singer Sewing Machines
Many of Singer sewing machines get only average reviews, but this one is an exception because of it being very easy to use, and quiet running, plus it has a very modern look to it.
About the only negative with this model is that it has a hard time sewing thicker materials, and some sewers say the instruction manual could be easier to understand, but for beginners and more qualified sewers it is an excellent sewing machine.
What Sewing Projects You Can Make With This Sewing Machine?
Almost all the sewing projects can be made with the Singer One Easy-to-use sewing machine, if you have on your to do list, projects to be made with a regular, straight, or zigzag stitch you will be alright with this model in you're sewing room.
If the sewing projects you want to make require normal fabrics you also will be good to work on these projects, but if you have in mind to use thick fabrics such as denim, canvas, or leather as regular projects to make, then you might want to take a look to a Heavy Duty sewing machine.
Is the Singer One Easy-To-Use For Free Motion Quilting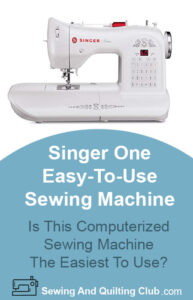 It has the drop feed dogs feature, so this means you can work on the free motion quilting with this model, but you'll need to buy the spring quilting foot from the nearest Singer dealer or order it online.
So, it's a Yes, you can do the free motion quilting with this sewing machine.
Singer One Easy-To-Use Verdict
After reading some reviews on this model and attending a workshop where a lady was using this model, I could see how well the Singer One Easy-To-Use works, and how well it sews on different types of fabric.
It has a beautiful design that reminds me of my old vintage sewing machine but with the great modern features any sewer beginner, or more experienced sewer, and any quilter would love to have in the sewing room.
It's clear for me, this model has the features that will help most of the sewers to work with success on many different sewing projects.
The quality of the stitching is great and it's so easy to learn to work with it!
Check Today's Price On Amazon.com
Check Today's Price On Amazon Canada