With an all-aluminum construction inside and out, is built to last, the Janome HD1000 Heavy Duty Sewing Machine Review.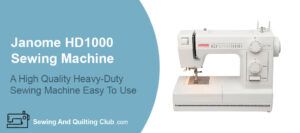 If you want to start sewing or if you're a skilled sewer who is looking for an easy to use sewing machine that can be used on different materials and that will last for many years, and it has easy to use features, and a good amount of accessories to help bring out your creative abilities when sewing, this model might be the one you're looking for.
Janome build their sewing machines to give you a pleasurable sewing experience with their first class products you will find them easy to operate, comfortable, and giving you great quality when sewing.
Janome HD1000 Heavy Duty Sewing Machine Review
Features
14 stitches, including utility stitches, stretch stitches, and a simple to use 4 step buttonhole
Built in needle threader
Free arm
Front loading vertical oscillating hook bobbin
Snap on presser feet
Drop feed
The extra high presser foot lift
Stitch with maximum 5 mm width
Push-pull bobbin winding
Lay-in manual thread tension control
Three piece feed dog
Reverse stitch lever
Stitch selection dial
Stitch length maximum 4mm
25 year limited warranty
840 stitches per minute
14 Basic and Quilting Stitches
The 14 stitches are displayed on the front of the machine from the basic stitches to the quilting stitches, home decor, utility stitch, stretch stitch, and the 4-step buttonhole.
There is a large dial next to the stitches diagram for your selection of stitches, and a dial below that to adjust your stitch length, which has a maximum of 4 mm, and the stitch width also that has a maximum of 5 mm.
Below your dials is the reverse switch for reinforcing your stitches.
Fabrics
The Janome HD1000 will sew
Cotton, linen and wool
The finer fabrics: silk, satin, taffeta, velvet
Fabrics that are synthetic: rayon, polyester
Leather and suede
Upholstery
Fur
And extra thick fabrics and multiple layers
Size of the Janome HD1000
Being made from aluminum, it weights about 16.8 pounds, so can be moved around fairly easy.
It is 15.6 inches long and 12.4 inches high by 6.3 inches deep.
It's also powered by a 1.0 amp motor, that's strong enough to go through most materials.
The distance from the needle to the arm is about 6 inches.
There is also a removable storage compartment, that when removed gives you access to the free arm for sewing sleeves, pants, cuffs collars plus other hard to sew items.
Needle Threader
The DH1000 comes with the automatic needle threader which is always a plus for a sewing machine to have, eliminating the eye strain.
Thread Cutter
There is a built in thread cutter, which is always handy, and a dial to control the thread tension.
Accessories For The Janome HD1000
Bobbins
Felt
Extra needles
Two screwdrivers
Seam ripper
3 feet: zipper, hemmer and buttonhole foot
A hem guide
Soft cover to keep out the dust
Oil
Warranty
It comes with the Janome 25-year warranty on the materials it is made of, and on electrical it is 2 years.
Any Parts not working after the first year will be replaced free, but you pay the labor for the fix.
Pros
Very user friendly
Good for all level of sewers
Strong metal structure, made to last
Allows free motion quilting
Will sew multi-layered fabrics including leather
Cons
Threading takes practice to learn
A few utility stitches only
How User-Friendly Is It?
Janome is well-known for building easy to use sewing machines, with the features most of the sewers will need to work on for many different projects.
This model is one of the simplest model you can find on the market, easy to set up, and easy to work with it, with enough stitches, and it will help you to work on different projects as it can sew on almost all type of materials, from cotton, linen and taffeta to corduroy or multi layers of fabric
Is This Sewing Machine Easy To Carry Along To My Sewing Classes?
Janome 0001 is made of aluminum, so it's light enough to move around the house or to carry to your sewing classes.
Heavy-Duties Abilities
This model was build to work well on heavy sewing jobs, it has the extra-high presser foot, that will help you to sew with ease on many layers of fabric and it will work well also with lighter materials. You just need to be sure you have on your machine the right needle and settings.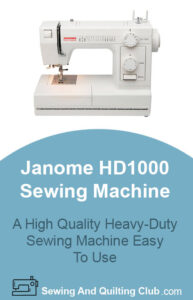 This is a great sewing machine that will work well on many different projects, but you need to be sure before you buy it, what kind of projects you want to work on with this model, as it can not sew some materials such as: denim, canvas, plastic, or rubber.
You need to be sure what projects you want to sew, before you buy it. If you want to make sewing projects with denim, canvas and other thick materials, take a look to these Heavy Duty Sewing Machines
Can I do the Free Motion Quilting?
The Janome HD1000 has the feed dog dropping feature, so it can be used to work on the free motion quilting, however it doesn't come with the spring quilting foot and the walking foot, you will need to buy it separate if you have in your plans to make quilts with this model.
Janome HD1000 Verdict
This is not an overly expensive sewing machine, and if you don't need a bunch of decorative stitches, and are looking for a very dependable machine, then you might want to check this one out, or give it a test run.